The Daily Biotech Pulse: Novartis Drug Flunks COVID-19 Study, Molecular Templates' Blood Cancer Study Placed On Partial Hold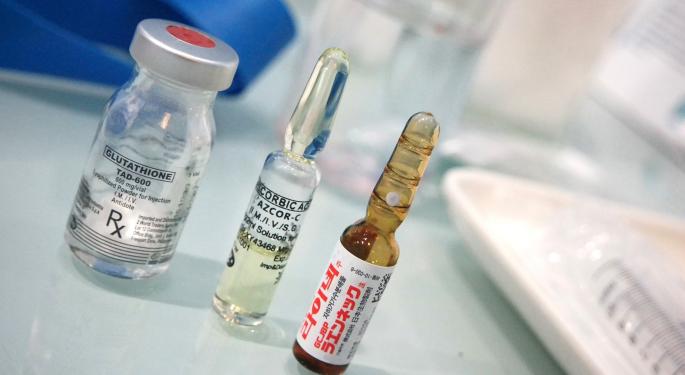 Here's a roundup of top developments in the biotech space over the last 24 hours.
Scaling The Peaks
(Biotech Stocks Hitting 52-week Highs Nov. 5)
Down In The Dumps
(Biotech Stocks Hitting 52-week Lows Nov. 5)
Acutus Medical Inc (NASDAQ: AFIB)
Stocks In Focus
Assembly Biosciences' HBV Drugs Fails to Achieve Meaningful Sustained Virologic Response In Phase 2 Extension Study
Assembly Biosciences Inc (NASDAQ: ASMB) said the open-label Phase 2 extension study evaluating vebicorvir in patients with chronic HBV infection failed to achieve meaningful sustained virologic response, or SVR, with 39 of 41 patients having now relapsed.
The study, dubbed Study 21, is exploring whether SVR could be achieved after discontinuing therapy in virologically-suppressed patients who had received at least 12-18 months of combination treatment with core inhibitor VBR and a nucleos(t)ide analogue reverse transcriptase inhibitor.
The company, however, said the Phase 3 registration program for vebicorvir is on track to initiate for chronic suppressive therapy in the first half of 2021.
Separately, the company reported better-than-expected third-quarter results.
The stock plunged 36.79% to $10.05 in after-hours trading.
Novartis Says Late-stage Trial of Canakinumab In Hospitalized COVID-19 Patients Failed to Meet Primary, Secondary Endpoints
New data from an interim analysis of Novartis AG's (NYSE: NVS) CAN-COVID Phase 3 trial evaluating the efficacy and safety of canakinumab in hospitalized patients with COVID-19 pneumonia and cytokine release syndrome failed to meet its primary endpoint, the company said. Treatment with canakinumab plus standard of care did not demonstrate a significantly greater chance of survival for patients without the need for invasive mechanical ventilation, compared with placebo plus SoC up to Day 29, it added.
The company also said the trial did not meet its key secondary endpoint of reducing the COVID-19-related death rate during the 4-week period after treatment
Puma Biotech Reports Mid-stage Lung Cancer Study Date, Lackluster Q3 Results
Puma Biotechnology Inc (NASDAQ: PBYI) announced interim results from the Phase 2 SUMMIT trial of neratinib in the cohort of metastatic non-small cell lung cancer patients with EGFR exon 18 mutations that has been previously treated with an EGFR-targeted tyrosine kinase inhibitor, showing out of the 10 evaluable patients, 6 patients experienced partial response, including 4 patients with confirmed complete partial response.
The company noted that 8 patients experienced clinical benefit, the median duration of response was 7.5 months and the median progression-free survival 9.1 months.
Separately, the company reported a decline in its third-quarter revenues and a wider-than-expected loss.
The stock fell 7.2% to $7.86 in after-hours trading.
Molecular Templates' Mid-stage Blood Cancer Study Placed On Hold Following Patient Death
Molecular Templates Inc (NASDAQ: MTEM) said the FDA has placed MT-3724 clinical studies on partial clinical hold following a treatment-related fatality in one subject who experienced Grade 5 capillary leak syndrome in the Phase 2 MT-3724 monotherapy study in in relapsed/refractory diffuse large B-cell lymphoma patients. This subject and four others in the Phase 2 monotherapy study who were treated with material from the same MT-3724 product lot had markedly higher than expected peak drug exposure.
The company said it is working to address the clinical and MT-3724 product lot information requests from the FDA and will then seek agreement from FDA to remove the partial clinical hold.
The company also reported a narrower loss for the third quarter.
In after-hours trading, the stock tumbled 34.62% to $7.10.
Pfizer's Xeljanz Aces a Late-stage Akylosing Spondylitis Study
Pfizer Inc. (NYSE: PFE) announced today positive results from a Phase 3 investigational study evaluating the safety and efficacy of Xeljanz in adults with active ankylosing spondylitis.
The study met its primary and key secondary endpoint of Assessment in SpondyloArthritis International Society 20 and 40 response, respectively, compared to placebo at week 16.
Humanigen Reports Positive Late-stage Results For COVID-19, Strikes Partnership With DoD and BARDA For Development
Humanigen Inc (NASDAQ: HGEN) announced positive interim Phase 3 data of lenzilumab in patients hospitalized with COVID-19. Separately, the company and the Department of Defense entered into a collaboration with the BARDA to assist in the development of lenzilumab in advance of a potential emergency use authorization for COVID-19.
The shares were advancing 5% to $11.76 in premarket trading Friday.
Bristol-Myers Squibb Gets European Nod For Opdivo-Yervoy Combo In First-line Lung Cancer Setting
Bristol-Myers Squibb Co (NYSE: BMY) said the European Commission has approved Opdivo plus Yervoy with two cycles of platinum-based chemotherapy for the first-line treatment of adult patients with metastatic non-small cell lung cancer whose tumors have no sensitizing epidermal growth factor receptor (EGFR) mutation or anaplastic lymphoma kinase translocation.
Earnings
Coherus Biosciences Inc's (NASDAQ: CHRS) third-quarter revenues edged up from $111.68 million to $113.55 million, but earnings per share fell from 63 cents per share to 33 cents, trailing the 41-cent per share consensus estimate.
The stock was down 9.19% to $16.60 in after-hours trading.
Global Blood Therapeutics Inc (NASDAQ: GBT) reported third-quarter net product revenues of $36.89 million, comprising entirely of Oxbryta net revenues of $36.9 million.
Oxbryta is an oral therapy to treat sickle cell disease in adults and children 12 years of age and older, and it was approved by the FDA in Nov. 2019. Net loss per share narrowed from $1.07 to 97 cents, while analysts had estimated a narrower loss of 73 cents per share.
On The Radar
Adcom Calendar
FDA's Peripheral and Central Nervous System Drugs Advisory Committee will discuss Biogen Inc's (NASDAQ: BIIB) BLA for its Alzheimer's treatment candidate aducanumab. Positive briefing document released Wednesday has heightened expectations for a favorable verdict.
Earnings
Mylan NV (NASDAQ: MYL) (before the market open)
Amphastar Pharmaceuticals Inc (NASDAQ: AMPH) (before the market open)
Amneal Pharmaceuticals Inc (NYSE: AMRX) (before the market open)
Elanco Animal Health Inc (NYSE: ELAN) (before the market open)
Epizyme Inc (NASDAQ: EPZM)
Matinas BioPharma Holdings Inc (NYSE: MTNB) (before the market open)
Zimmer Biomet Holdings Inc (NYSE: ZBH) (before the market open)
GlycoMimetics Inc (NASDAQ: GLYC) (before the market open)
ImmunoGen, Inc. (NASDAQ: IMGN) (before the market open)
Jounce Therapeutics Inc (NASDAQ: JNCE) (before the market open)
Liquidia Technologies Inc (NASDAQ: LQDA) (before the market open)
View Comments and Join the Discussion!
Posted-In: Biotech Earnings News Penny Stocks Small Cap FDA Top Stories Pre-Market Outlook Best of Benzinga