Want to claim 6 FREE stocks? Head over to Webull to get started.
137.325 – 143.422
129.04 – 182.94
142.13
16.19B
67.32M/94.89M
2,224.49B
16.19B
0.92/0.65%
14.310
16.18B
As one of the largest tech companies in the world, Apple (NASDAQ: AAPL) has been a mainstay for technology ETFs — and value investors — for decades. A new dip in Apple's stock price may present new opportunities for novice investors.
If you've never invested before, you might think that you need millions of dollars to become a serious investor. However, the truth is that you can get started with just a few dollars in your account. 
Our guide will teach you how to open a brokerage account, how to buy stocks and how to start your investing portfolio off right. In doing so, you can buy Apple stock now and wait for it to rise to new heights.
How to Buy Apple (AAPL) Stock Now
If you've never bought a share of stock before, you'll first need to open a brokerage account. After opening and funding your account, you'll place a buy order through your broker's trading platform.
Follow these 4 simple steps to get started.
Pick a brokerage.

A broker is a financial service provider that's authorized to buy and sell shares of stocks on behalf of retail investors. The broker that you choose will determine how much you pay in commissions on each trade, the platform that you have access to, the type of investments that you can buy and sell and more. 

Because Apple stock trades on the Nasdaq, nearly every broker operating in the United States will allow you to freely trade Apple stock. This means that you can take plenty of time comparing brokers before you choose where you want to open your account.

Not sure where to start your search? Consider a few of our favorite brokers below.

Decide how many shares you want.

Next you'll need to decide how many shares of Apple stock you want to buy. Don't feel pressured to buy more shares of stock than you can comfortably afford. Remember that you can always purchase a single share and add to your investment later down the line.

If you only have a few dollars to invest, you might want to consider starting with a fractional share of Apple stock. A fractional share, as the name suggests, is a portion of a single share of stock equal to the amount of money that you invest at the current market rate. 

The best brokers allow you to invest in fractional shares by setting a limit on your investment budget and automatically calculating the number of shares that you can afford.

Choose your order type.

When you know how many shares of Apple stock you want to purchase, the next choice you'll need to make is which kind of buy order you want to use to invest. The type of buy order you choose will confirm the details of your order, how much you'll pay per share, when your order will be executed and more. 
Some of the most common types of orders you might can include:

Market orders: A market order is executed as soon as possible at the current market rate. Market rates help ensure that your order is filled but can cause you to pay more than you anticipated for each share of stock you buy.

Limit orders: A limit order is executed only at a specific price or below. For example, you might place a limit order to buy 100 shares of Apple stock with a limit price of $120. In this example, your broker would only fill the order if it was possible to buy each share at a price of $120 or less per share.

Stop orders: A stop order is executed only if the price of a stock rises above a certain price. For example, you might set a stop order to buy Apple stock with a stop price of $125. If the price of Apple stock rises above $125 a share, your order will automatically be converted to a limit order before executing. Stop orders can be useful for momentum plays and when a sell wall is stopping you from investing.

Trailing stop orders: Trailing stop orders are executed when and if a stock rises above its lowest price by a specific amount. For example, you can specify that you want to buy 100 shares of Apple stock when the price rises 5% above its low price of the day. Most brokers also allow you to specify your low price in terms of percentages or dollars.

Stop-limit order: A stop-limit order combines the characteristics of both a stop order and a limit order. When you place a stop-limit order, you'll specify a lower stop price and a higher limit price — these prices act as the boundaries for your order. When the stop price is reached, your order will convert to a limit order. If the market price of the stock rises above the limit price, your broker will stop filling your order.

These are just a few examples of the dozens of types of buy orders your broker might support. Buy order options will vary depending on the broker you work with and sometimes the type of stock or fund that you're investing in. 

Execute your trade. 

Double-check that you have your order details correct before submitting it to your broker. From this point, your broker is responsible for filling the order according to your directions. 

If the broker is able to fill the order, you'll receive a notification via email or push notification depending on your account settings. You'll also see your shares in your brokerage account the next time you log in.  

If your broker can't fill the order according to your directions, the broker may cancel the order at the end of the day or leave it open for up to 90 days. You can also cancel the order at any time before it's filled. 
Recommended Online Stock Brokers
Apple Stock History
Apple is a multinational technology company engaged in the development and production of a wide range of consumer electronics. Known for its streamlined design and operating system, some of Apple's most well-known products include the iPhone smartphone, the iPod mp3 and mp4 player and the iMac line of laptops and personal computers.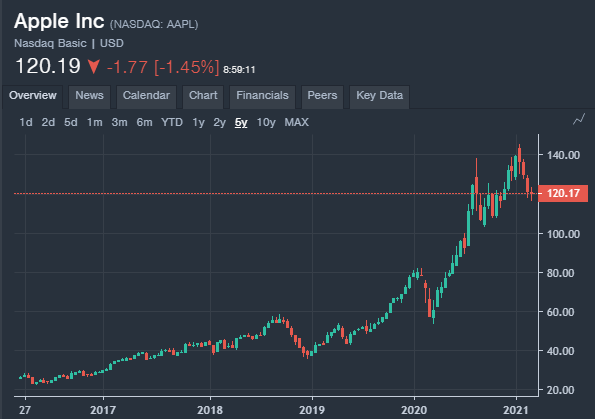 Apple's recent decline in price may present an opportunity for buyers.
Apple went public in December 1980, with shares offered at an initial price of $22 per share. The company has experienced a tumultuous history, mostly concerning its competition with Microsoft. While Apple's MacIntosh line became the "other" type of computer, the iPhone and iPad have pushed the company into the forefront of the public consciousness. So important is Apple and the iPhone that singles might stop dating someone they've just met because they aren't an iPhone user.
Every new iPhone release is a worldwide event, and new iPads offer consumers several new methods of productivity.
As a result of the massive sales figures associated with these products, the company began to see steady growth beginning in 2013, and its stock price quickly recovered from the onset of the COVID-19 pandemic, moving from a value of about $62 per share in March 2020 to more than $140 a share in January 2021. In the fall of 2021, stock prices rose and fell sharply overnight, offering new investors yet another opportunity to buy Apple as "cheaply" as possible.
Pros to Buying AAPL Stock
Arguably one of the most exciting future developments for Apple investors is the growth of 5G technology. Apple has recently announced that its iPhone model will support 5G speeds as early as 2023, and the company has invested more than $1 billion in manufacturing 5G-capable microchips. If you buy Apple stock now, you may well ride the wave that 5G technology can provide.
Announcement of the 2021 release of the iPhone also has investors buzzing, with new technology like astrophotography and 120 hertz refresh rates anticipated to be included on upcoming releases. The announcement of the new iPhone's features may drive Apple's stock prices out of its current slump.
Cons to Buying AAPL Stock
Even the most enthusiastic Apple investor can't deny that the iPhone isn't the driving growth force that it once was. iPhone sales have been trending downward, and the once dominant smartphone now makes up less than 50% of new phone sales.
While there is currently no imminent threat to Apple's market share in the same way that Apple essentially took over BlackBerry, more and more consumers are switching to Android models or new models introduced by Chinese tech companies like Huawei.
Adding Apple to Your Portfolio
Looking for a way to invest in Apple without risking all your funds on the fate of a single company? Consider investing in shares of a tech ETF instead of shares of Apple stock.
Tech ETFs like the Vanguard Information Technology Index Fund ETF hold large holdings in Apple while also retaining shares of other major tech giants. Investing in a technology ETF allows you to instantly diversify your portfolio while also increasing your exposure to Apple.