Jump straight to Webull! Get real-time market data, analysis tools and $0 commissions.
Given the number of online stockbrokers currently available, determining which broker is best for you can take some research. Get started with our list of the best online stock brokers and find the best stock trading platform for you. 
Best Online Stock Brokers and Platforms
Once you know what you're looking for in an online stock broker, you can make an informed decision on which stock broker to choose. For example, if you plan on making investments in foreign stock markets and already have considerable experience operating in the financial markets, Interactive Brokers might make a good choice. 
The best stock trading platform should dovetail with your needs and investment goals.
After you've researched and selected a stockbroker, you can usually open a paper trading or demo account without a deposit. This lets you practice trading and check out the broker's services and trading platform.
To help make your search easier, we have selected the best online stock brokers in 10 different categories after reviewing their trading platforms, research tools and supported asset classes.  Many online brokers also offer their services free of commissions, although other charges and inactivity fees may apply. 
Best For
Intermediate Traders and Investors
1. Best for Mobile Traders: Webull
Webull offers both a mobile-based and desktop app that are highly intuitive and perfect for intermediate and advanced traders. The Webull trading platforms feature fundamental and technical analysis tools that include advanced charting and technical indicators.
You can trade over 5,000 stocks, exchange-traded funds (ETFs) and stock options on Webull's platforms free of commissions. You can also open an account without an initial deposit and try out their platforms in a paper trading account that lets you practice trading without risking your money.
You can even open a margin account where you can short stock — although you'll be required to deposit a minimum of $2,000. In addition, Webull's promotional offers include 1 free share of stock for successfully opening an account determined by random selection using Webull's lottery system.
2. Lowest Cost Overall: Interactive Brokers
Interactive Broker's award-winning platform and services were designed with professional international traders in mind. You get market access 24 hours a day, 6 days a week, and can trade in 135 different markets in 33 countries with 23 currencies via this broker.
The broker's trading platforms include a basic Client Portal, its flagship platform, the Trader Workstation (TWS) and a mobile application. The IBKR Application Programming Interface (API) is available in Excel and the powerful FIX API.
The broker's pricing depends on whether you choose IBKR Lite or IBKR Pro, although U.S. stocks and ETFs can be traded commission-free.
3. Best for Short Selling: Cobra Trading
Cobra Trading is the go-to broker for short selling with exceptional access to stock borrows and direct access routing. Cobra gives you the ability to take advantage of the best opportunities in the market. The broker has been in business for nearly 20 years and maintains the perks of a small firm.
Cobra offers:
Active Trading Accounts over $25K
Competitive Access to Short Opportunities
Direct Access Routing
Immediate and Available Client Service
The DAS Trading Platform
Cobra Trading exclusively opens and services active trading brokerage accounts above $25K. Cobra allows you to trade in a way that a "free broker" cannot.
4. Best for Research and Trading Tools: TD Ameritrade
TD Ameritrade is the largest online discount broker. It offers commission-free trading in listed stocks and ETFs, as well as mutual funds, futures, bonds, certificates of deposit (CDs) and forex. You can also have your portfolio professionally managed by TD Ameritrade.
While advanced traders tend to appreciate this broker's extensive research and platform offerings, TD Ameritrade also offers considerable educational resources for new traders.
You can trade U.S. listed stocks and ETFs commission-free at TD Ameritrade, although you'll need to pay $6.95 for over-the-counter (OTC) trades and $0.65 per option contract. The broker's thinkorswim trading platforms rank among the most advanced in the business and is aimed at seasoned traders.
5. Best for Advanced Traders: TradeStation
TradeStation's trading platforms were designed with the advanced trader in mind, however, new traders can access many of the features used by professionals through TradeStation's GO account option. The broker's wide range of asset classes include stocks, bonds, options, mutual funds, futures and cryptocurrencies.
TradeStation offers 0 commission stock and ETF trades, but options trades cost $0.60 on TD's Select account and $0.50 on the broker's GO account. TradeStation offers more than 2,000 mutual funds but charges a $14.95 commission.
Other assets that incur commission charges are stock options, bonds, futures and futures options. Balances held in cryptocurrencies such as Bitcoin (BTC), Bitcoin Cash (BCH), Ethereum (ETH), Litecoin (LTC) and USD Coin (USDC) can earn as much as 8% interest at TradeStation.
6. Best for Beginners: Robinhood
Robinhood was among the 1st online brokers to offer commission-free trading in stocks, ETFs and options. The broker also allows trading in select cryptocurrencies via its platform in some U.S. states.
The broker provides a simple and easy-to-use web-based desktop trading platform, in addition to its flagship mobile app that lets you access price charts and some other trading tools. While novices may find the platform adequate for trading and investing, most seasoned traders will prefer platforms with more technical analysis indicators and tools.
Although Robinhood requires a $2,000 minimum for its Robinhood Gold account, its standard account has no minimum deposit and will suit beginners with limited funds. Fractional share trading is supported.
7. Best for Intuitive Trading Platforms: Moomoo
Moomoo is a relatively new online stock broker that features commission-free trading on powerful intuitive trading platforms. The broker offers customizable tools that will suit investors and traders at all experience levels.
Moomoo's trading channels have superior order processing abilities that give it some of the fastest execution times in the business. Its platforms also display Level 2 streaming market data with real-time bids and offers that shows the depth of the market.
Moomoo's promotions offer new clients up to 4 free stocks with a value between $8 and $1,000, depending on the amount of your initial deposit. Stocks offered include Apple Inc. (NASDAQ: AAPL), Microsoft (NASDAQ: MSFT), Ford Motor Co. (NYSE: F), Tesla (NASDAQ: TSLA), Boston Beer Co. (NYSE: SAM), Bank of America (NYSE: BAC) and Gap Inc. (NYSE: GAP).
8. Best for Web Platforms: E*TRADE
E*TRADE was one of the original online stockbrokers and now provides commission-free trading in U.S. stocks and ETFs. You can also trade options and over 7,000 mutual funds, including more than 4,000 no-load and no-transaction fee funds.
Other offerings include 6 different types of individual retirement funds (IRAs) and 5 IRAs designed for small businesses.
E*TRADE's web-based trading platforms are called E*TRADE and Power E*TRADE. They can both be used on your mobile device, so you can trade on the go, as well as on your desktop computer.
You can open an account without a deposit at E*TRADE, but you'll need to deposit at least $500 to keep the account open. The broker also runs a bank where you can open a savings or checking account or even borrow money via an E*TRADE line of credit.
9. Best for Mutual Funds Traders: Fidelity
Fidelity Investments has a history of providing an excellent lineup of actively managed mutual funds, as well as offering commission-free stock, ETF and option trades. You can open a Fidelity account with no minimum and the broker offers some of the lowest margin rates in the business for margin accounts.
Fidelity gives you a wide range of ways to invest. The broker also provides advisory services that cost from 0.50% to 1.50% of assets invested yearly.
You can also let the firm's robo-advisor, Fidelity Go, manage your portfolio. In addition to its online services, Fidelity operates over 200 investment centers around the US for investors who prefer a more personal experience.
10. Best for Fractional Share Trading: Charles Schwab
Charles Schwab has been providing discount brokerage services since 1971 and offers a wide range of services for traders from beginners to seasoned professionals, including its proprietary trading platform.
If you have limited funds, the broker offers a fractional share service known as Schwab Stock Slices. It lets you trade in amounts as little as $5 of any stock, so if you invest $5 in a stock worth $111, then you would own a 4.5% fractional share of the company.
The customizable service lets you choose as many as 30 stocks to trade each time you enter an order. The service is available after you've opened and funded an account. Like Schwab's regular brokerage service, buying stocks with Schwab Stock Slices is commission-free.
The broker has excellent research and educational resources, and you can get automated investment advice with professional guidance, plan and invest with an advisor or invest on your own as a self-directed investor.
Stock Research Platforms
Stock research platforms vary in what they offer. Some focus on picking stocks, while others provide fundamental and technical analysis tools you can use to select your own stocks.
For example, Benzinga Pro offers a wealth of news and research on its research platform. You can select from 3 subscription levels: Basic, Essential and Enterprise.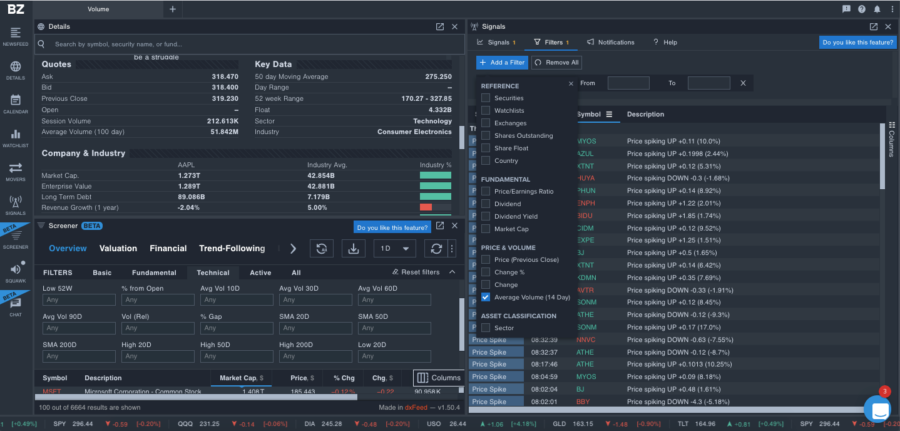 Benzinga Pro trading platform. Source: Benzinga Pro.
In addition to a news feed, you can use Benzing Pro to access watchlist alerts, a financial calendar, stock market movers, a stock screener, sentiment indicators, market signals, a squawk box and an options screener. You can also view either Nasdaq-delayed or real time quotes depending on your subscription level.
This highly customizable research service keeps you connected to the financial world and even lets you interact with their newsdesk when you have any questions about current financial news. It also offers exclusive content and trading ideas that could prove invaluable to traders.
If you haven't tried this great Benzinga service yet, you can register for a free 2 week trial today.
Which Broker Suits You Best?
All the stockbrokers mentioned above have different features that might work better for some people. The best stock trading platform would be the one that optimally fulfills your particular needs. 
Many of these top quality brokers also offer demo or paper trading accounts that let you gauge their services and trading platforms, so you can try them out before committing any funds.
Stock Movers of the Day
Gainers
Session: Sep 16, 2021 4:00 pm – Sep 17, 2021 3:59 pm
Losers
Session: Sep 16, 2021 4:00 pm – Sep 17, 2021 3:59 pm
Frequently Asked Questions
Are online stock brokers safe?
Duly regulated online brokers like those listed above are insured by the Securities Investor Protection Corp. (SIPC) that protects assets held with the broker up to $500,000, including $250,000 held in cash.
Answer Link
Which online broker has the lowest fees?
All of the brokers mentioned above charge no commissions for U.S. stock and ETF transactions. If you plan on trading other exchange traded assets like futures and options, you might have to pay exchange-related fees. 
Answer Link
Does Warren Buffet use a stock broker?
Warren Buffet is not a registered broker, so he and his companies must buy exchange listed stocks through a broker just like the rest of us.
Answer Link
Related Content: FLOWTRADE REVIEW – algorithmic trading system created by traders to improve skill sets
Turn to Webull
0 Commissions and no deposit minimums. Everyone gets smart tools for smart investing. Webull supports full extended hours trading, which includes full pre-market (4:00 AM - 9:30 AM ET) and after hours (4:00 PM - 8:00 PM ET) sessions. Webull Financial LLC is registered with and regulated by the Securities and Exchange Commission (SEC) and the Financial Industry Regulatory Authority (FINRA). It is also a member of the SIPC, which protects (up to $500,000, which includes a $250,000 limit for cash) against the loss of cash and securities held by a customer at a financially-troubled SIPC-member brokerage firm.