A Complete List Of NYSE And NASDAQ-Listed Cannabis Companies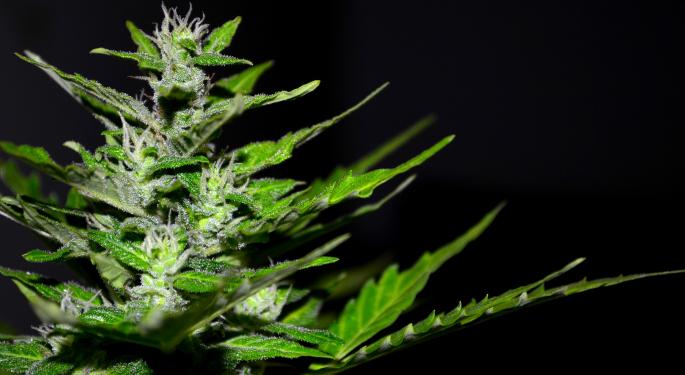 As the cannabis industry keeps pushing forward, more companies are moving to list their stock on a major U.S. exchange like the NYSE or NASDAQ.
Canadian medical marijuana producer Aphria Inc (NYSE: APHA) debuted on the NYSE on Nov. 2. Prior to that, Aphria's stock had been listed on the over-the-counter market in the U.S. and on the Toronto Stock Exchange. Listing on the NYSE is a major step for Aphria, opening the company to a larger pool of investors.
Aphria joins a relatively small club of public cannabis companies. Given the federal uncertainty that still surrounds cannabis in America and in most of the world, few cannabis companies choose the path of a public listing in order to raise funds and even fewer among them are pure-play marijuana stocks.
Listing Vs. Other Funding Sources
Cannabis companies are typically able to raise money from venture capital firms, or they can list their stock.
Listing a stock allows enables fundraising from a larger pool of investors. At the same time, a publicly traded stock can be volatile, and even more so in an emerging sector like cannabis.
Even though listing on a major exchange such as the NYSE and NASDAQ requires a company to comply with strict transparency and accountability rules, it also sends investors a sign that the company is serious about its business.
Benzinga has compiled a list of NYSE- and NASDAQ-listed cannabis companies, as well as a short description of the company's involvement in the sector. In the first part of the list, we focused on pure-play stocks: companies for which cannabis is their core business.
Akerna Corp (NASDAQ: KERN)
Market Cap: $160M
Akerna was launched on June 17, 2019, following the merger of cannabis-focused blank check company MTech Acquisition Corp and MJ Freeway, a provider of a seed-to-sale regulatory compliance technology and Enterprise Resource Planning platform.
Akerna is the first cannabis compliance technology company to be traded on NASDAQ and is the first NASDAQ-listed cannabis company led by a woman. The company allows cannabis businesses to connect data points in their supply chain making it more transparent and accountable.
Aurora Cannabis Inc (NYSE: ACB)
Market Cap: $7.4 billion
Canadian marijuana producer Aurora Cannabis is considered one of the best stocks for full exposure to the cannabis industry. Aurora is one of the largest cannabis companies in the world. It operates eight licensed production facilities, with five sales licenses and operations in 18 countries. The company has a funded production capacity of over 500,000 kilograms. Aurora recently acquired MedReleaf in a $2.5-billion merger, the industry's largest.
Canopy Growth Corp (NYSE: CGC)
Market Cap: $8.2 billion
Canopy Growth is the largest marijuana company in the world by market capitalization. It's also one of the largest in terms of funded production capacity, with a figure of over 500,000 kg. The company is moving fast in expanding its licensed grow space. It started the year with around 800,000 square feet, but recently it has said it reached a licensed platform of 4.3 million feet. Overall, Canopy has a production platform of 5.6 million feet, of which now 75 percent is licensed.
CannTrust Holdings Inc. (NYSE: CTST)
Market Cap: $962.02 million
On Feb. 25, CannTrust Holdings joined its peers on the New York Stock Exchange. CannTrust provides medical and recreational cannabis and cannabis products, operating a 450,000 square-foot facility in Pelham Ontario, which it plans to expand by another 390,000 square feet. CannTrust has a 60,000 square-foot packaging facility in Vaughan, Ontario. Outside of Canada, CannTrust works with Cannatrek Ltd in Australia and has ajoint venturewith STENOCARE in Denmark.
cbdMD Inc (NYSE: YCBD)
Market cap: $163.7 million
cbdMD offers a range of CBD products, such as tinctures, oil, gummies, topicals and pet products. Recently, the company has partnered with a number of athletes, such as retired UFC champion Quinton "Rampage" Jackson and professional golfer Bubba Watson.
On May 1, cbdMD changed its name from Level Brands and the ticker from LEVB to YCBD following a vote from shareholders. It's the only CBD-focused U.S. company traded on a major exchange.
Cronos Group Inc (NASDAQ: CRON)
Market Cap: $1.3 billion
In February, Cronos Group became the first pure-play cannabis stock to list on a major U.S. exchange. Based in Canada, Cronos is a vertically integrated cannabis company whose core business is medical marijuana, but it is also involved in the recreational space following the full legalization of weed in Canada earlier this month. Similar to its peers, Cronos has been ramping up its production capacity and expects to grow over 47,000 kilograms in early 2019. In addition, Cronos owns Peace Naturals and Original BC, which are licensed to grow and sell medical marijuana in Ontario and British Columbia, respectively.
Greenlane Holdings, Inc. (NASDAQ: GNLN)
Market Cap: $80 million
Greenlane went public on April 18. It's a Florida-based company that distributes over 140 brands of vaporizers and smoking accessories across the world through dispensaries, smoke shops, as well as through its ecommerce platforms.
The company doesn't provide any cannabis products, but it has a major exposure to the industry and is betting big on its growth. Greenlane's products are distributed across hundreds of licensed cannabis cultivators, processors and dispensaries.
GW Pharmaceuticals PLC (NASDAQ: GWPH)
Market Cap: $62 billion
Among pharmaceutical companies, UK-based GW Pharmaceutical is the closest to being a pure-play cannabis company.
GW is focused on developing cannabis-based drugs. Its Sativex drug, for the treatment of multiple sclerosis, was the first-ever natural cannabis plant derivative to be approved by regulators in any country, receiving UK approval in 2010. Earlier this year, Epidiolex, for the treatment of epilepsy, became the first cannabis-derived drug to bag FDA approval.
HEXO Corp (NYSE: HEXO)
Market Cap: $1.5 billion
Hexo is a Gatineau, Quebec-based adult-use cannabis company that focuses on innovative, smoke-free and traditional cannabis products. The company was previously known as Hydropothecary Corp, but changed its name to HEXO in August 2018 following the launch of the HEXO brand for the adult-use market (medical products retained the Hydropothecary brand).
In August 2018, HEXO and Molson Coors Brewing Co (NYSE: TAP)'s Canadian division agreed to form a joint venture (later revealed as Truss) to develop non-alcoholic, cannabis-infused beverages for the Canadian market. HEXO's stock debuted on the NYSE American on Jan. 23.
Innovative Industrial Properties Inc (NYSE: IIPR)
Market Cap: $1.2 billion
Innovative Industrial Properties is the only publicly traded cannabis-focused Real Estate Investment Trust. The company manages a portfolio of real estate properties that it leases to medical cannabis companies in the U.S. Among its lessees are PharmaCann (New York and Massachusetts), The Pharm (Arizona), Holistic Industries (Maryland and Massachusetts), Green Peak (Michigan) and Vireo Health (Minnesota, New York, and Pennsylvania).
OrganiGram Holdings Inc (NASDAQ: OGI)
Market Cap: $1.4 billion
After announcing it had applied to list its stock on NASDAQ on April 26, it took slightly more than two weeks for the Canadian cannabis producer to get approved and another week for it to start trading on May 21.
OrganiGram produces indoor-grown medical and adult-use cannabis in Canada and has distribution across all 10 provinces. The company's plants for recreational use have recently received the organic certification from the Pro-Cert Organic Systems Ltd. In anticipation of the legalization of edibles in Canada later this year, OrganiGram has invested $15 million into an automated production line for cannabis-infused chocolate that has a capacity of 4.0 million kilograms per year, which will be delivered this fall.
Pyxus International Inc (NYSE: PYX)
Market Cap: $137 million
Until recently, Pyxus International was known as Alliance One International and was involved in tobacco growing and packaging. Earlier this year, the company rebranded into Pyxus as it embraced cannabis. In January, Pyxus's subsidiary Canadian Cultivated Products acquired 75 percent of Canada's Island Garden and 80 percent of Goldleaf Pharm. Later, Canadian Cultivated Products was rebranded into FIGR Cannabis.
At the beginning of October, Goldleaf received a cultivation license from Health Canada. In addition, Canada's Island Garden has received a license to sell marijuana and signed an agreement with the province of Prince Edward Island for 1,000 kilograms of cannabis products. Moreover, Pyxus International's Korent subsidiary is involved in production of industrial hemp and hemp-derived CBD oil and liquid for e-cigarettes.
Therapix Biosciences Ltd (NASDAQ: TRPX)
Market Cap: $19.7 million
Israel-based Therapix Biosciences is involved in developing a pipeline of drugs based on the FDA-approved cannabinoid Dronabinol, such as THX-110 for the treatment of Tourette syndrome and obstructive sleep apnea, THX-130 for mild cognitive impairments and THX-150 for the treatment of infectious diseases. Recently, Canadian marijuana producer FSD Pharma (OTC: FSDDF) announced that it would acquire Therapix Biosciences for $48 million in stock.
Tilray Inc (NASDAQ: TLRY)
Market Cap: $8.5 billion
In July 2018, Tilray became the first pure-play cannabis company to list on NASDAQ, and its stock quickly captured attention as it surged eightfold in just two months after the IPO.
The company was founded in 2013, and in 2016 it became the first medical marijuana producer in North America to receive the good manufacturing practices certification. Tilray's production capacity currently lags behind giants like Aurora or Canopy Growth at around 15,000 kilograms. It has been investing in expansion and aims to have over 900,000 square feet of production capacity by the end of the year.
Zynerba Pharmaceuticals Inc (NASDAQ: ZYNE)
Market Cap: $313 million
Zynerba Pharmaceuticals is focused on developing transdermal cannabinoid therapies for rare and near-rare neuropsychiatric diseases. Among its product candidates is ZYN002 CBD for children and adolescents with Fragile X syndrome, a genetic condition that causes intellectual disability, behavioral and learning challenges and is the most commonly known single-gene cause of autism spectrum disorder. Other targeted conditions include developmental and epileptic encephalopathies and adult epilepsy.
This article was last updated on July 8, 2019.
Posted-In: cannabis stocks marijuana medical marijuanaCannabis Education Top Stories Markets General Best of Benzinga
View Comments and Join the Discussion!