A Look At Biotech In 2018 And The Biggest Catalysts Coming Up In The Second Half Of The Year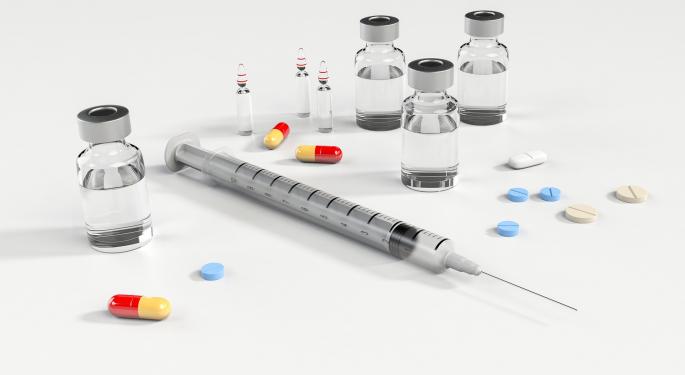 Biotech stocks carved out modest gains in the first half of 2018 and outperformed the broader market, although their gains paled before those of the tech-weighted Nasdaq Composite Index. From the fundamental perspective, there was no lack of catalytic events such as FDA decisions, clinical trial results announcements and mergers and acquisitions.
Here's a listing of some individual biotechs that moved notably in either direction in the first half of the year.
Stocks That More Than Doubled
The 5 Worst Declines
IBB Vs. S&P 500 Vs Nasdaq Composite Index
Source: YCharts
NME Approvals
New molecular entities are products that contain active moieties that haven't been previously approved by the FDA, either as a single ingredient drug or as part of a combination product. The number of NME approvals are usually considered a measure of innovation in drug research. So far in 2018, the number of NME approvals totaled 17 — a big number, though smaller than the 23 approvals made in the same period last year. Click here to learn about FDA's NME approvals for the first half.
Launches With Blockbuster Potential
A handful of drugs with blockbuster potential were launched in the first half:
Gilead Sciences, Inc. (NASDAQ: GILD)'s AIDS cocktail Biktarvy, a concoction of bictegravir 50mg, emtricitabine 200mg and tenofovir alafenamide 25mg. A once-daily single tablet regimen for HIV-1 infection was approved by the FDA Feb. 7. Biktarvy's sales could touch $6.1 billion by 2024, Evaluate Pharma said in its World Preview 2018.
Novo Nordisk A/S (ADR) (NYSE: NVO) launched its Ozempic injection, chemically semaglutide, 0.5 mg or 1 mg as well as Fiasp 100 Units/mL across the U.S. in February. The FDA had approved Ozempic, a glucagon-like peptide 1 agonist, in December. EvaluatePharma estimates Ozempic sales of about $4.41 billion by 2024.
Major Heartaches
On the flipside, some biotechs did experience setbacks in the first half of the year.
Incyte Corporation (NASDAQ: INCY) had to halt trials of its lead immunotherapy candidate epacadostat — which was evaluated in combination with Merck & Co., Inc. (NYSE: MRK)'s Keytruda for melanoma — after it failed to meet the primary endpoint in a pivotal Phase 3 study. The news triggered a 23-percent downward move in Incyte shares in a single day on April 6.
AbbVie Inc (NYSE: ABBV) had its share of bad news, as its rovalpituzumab tesirine, or Rova-T, produced disappointing results. The therapy was evaluated in a Phase 2 trial dubbed TRINITY as a third-line treatment for patients with relapsed or refractory small-cell lung cancer demonstrating high DLL3 expression. The company said it would not pursue accelerated approval for Rova-T. The stock fell about 13 percent on the March 22 announcement and is still off from levels reached before the announcement.
Celgene Corporation (NASDAQ: CELG) was in for a shock after the FDA issued a "refuse-to-file" letter in response to its NDA filing for ozanimod in patients with relapsing forms of multiple sclerosis.
See also: Achieve Life Sciences Shares Rip Higher On Positive Data For Smoking Cessation Drug
It's Raining Deals
M&A in the biotech space picked up momentum after a lull in 2017, with a few multibillion-dollar deals announced in the space. Tax reform freed up free cash flow, and the urge to bolster pipelines prompted companies to explore the M&A route in a bid to reinvigorate sagging top and bottom lines. Some of the noteworthy deals that were announced include:
Japan's Takeda agreeing to buy Shire PLC (ADR) (NASDAQ: SHPG) for $62 billion.
Sanofi SA (ADR) (NYSE: SNY) acquiring Bioverativ, which develops hemophilia and blood disorder drugs, for $11.6 billion, as well as Belgian biotech company Ablnyx for $4.8 billion.
Celgene buying Juno Therapeutics for $9 billion — and in the process gaining a foothold in the immuno-oncology market through its access to JCAR071, a CD-19 targeted CAR-T therapy in pivotal late-stage trials for relapsed and/or refractory diffuse large B-cell lymphoma. Celgene also bought Impact Biomedicines for up to $7 billion, including potential milestone payments.
A Second Half Preview
Here's a sneak peek into potential biotech catalysts coming in the second half of 2018.
FDA Approvals
Johnson & Johnson (NYSE: JNJ)'s sNDA for its Xarelto vascular dose to reduce the risk of major cardiovascular events in patients with chronic coronary and/or peripheral artery disease, as well as for reducing the risk of acute limb ischemia in patients with peripheral artery disease, is pending before the FDA. The application was submitted in mid-December.
Teva Pharmaceutical Industries Ltd (ADR) ADR (NYSE: TEVA)'s BLA for its migraine treatment candidate fremanezumab will come before the FDA, with the agency scheduled to rule on the drug Sept. 16.
Abbvie and Neurocrine Biosciences, Inc. (NASDAQ: NBIX) are awaiting the FDA verdict on their NDA for elagolix in endometriosis-associated pain. The PDUFA date is set for the third quarter following a three-month extension of the review period.
Insys Therapeutics Inc (NASDAQ: INSY) has a July 28 FDA date and is set to receive the verdict on the company's sublingual spray formulation of buprenorphine to treat moderate-to-severe acute pain.
DURECT Corporation (NASDAQ: DRRX), which has licensed its schizophrenia candidate RBP-7000 to U.K.-based Indivior, comes under the FDA scanner, with the agency set to rule July 28 on the pipeline candidate. DURECT will yet again be in the spotlight, as Remoxy ER, a drug it licensed to Pain Therapeutics, Inc. (NASDAQ: PTIE) has a PDUFA action date of Aug. 7. The odds of the drug clearing the FDA hurdle have worsened after a FDA panel voted against the approval.
SIGA Technologies, Inc. (NASDAQ: SIGA)'s small pox antiviral therapy Tpoxx in an oral formulation faces an FDA decision Aug. 8.
AstraZeneca plc (ADR) (NYSE: AZN)'s BLA for moxetumomab pasudotox for treating hairy cell leukemia has a PDUFA date in the third quarter.
Bristol-Myers Squibb Co (NYSE: BMY)'s sBLA for Opdivo for treating small-cell lung cancer that has progressed following two or more lines of therapy was granted priority review in mid-April. The application was submitted based on the CheckMate-032 trial.
Eli Lilly And Co (NYSE: LLY) and Merck await the FDA's decision on the Keytruda-Alimta combo along with platinum chemotherapy as a first-line treatment for patients with metastatic non-squamous non-small cell lung cancer. The PUDFA action date is set for Sept. 23.
Pfizer Inc. (NYSE: PFE)'s dacomitinib, evaluated as a first-line treatment for squamous non-small cell lung cancer with epidermal growth factor receptor-activating mutations, awaits the FDA's verdict in September.
The FDA is set to rule on Verastem Inc (NASDAQ: VSTM)'s lead product candidate duvelisib Oct. 5. The pipeline candidate is being tested for relapsed or refractory chronic lymphocytic leukemia/small lymphocytic lymphoma.
Clinical Trials
Alkermes Plc (NASDAQ: ALKS) expects to release top-line results from the ENLIGHTEN-2 study, the second of two key Phase 3 studies for ALKS 3831 for schizophrenia, in the fourth quarter. The company plans to use clinical data from the study for the NDA submission if the study is successful, along with the previously reported data for the ENLIGHTEN-1 study.
Foamix Pharmaceuticals Ltd (NASDAQ: FOMX) plans to release top-line results from two Phase 3 pivotal studies for its FMX103 trial of 1.5-percent topical minocycline foam in rosacea early in the fourth quarter. The company will also release top-line data for its FMX-101 Phase 3 acne study in the third quarter.
FibroGen Inc (NASDAQ: FGEN) expects to release top-line results from Phase 3 studies supporting its NDA submission for roxadustat in anemia-associated with chronic kidney disease by the end of 2018. The company expects to submit the NDA in the first half of 2019.
Regulus Therapeutics Inc (NASDAQ: RGLS) plans to release data from the Phase 1 renal biopsy study of RG-012 to treat Alport syndrome by the end of the year.
OncoSec Medical Inc (NASDAQ: ONCS) will complete enrollment of 23 patients in the first stage of the PISCES/KEYNOTE-695 study evaluating its intratumoral Tavo plus electroporation in combination with intravenous Keytruda in patients with stage III/IV melanoma who are progressing on either Keytruda or Opdivo in the third quarter. The company expects to present top-line results from this study before the end of the year.
Regulatory Submissions
AbbVie announced positive Phase 3 top-line results for its oral JAK1-selective inhibitor upadacitinib in early June. The candidate is being evaluated as a monotherapy in adults with moderate-to-severe rheumatoid arthritis. The company expects the SECLECT-EARLY study, the fifth pivotal study, to -produce results supporting a regulatory filing in the second half of 2018.
Intra-Cellular Therapies Inc (NASDAQ: ITCI), which initiated a rolling submission of its NDA for lumateperone for treating schizophrenia in June, expects to complete the NDA submission by mid-2018. Rolling submission allows a company to submit sections of the NDA when they are complete, rather than waiting until the entire application is finalized.
View Comments and Join the Discussion!
Posted-In: Biotech M&A News Health Care Previews FDA Top Stories Trading Ideas Best of Benzinga