A Survey Of Celgene's M&A Strategy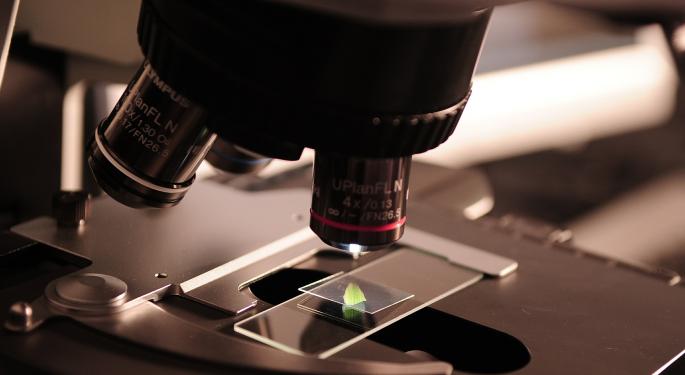 M&A activity has begun in the New Year, with the pharma sector leading from the front. Earlier this week, the Wall Street Journal reported Celgene Corporation (NASDAQ: CELG) is pursuing Juno Therapeutics Inc (NASDAQ: JUNO).
The report triggered a massive 52-percent upward move in shares of Juno, while Celgene stock gave back about 2.5 percent. Even as the market and analysts analyze the implications of a potential combination for the two companies, related pharma names, and the biotech sector as a whole, Benzinga took a look at the acquisitive predilection of Celgene, a maker of drugs for cancer and inflammatory disorders such as psoriasis and psoriatic arthritis.
Editor's note: On Jan. 22, a deal between Celgene and Juno was confirmed worth about $9 billion.
Growing Inorganically
Fundamental challenges are not what made Celgene look for growth elsewhere. The host of acquisitions the company made in the past were to supplement its organic growth, either to give depth to its product portfolio or to branch outside of its core area. Celgene has sought out privately held companies in a bid to gain access to innovative compounds meant for niche areas. Apart from outright acquisitions, Celgene has also forged alliances with companies to acquire rights to new drug candidates.
Celgene's Many Acquisitions
2018
A few days into the New Year, Celgene announced a deal to buy Impact Biomedicines, a privately held, San Diego-based company, for an upfront payment of $1.1 billion. Including milestones and other payments, the total transaction value could hit $7 billion.
Deal Logic: Impact's late-stage asset fedratinib is being evaluated for myelofibrosis, a form of bone marrow cancer, and polycythemia vera. The product candidate demonstrated clinical improvement in a Phase III trial with treatment-naïve myelofibrosis patients and in a Phase II trial with myelofibrosis patients who were resistant or intolerant to ruxolitinib. The company plans a New Drug Application, or NDA, filing by mid-2018.
2017
Celgene announced Jan. 26, 2017 an agreement to buy privately-held Delinia, which is into the business of developing novel therapeutics for autoimmune disease. The financials included a $300 million upfront payment and an additional $475 million in milestone payments contingent on achieving some development, regulatory and commercial milestones.
Deal Logic: Delinia's lead candidate DEL106, as well as related second-generation programs, were supposed to help expand Celgene's inflammation and immunology pipeline.
2015
In July 2015, Celgene agreed to buy Receptos for about $7.2 billion, with the deal giving the former access to a drug candidate called ozanimod in late-stage development for treating ulcerative colitis and multiple sclerosis. It was estimated at the time that the company could reap the reward for the investment beginning in 2019.
Deal Logic: At the time, Celgene had estimated peak ozanimod sales of $4 billion to $6 billion in both indications, namely ulcerative colitis and multiple sclerosis. To top it, the company also suggested the product candidate could come in handy for treating Crohn's disease and atopic dermatitis.
Related Link: Attention Biotech Investors: Brace For These January PDUFA Events
2012
Celgene snapped up Avila Therapeutics, another privately held oncology company, in January 2012 by paying $350 million in cash, with additional milestone payments up to $195 million. The deal closed March 7, 2012.
Deal Logic: The deal brought AVL-292, Avila's blood cancer treatment candidate, into Celgene's stable. The deal also provided for the addition of the Avilomics platform to Celgene's R&D division, with Celgene agreeing to make $380 million in back-end payments for the other drug candidates developed by the platform.
Older Deals
In 2010, Celgene announced a deal to acquire Abraxis Bioscience, with the upfront payment made in cash valuing the latter at $2.9 billion net of cash. The deal added Arbaxane, a FDA-approved drug for treating breast cancer.
In 2009, Celgene announced its intention to acquire Gloucester Pharma for $340 million in cash and potential milestone payments of up to $300 million. The deal was completed in January 2010. The deal gave Celgene access to Istodax, an approved therapy for the treatment of cutaneous T-cell lymphoma.
In 2007, Celgene bought Pharmion for $2.9 billion in cash and stock. Pharmion's Vidaza was approved for treating myelodysplastic syndromes, or MDS, a group of bone marrow diseases that can lead to cancer.
In 2002, the company announced a deal to buy Anthrogenesis, a privately held company working on the recovery of stem cells from human placental tissue, which could be used in bone marrow transplants for cancer patients.
In 2002, Celgene acquired Signal Pharma for $196 million. Signal Pharma focuses on intracellular signaling and gene and protein regulation.
Collaborations
Celgene bought the pipeline candidate from Irish biotech Nogra Pharma for an upfront payment of $710 million in 2013.
Celgene made a $1-billion investment in Juno Therapeutics in June 2015, with the 10-year partnership forged out of the deal aimed at marketing the latter's technologies that use the immune system to treat cancer and autoimmune disease.
The technologies include the Chimeric Antigen Receptor Technology, or CAR-T, and T-Cell Receptor, or TCR. Chimeric antigen receptors are engineered receptors used to graft the specificity of a monoclonal antibody onto a T-cell. The CAR-T technology involves removal of T-cells from patients which are then modified so they express receptors specific to a patient's cancer, which can recognize and kill cancer cells. These modified T-cells are reintroduced into the patients.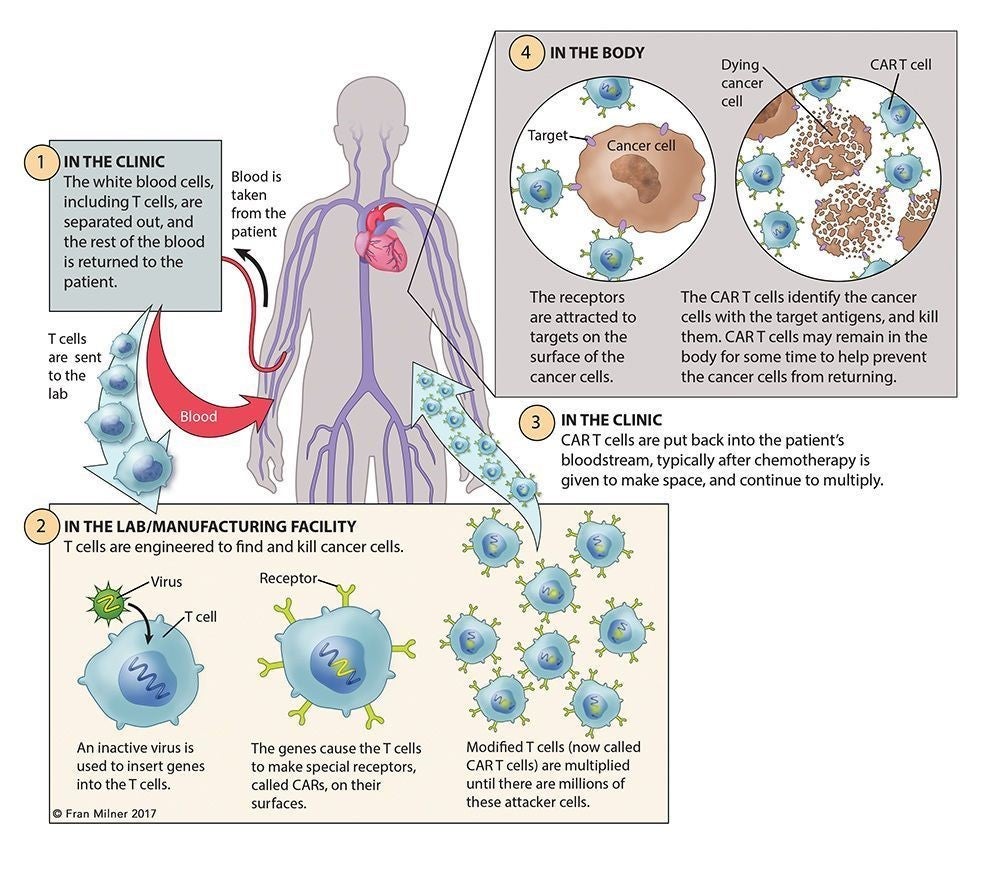 Source: LLS.org
T-cells are a subset of lymphocytes that play a big role in immune response, and TCR is a complex of integral membrane proteins that activate T-cells in response to an antigen. In 2013, Celgene announced a global strategic collaboration with another immune-oncology company, bluebird bio Inc (NASDAQ: BLUE), which was then a private company. The agreement provided for the former paying an upfront $225 million per product in potential option fees and clinical and regulatory milestones.
Celgene also has a tie-up with Agios Pharmaceuticals Inc (NASDAQ: AGIO), with the initial deal signed in 2010 meant for collaborating on cancer metabolism.
The Rationale Behind Celgine's M&A
Celgene's blockbuster drug Revlimid is an immunomodulatory drug to treat multiple myeloma, a cancer of plasma cells. Revlimid, according to the recent 10-K filing, accounted for over half of Celgene's total revenues. For the year ended December 2016, the company reported revenues of $11.23 billion, with Revlimid accounting for $6.97 billion or 62 percent of the total. With the drug likely to go completely off patent by 2027, Celgene is on a drive to zero in on its next promising drug. In other words, the company is attempting to diversify its product portfolio.
Celgene shares suffered a setback in October when it decided to pull the plug on its Crohn's disease treatment candidate GED-0301, or mongersen, after it didn't produce satisfactory efficacy results in a late-stage trial.
Source: Y Charts
In December 2017, the company was rocked by the failure of a late-stage trial that tested the Revlimid-Rituximab combo for follicular lymphoma. Against the backdrop of some recent setbacks, Celgene is seeking to make a purchase that could help diversify its product portfolio. The U.S. tax bill, which incentivizes repatriating overseas profits, could also serve as a motivation to spend big on acquisitions.
For Celgene, it's now a question of how best it can employ its time-tested strategy of growing through acquisitions and partnerships to tide over temporary setbacks. Will the strategy provide a springboard for the shares to rebound?
Posted-In: BiopharmaBiotech M&A News Health Care Top Stories Trading Ideas General Best of Benzinga
View Comments and Join the Discussion!