Benzinga's Daily Biotech Pulse: Clinical Hold For Crispr, Gilead Study Meets Endpoint, Akers Gets Grace Time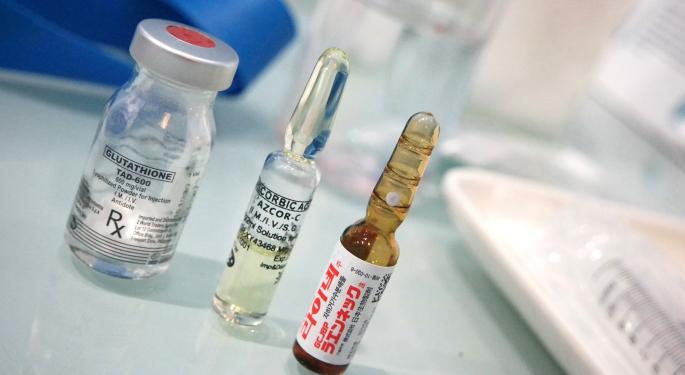 Here's a roundup of top developments in the biotech space over the last 24 hours.
Scaling the Peaks
(Stocks hitting 52-week highs on May 30)
AngioDynamics, Inc. (NASDAQ: ANGO)
Arrowhead Pharmaceuticals Inc (NASDAQ: ARWR) (Cantor Fitzgerald reiterated its Buy rating on shares)
ASLAN PHARMACEUTICALS ADR REP 5 ORD (NASDAQ: ASLN)
BioCryst Pharmaceuticals, Inc. (NASDAQ: BCRX)
BioLife Solutions Inc (NASDAQ: BLFS)
CareDx Inc (NASDAQ: CDNA)
Foundation Medicine Inc (NASDAQ: FMI)
Genomic Health, Inc. (NASDAQ: GHDX)
Globus Medical Inc (NYSE: GMED)
Haemonetics Corporation (NYSE: HAE)
Qiagen NV (NYSE: QGEN)
Horizon Pharma PLC (NASDAQ: HZNP)
ICU Medical, Incorporated (NASDAQ: ICUI) (U.K.'s Smiths Group confirmed talks to merge the healthcare operations of both companies)
Masimo Corporation (NASDAQ: MASI)
Merit Medical Systems, Inc. (NASDAQ: MMSI)
Neogen Corporation (NASDAQ: NEOG)
Neurocrine Biosciences, Inc. (NASDAQ: NBIX)
Neurotrope Inc (NASDAQ: NTRP)
Novocure Ltd (NASDAQ: NVCR)
Regenxbio Inc (NASDAQ: RGNX) (announced the appointment of biotech industry veteran Alexandra Glucksmann to its board)
Sanofi SA (ADR) (NYSE: SNY)
Sophiris Bio Inc (NASDAQ: SPHS)
STAAR Surgical Company (NASDAQ: STAA)
SurModics, Inc. (NASDAQ: SRDX)
TapImmune Inc. (NASDAQ: TPIV)
Ultragenyx Pharmaceutical Inc (NASDAQ: RARE)
Down In The Dumps
(Stocks hitting 52-week lows on May 30)
Celldex Therapeutics, Inc. (NASDAQ: CLDX)
Checkpoint Therapeutics Inc (NASDAQ: CKPT)
TESARO Inc (NASDAQ: TSRO)
Stocks In Focus
Crispr's Gene Therapy For Sickle Cell Disease Placed On Clinical Hold
Crispr Therapeutics AG (NASDAQ: CRSP) and partner Vertex Pharmaceuticals Incorporated (NASDAQ: VRTX) announced that the investigational new drug application for their CTX001 for treating sickle cell disease was placed on clinical hold. The IND was submitted to the FDA in April to support the proposed initiation of a Phase 1/2 trial in the U.S.
The companies, however, said the timeline for initiation of the Phase 1/2 trial in Europe in adult patients with transfusion-dependent beta-thalassemia remains unchanged.
Crispr slumped 14.39 percent to $63 in after-hours trading, while Vertex fell 1.74 percent to $154.
Syndax Inks Immuno-oncology Clinical Trial Collaboration Deal With Nektar
Syndax Pharmaceuticals Inc (NASDAQ: SNDX) announced a non-exclusive, clinical collaboration with Nektar Therapeutics (NASDAQ: NKTR) for evaluating the safety and efficacy of the latter's CD122-biased agonist NKTR-214, in combination with entinostat, former's oral, small molecule Class 1 specific HDAC inhibitor. The combo is to be tested in patients with metastatic melanoma, who have previously progressed on treatment with an anti-PD-1 agent.
The companies did not disclose the financial details and other terms of the deal.
See Also: 'Right To Try' Law Signed By Trump Increases Patient Access To Experimental Drugs
Five Prime To Collaborate With Roche
Five Prime Therapeutics Inc (NASDAQ: FPRX) said it has entered into a collaboration with Roche (OTC: RHHBY) to develop immunohistochemistry companion diagnostic assays for use with investigational drug candidates bemarituzumab and FPA150.
Gilead's Mid-stage Study of Psoriatic Arthritic Drug Meets Primary Endpoint
Gilead Sciences, Inc. (NASDAQ: GILD) and GALAPAGOS NV/S ADR (NASDAQ: GLPG) announced that the Phase 2 EQUATOR study of filgotinib, a selective JAK1 inhibitor, achieved its primary endpoint of improvement in signs and symptoms of psoriatic arthritis at Week 16.
The companies also announced that an independent data monitoring committee has recommended the study of filgotinib for ulcerative colitis proceed into Phase 3 trials, following interim futility analysis of the Phase 2b/3 study.
Ascendis Reports Wider Q1 Loss
Ascendis Pharma (NASDAQ: ASND) reported Q1 results that showed a wider loss and a decline in revenues.
The stock rose 2.27 percent to $74.89 in after-hours trading.
Vericel Announces Common Stock Offering
Vericel Corp (NASDAQ: VCEL) announced plans to offer 3.75 million shares in an underwritten public offering. The company said it intends to use the net proceeds for general corporate purposes as well as expanding its business by in-licensing or acquiring product candidates, technologies, other assets, commercial products or businesses.
The stock fell 5.38 percent to $13.20 in after-hours trading.
Akers Gets Time to Adhere to Listing Norms
Akers Biosciences Inc (NASDAQ: AKER) announced that the Nasdaq stock market has granted it a 180-day extension to meet the requirement of a minimum of $1 per share closing bid price for 10 consecutive business days for continued inclusion on the exchange.
The stock soared 23.89 percent to $0.405 in after-hours trading. In the regular session, the stock had slumped 16.51 percent.
On The Radar
The FDA is set to announce its verdict on KITOV PHARMA (NASDAQ: KTOV)'s osteoarthritis and hypertension treatment candidate KIT-302 on May 31
FDA Tidbits
The FDA announced Wednesday it has approved the first standalone prosthetic iris in the U.S., which is a surgically implanted device to treat people whose iris is completely missing or damaged due to a congenital condition called aniridia or other damage to eye.
The CustomFlex Artificial Iris is developed by HumanOptics AG.
Separately, commissioner Scott Gottlieb issued a statement, outlining federal preparedness and the agency's response efforts to Ebola virus outbreak in Congo.
Posted-In: Biotech Earnings News FDA Top Stories Pre-Market Outlook Trading Ideas Best of Benzinga
View Comments and Join the Discussion!