Market Wrap For December 5: Market Participants Anxiously Await Tomorrow's Employment Report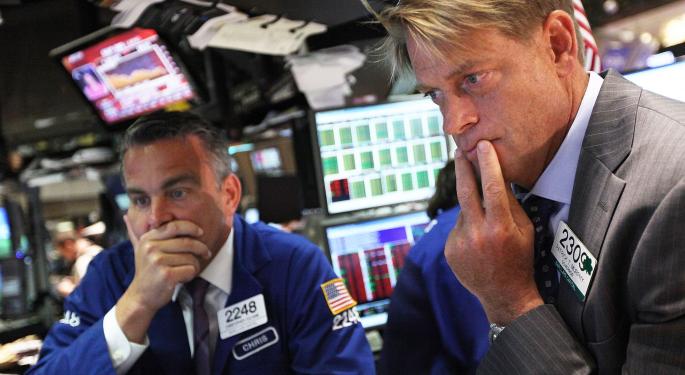 Stock futures pointed to a lower open following premarket data revealing that the U.S. economy and job market are improving faster and stronger than expected.
Selling began at the bell and continued for the entire day as major indices failed to hold on to any rallying gains. Investors and traders took the data release as further signs that the Fed could potentially begin tapering before the end of the year.
The Dow lost 0.43 percent, closing at 15,821.51.

The S&P 500 lost 0.43 percent, closing at 1,785.03.

The Nasdaq lost 0.12 percent, closing at 4,033.17.
Gold lost 1.66 percent, trading at $1,226.50 an ounce.
Oil gained 0.26 percent, trading at $97.45 a barrel.
Silver lost 2.22 percent, trading at $19.39.
Related: Taper Tantrums Continue To Dominate Market Action
News of Note
Initial Jobless Claims dropped 23K to 298K below the consensus of 322K and below the 321K reading in the prior week. Continuing claims declined 21K to 2.74 million.
Third Quarter U.S. GDP has been revised up to 3.6 percent, above the 3.0 percent consensus and above the 1.3 percent reading in the second quarter.
Corporate profits hit new highs according to the Bureau of Economic Analysis in a report released this morning. Adjusted after-tax profits indicated the highest growth rate since the first quarter 2012, and the third gain in a row at 8.8 percent. As a percentage of GDP, corporate profits reached a record of 10.8 percent.
The Bloomberg Consumer Comfort Index rose to -31.3 from -33.7 last week.
October Factory Orders declined 0.9 percent compared to the consensus of 1.2 percent and the prior reading of 1.8 percent.
According to the Wall Street Journal, the "Volcker rule" won't allow banks to "enter trades designed to protect against losses held in a broad portfolio of assets," i.e portfolio hedging. The rule is expected to be voted on next week.
The Japanese parliament approved an 18.6 trillion Yen (~$182 billion) stimulus plan to counteract a sales tax hike that will begin in April 2014. Japanese officials note that the stimulus could create a quarter of a million new jobs and add 1 percentage point to the country's GDP.
OPEC nations have agreed to maintain its daily oil production limit at 30 million barrels, as was widely expected.
The Bank of England made no changes to its Bank Rate at 0.5 percent and 375 billion pound stimulus program.
The European Central Bank also left its policy unchanged. Its main refinancing rate remains at 0.25 percent and the deposit facility at 0 percent.
Related: Euro Strengthens After ECB Leaves Key Rate Unchanged
Chinese banks introduced a ban in Bitcoin trading amongst the nation's financial institutions. Separately, Bank of America initiated coverage on Bitcoin with a maximum market capitalization of $15 billion, implying 1BTC = $1,300USD. The analysts, David Woo noted "We believe Bitcoin can become a major means of payment for e-commerce and may emerge as a serious competitor to traditional money transfer providers. As a medium of exchange, Bitcoin has clear potential for growth, in our view."
Equities-Specific News of Note
J.M. Smucker (NYSE: SJM) has been downgraded to Underperform from Market Perform at Wells Fargo with a price target in the $92 to $94 range. The analysts noted that the company is "most at risk within a challenging consumer environment." Shares lost 2.36 percent, closing at $102.28.
Target (NYSE: TGT) has been downgraded to Underperform from Neutral at Bank of America with a $60 target. The analysts believe the company's core comps could remain weak while its recently expanded Canadian operation could contribute to the company's bottom line at a much slower than expected rate. Shares lost 1.07 percent, closing at $62.63.
Celgene (NASDAQ: CELG) hit new highs of $166.00 this morning following an upgrade to Buy from Neutral at UBS AG. The analyst noted that Celgene is a preferred choice over its peers based on EPS growth and operating margin. Shares gained 2.79 percent, closing at $164.54.
Tiffany (NYSE: TIF) has been upgraded to Conviction Buy from Neutral at Goldman Sachs based on the company's favorable balance sheet and strong demand in the sector. Shares gained 1.28 percent, closing at $89.71.
According to several reports, Apple (NASDAQ: AAPL) and China Mobile (NYSE: CHL) have reportedly inked a deal that would make buying an iPhone in China easier for China Mobile's hundreds of millions of clients. Shares of Apple hit new 52 week highs at $577.25 before settling the day at $567.90, up 0.51 percent. China Mobile lost 0.47 percent, closing at $54.77.
Related: China Mobile, Apple Ink an iPhone Deal
Costco (NASDAQ: COST) announced its net sales increased to $8.78 billion in November, good for a 5 percent rise. Comparable sales rose 2 percent, below the 3.5 percent consensus. Shares lost 1.63 percent, closing at $120.96.
Unilever (NYSE: UL) unveiled a new strategy to investors today. The company wants to decrease the number of specific products it sells by 30 percent before the end of next year in order to improve gross margins. Shares were little changed, up 0.08 percent, closing at $39.86.
In what the company believes to be a first ever, Pfizer (NYSE: PFE) announce that it will make clinical trial data available to study participants. Shares closed slightly lower, down 0.06 percent at $31.25.
Fusion-io (NYSE: FIO) announced the hiring of Ted Hull as its new CFO. Hull was formerly Cisco (NASDAQ: CSCO) VP of finance. Shares gained 3.70 percent, closing at $9.82.
Elon Musk's Tesla Motors (NASDAQ: TSLA) is teaming up with his cousin's company SolarCity (NASDAQ: SCTY), Tesla will provide batteries that can be utilized to compliment SolarCity's solar panels for residential and business uses. SolarCity shares gained 3.30 percent, closing at $53.89 while Tesla's shares gained 1.10 percent, closing at $140.48.
Related: SolarCity to Back Up Solar Panels with Tesla Batteries
Ford (NYSE: F) announced its sales in China rose 47 percent year over year in November. Separately, the company announced that its CEO Alan Mulally won't be leaving the company until the end of next year. Mulally was highly considered to be the frontrunner to replace Steve Ballmer as Microsoft (NASDAQ: MSFT) CEO. Shares of Ford gained 0.72 percent, closing at $16.74.
Analysts at Momura still maintain that Mulally will be Microsoft's next CEO. The analysts still maintain that an announcement could occure before the holidays. The rational behind this logic: "if Mulally were not in discussions, it would be easy to say 'I am not interested and will not go.'" Shares of Microsoft lost 2.41 percent, closing at $38.00.
Related: Alan Mulally Says He's Committed To Ford
A bill to legalize gambling in Japan was officially submitted to parliament this morning. Many casino operators have been counting on this first step to occur for several years. Shares of Las Vegas Sands (NYSE: LVS) continued to trade at new highs, today shares hit $76.29 before closing at $75.46, up 1.27 percent on the day. Melco Crown Entertainment (NASDAQ: MPEL) also hit new 52 highs today of $37.42 before closing the day at $37.20, up 2.09 percent. Other affected stocks include Wynn Resorts (NYSE: WYNN) which gained 2.16 percent, closing at $171.41. Of note, MGM Resorts lost 0.10 percent, closing at $19.69.
Twitter (NYSE: TWTR) is set to roll out retargeted ads. The company also announced the addition of Marjorie Scarino as a board member. She is the first member with a traditional media background having previously occupied to ranks at book/newspaper publisher Pearson. Shares gained 4.42 percent, closing at $45.62.
Related: Report Says Twitter is Ready to Roll Out Retargeted Ads
The FDA warned Intuitive Surgical (NASDAQ: ISRG) over "reports of friction within certain instrument arms can interrupt smooth instrument motion." Shares lost 0.77 percent, closing at $367.84.
Winners of Note
Conn's (NASDAQ: CONN) lifted its projected full year EPS to a range of $2.75 to $2.80, noticeably higher than its previous range of $2.50 to $2.56. Shares gained 19.43 percent, closing at $69.82 after reaching new 52 week highs of $71.69 in the afternoon.
Dollar General (NYSE: DG) reported its first quarter results this morning. EPS of $0.72 beat the consensus of $0.70 while revenue was a miss coming in at $4.38 billion, below the consensus of $4.42 billion. Shares rallied after the opening bell as the company announced it has increased traffic and average transaction sale during the quarter. Shares hit new 52 week highs of $60.25 before closing at $59.81, up 6.10 percent.
Last night, Puma Biotechnology (NASDAQ: PBYI) released positive data from a Phase 2 study of neratinib in breast cancer. This morning analysts at Bank of America Merill Lynch increased its price target to $87 from $71 noting that the company's product appears to be superior to its competition. Shares gained 68.15 percent, closing at $77.70 after reaching new 52 week highs of $80.77 in the afternoon.
Decliners of Note
Electronic Arts (NYSE: EA) recently launched Battlefield 4 continues to experience bugs and connectivity issues. As a result, the company announced it will be halting the release of additional Battlefield 4 expansion packs and stopping work on all future projects until the current issues are sorted out. Shares lost 5.95 percent, closing at $21.01.
ReneSola (NYSE: SOL) announced in its third quarter report that the company has decided to "permanently cease production" at its Phase I polysillicon plant due to cost structure difficulties. Shares lost 20.97 percent, closing at $3.58.
Alberta Investment Management has sold its entire 56 million share position in Precision Drilling (NYSE: PDS) in an overnight marketed transaction. Shares lost 9.04 percent, closing at $8.75.
Earnings of Note
Jos. A. Bank (NASDAQ: JOSB) reported its third quarter results this morning. EPS of $0.51 came ahead of the $0.50 consensus. Revenue also beat consensus coming in at $247.5million, ahead of the $244.99 million consensus. Management offered no hints regarding takeover offers during its conference call. Shares lost 0.76 percent, closing at $56.46.
Royal Bank of Canada (NYSE: RY) reported its fourth quarter results this morning. The company's EPS of C$1.40, came ahead of the consensus of C$1.38. Shares lost 0.88 percent, closing at $64.04.
Toronto-Dominion Bank (NYSE: TD) reported its fourth quarter results this morning. The company's EPS of C$1.90 came in below guidance of $1.99. The Canadian bank announced a two for one stock split affective January 31 and boosted the quarterly dividend to $0.83 a share. Shares lost 1.03 percent, closing at $88.72.
Grocery retailer Kroger (NYSE: KR) announced its third quarter results this morning. The company's EPS of $0.53 matched the consensus. Revenues of $22.5 billion fell short of the $22.77 billion consensus estimate. The company did not raise its fiscal 2013 outlook as analysts had hoped. Shares lost 3.52 percent, closing at $40.06.
Quote of the Day
"Don't Fear the Taper, Stocks Still Strong" - CNBC article referring to David Tepper
View Comments and Join the Discussion!
Posted-In: Alan Mulally Alberta Investment Management Apple Apple China Bank Of England Battlefield 4News After-Hours Center Best of Benzinga