Euro Strengthens After ECB Leaves Key Rate Unchanged

The euro strengthened against the U.S. Dollar to its highest levels in over a month after Thursday's European Central Bank press conference.
At the conference in Frankfurt, ECB President Mario Draghi said the central bank lowered inflation expectations, forecasting inflation at 1.1 percent in 2014. The ECB target for inflation is just below two percent.
Draghi stated, "We may experience a prolonged period of low inflation to be followed by a gradual upward movement." He added, "We are monitoring developments closely and are ready to consider all available instruments."
See also: US Dollar Indecisive After ADP, Trade Balance and ISM
As widely expected, the ECB left its key lending rate unchanged at at a record low of 0.25 percent. Draghi reasserted his plan to maintain low borrowing costs, telling the conference "Our monetary policy stance will remain accommodative for as long as necessary, and will thereby continue to assist the gradual economic recovery in the euro area. In this context, the Governing Council confirmed its forward guidance that it continues to expect the key ECB interest rates to remain at present or lower levels for an extended period of time."
Negative Deposit Rate
While maintaining the key interest rate at record low levels, Draghi made no mention that policy makers plan to introduce a negative deposit rate to stimulate economic growth. The absense of further reaching dovish policy language may have contributed to Thursday's strength in the euro.
See also: USD/CAD Rallies to 3 Year Highs Ahead of BOC Rate Announcement
Deflation Fears
The threat of deflation in Europe continues to influence the policy stance of the ECB. Eurostat, the European Union's statistics office, reported last Friday that the annual rate of eurozone consumer inflation rose from 0.7 percent to 0.9 percent, still well below the 2 percent target.
Last month, the ECB cut its benchmark interest rate from 0.5 percent to the record low of 0.25 percent amid concerns over low inflation and disappointing economic growth.
Eurostat also reported last Friday that the unemployment rate across the 17 countries using the euro currency fell to 12.1 percent in October from the record high of 12.2 percent in the prior month.
EUR/USD Daily Chart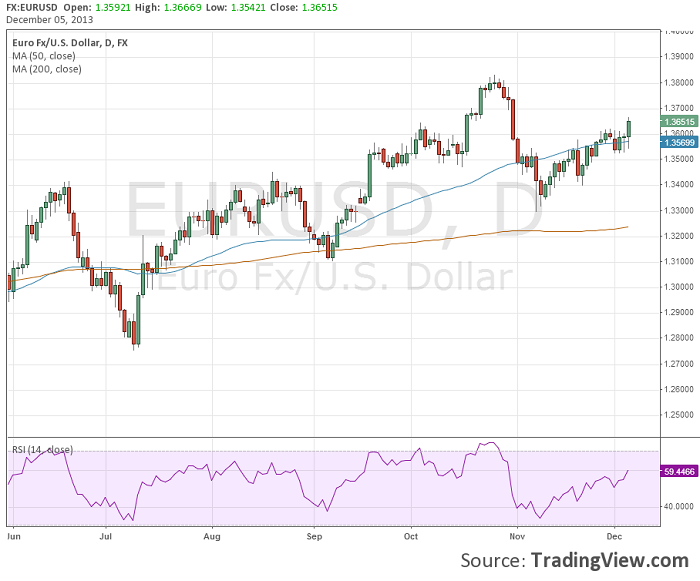 Posted-In: ecb euro European Central Bank Eurostat Mario DraghiNews Forex Economics Markets Best of Benzinga
Around the Web, We're Loving...
Partner Network