Pot Stocks, ETFs, Top News And Data From The Cannabis Industry This Week
The Trump administration launched a campaign to "counteract positive marijuana messages and identify problems with state legalization initiatives," BuzzFeed News reporter Dominic Holden revealed in an investigative piece this week.
"The Marijuana Policy Coordination Committee, as it's named in White House memos and emails, instructed 14 federal agencies and the Drug Enforcement Administration this month to submit 'data demonstrating the most significant negative trends' about marijuana and the 'threats' it poses to the country," the article reads.
In the markets realm, "The biggest market news this week was the launching of Charlotte's Web stock under the symbol CWEB, which was priced at C$7 [$5.35] and closed on its first day at C$9.70 [$7.40]," Debra Borchardt, CEO of Green Market Report told Benzinga. "The valuation of C$100 million [$76.6 million] was a little rich considering the company only had C$40 million [$30.6 million] in revenue last year.
"Marijuana stocks did face some headwinds this week when it was reported by The Daily Intelligencer that launched a secret commission to drum up negative marijuana news," she added. "Fears of a new War On Drugs worried investors who were thinking the worst was behind them. In addition to that, Citron Research issued harsh reports on CV Sciences and Cronos Group causing both of those stocks to tumble."
A Cronos spokesperson told Benzinga, "We are very confident in the company and the opportunities ahead of us. As independent industry analysts have already noted, the Citron reports is flawed, with numerous misleading and inaccurate statements. Even Citron admitted just today that it has already covered part of its short position. [W]e look forward to continuing to grow our business and deliver on our performance objectives.
Marijuana Indexes & ETFs
The United States Marijuana Index, which tracks 18 of the largest marijuana stocks in the U.S., gained 2 percent this week, while the North American Marijuana Index, which also includes Canadian stocks, moved up about 0.7 percent.
Over the last five trading days, the Horizons Marijuana Life Sciences Index ETF (OTC:HMLSF) (TSE:HMMJ) gained 4.75 percent, while the ETFMG Alternative Harvest ETF (NYSE:MJ) rose 3.4 percent. The SPDR S&P 500 ETF Trust (NYSE:SPY) closed the week up 0.9 percent.
Stock Moves
Here are some of the top marijuana stocks (market cap above $100 million) in U.S. exchanges and how the performed over the last five trading days:
In Other News
Wendy Robbins and Karen Paull, creators of the critically acclaimed "The Marijuana Show," announced they will be kicking off the U.S. tour for their new cannabis-focused documentary "Legalize It," with a Sept. 6 premiere in Tampa, Florida. The ladies told Benzinga they timed the tour to precede the November mid-term election, with the hopes its heavy theme would impact the outcome of hemp and cannabis initiatives across the country.
"The stories in this film feature kids fighting cancer, moms putting their freedom at risk to get their children cannabis-based medications, and many other moving stories," said Karen Paull. "It comes to show that access to THC and CBD products is now a human rights issue."
Green Thumb Industries reported strong Q2 2018 earnings, its first as a publicly traded company since listing on the Canadian Securities Exchange in June. Second-quarter revenues increased 291 percent year-over-year to $13.6 million, while quarter-over-quarter revenues increased 25 percent. GTI's net income was $0.4 million.
The company opened five new RISE retail stores during the second quarter, including three in Pennsylvania, one in Maryland and one in Massachusetts, bringing the number of open stores to 13. The company has signed a definitive agreement to acquire a licensee in New York and is building out five dispensaries in Ohio after winning a license in the state earlier this year. It was revealed on the earnings call that hedge fund legend turned family officer manager Leon Cooperman is a GTI investor, after Cooperman himself asked the first set of questions on the conference call.
"We are operating our business for the long-run," said GTI founder and CEO Ben Kovler. "We see this as the early innings and we remain focused, heads down on executing on our strategy to distribute brands at scale. How we allocate capital for our brands, our infrastructure, and our team are all focused on creating real, long-term sustainable value for our shareholders. We have a strong base business serving as our foundation, a healthy balance sheet that supports our acquisition pipeline, and we are focused on continuing to position the business to capitalize on growth opportunities ahead."
Israel-based GemmaCert, a company that produces a portable cannabis composition analysis machine, announced the closing of a Convertible Loan Agreement (CLA). The company said it raised a total of $2 million, both from existing shareholders and new investors.
"The funds will be used to advance GemmaCert's commercial activities in North America and Europe, as well as to continue funding the company's R&D," CEO and Co-Founder Guy Setton, Ph.D. told Benzinga.
Cannabis took over the red carpet at last Sunday's iHeartRadio VVMAs. Canadian pop star Rosette Luve strolled the red carpet wearing a cannabis-inspired dress created by Canadian designer Jason Matlo for Weekend Unlimited, the Vancouver-based cannabis brand expected to start trading on the CSE soon under the YOLO ticker.
"Having the opportunity to design this bespoke version of The Weekend Unlimited dress for Rosette Luve to walk the red carpet of the MMVA's in Toronto was very exciting," Matlo said. "This first design allowed me to merge my background and love of couture with a young, high style street look. The entire process has been very energizing. I will be working creatively on developing a range of products for the Premiere Global Lifestyle brand, Weekend Unlimited Live International."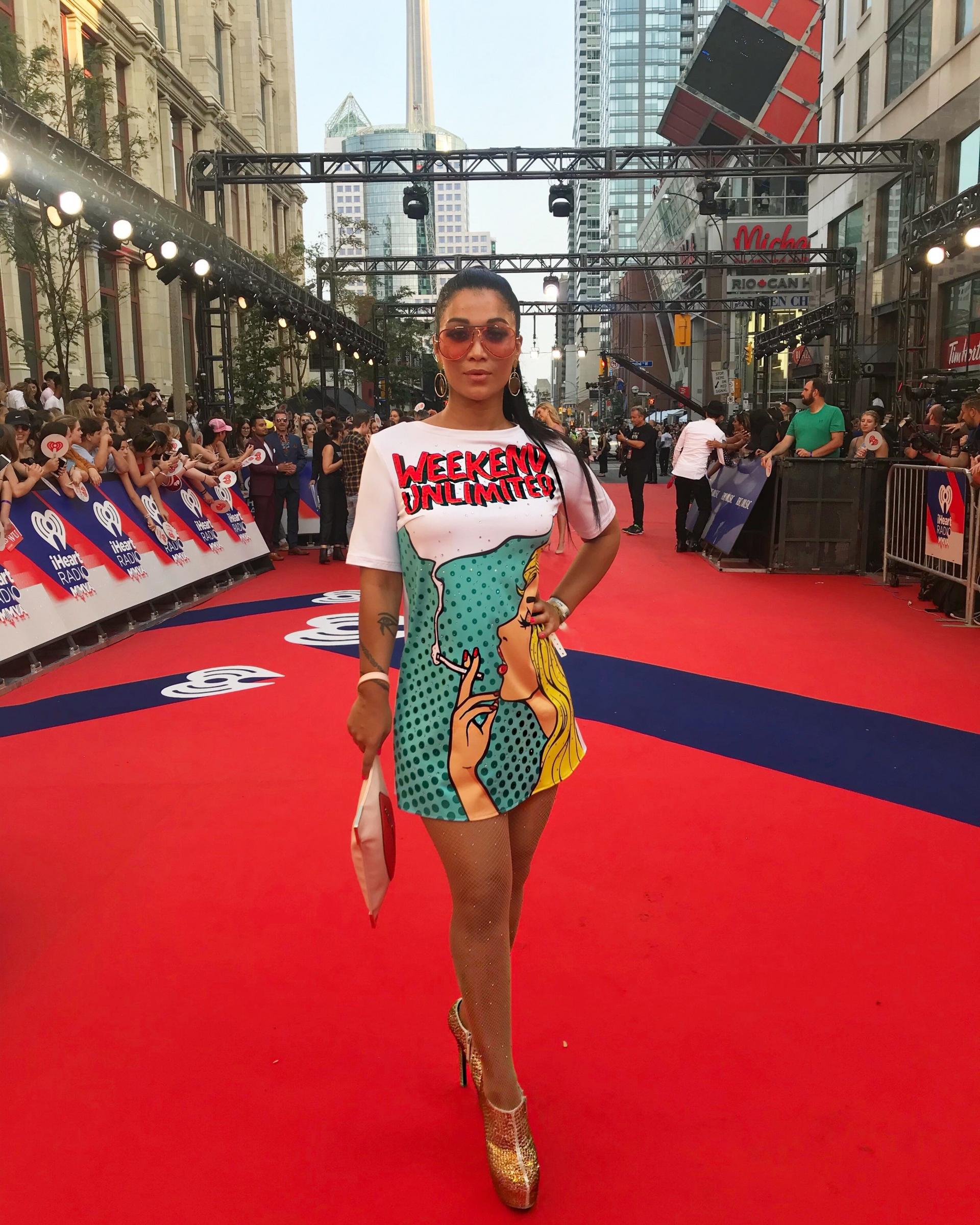 Image courtesy of Rosette.
Cannabinoid research company AXIM Biotechnologies Inc (OTC:AXIM) announced an exclusive distribution and license agreement with Revive Therapeutics Ltd (OTC:RVVTF), a specialty cannabis company focused on the research, development and commercialization of cannabinoid-based products and therapies, to begin selling the former's proprietary CBD-containing nutraceutical product throughout the Canadian market.
"We have been working closely with Revive, our new distribution partner, to develop the best position for AXIM and Revive to successfully enter the emerging, robust market in Canada and meet the increased demand for high-quality CBD products," said George E. Anastassov, CEO of AXIM Biotechnologies.
Medical Marijuana Inc (OTC:MJNA) announced this week former New York Yankees and San Diego Padres pitcher and Baseball Hall of Famer Goose Gossage has become a spokesperson for its subsidiary Kannaway.
Related Link: 6-Time Olympic Gold Medalist Amy Van Dyken Talks CBD For Pain: 'I Can't Explain It But The Stuff Really Works'
"[Goose's] personal story is a prime example of how CBD is a great supplement that can be taken daily to help people, especially former athletes, continue living active lifestyles and we are thrilled to have such a passionate spokesperson join our team," said Kannaway CEO Blake Schroeder. The company also announced that another subsidiary, Dixie Botanicals, released a new line of CBD gel capsules.
GrowLife Inc (OTCQB:PHOT) announced it has added a new hydroponics retail outlet in Los Angeles, California that will act as the company's West Coast e-logistics fulfillment center. "This new fulfillment center, which will also serve as a commercial outbound sales center, is not only an exciting addition to our company, but will play a pivotal role in GrowLife's expansion and growth strategy as we capture more of this emerging market," said GrowLife CEO Marco Hegyi.
Elixinol Global Ltd (OTC:ELLXF) subsidiary, Colorado-based CBD hemp company Elixinol, announced strong earnings for the first half of 2018, primarily driven by increased revenues. Sales were up 119 percent year-over-year.
"Elixinol's growth is supported by investments in US and European key sales personnel, e-commerce improvements for international sales including Asia and Europe, and expanded hemp farming and production capabilities in Colorado," a company representative said.
"From an operational standpoint, Elixinol's expansion in farming and extraction facilities positions us to support the increased global demand for premium wholesale and retail CBD," Elixinol General Manager Gabriel Ettenson added.
Find out more about these news and others on Plus Products, CannaRoyalty Corp (OTC:CNNRF), Tidal Royalty Corp (OTC:TDRYF), CV Sciences Inc (OTC:CVSI), MPX Bioceutical Corp (OTC:MPXEF) and Tilray, with our friends at Marijuana Money, who make a weekly video summary of the top financial and business news in the cannabis industry.
More From Benzinga's Cannabis Newsdesk
Over the week, Benzinga's also reported on:
Why 420 Investor Alan Brochstein believes U.S.-listed cannabis stocks may be a bit overheated due to speculation.
New Frontier Data's view on why we need public education to counter mass overdoses on synthetic cannabinoids; why hemp-derived, pet-and-animal product sales are set to boom; same as hemp-derived CBD product sales for human use.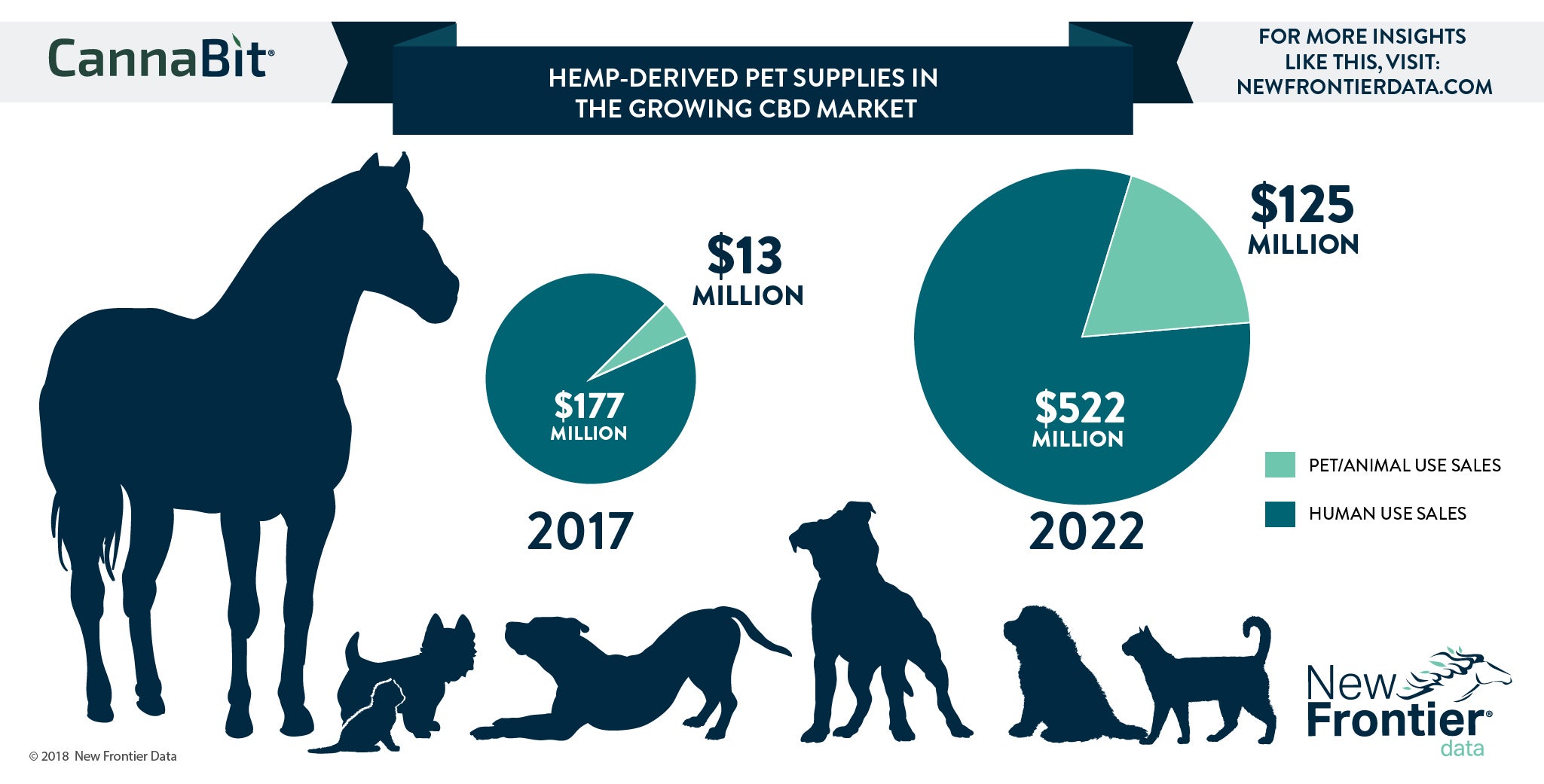 New Frontier Data's advice on how to ascertain the value of a cannabis cultivation license in each U.S. state.
A report conducted by Dr. Adi Aran, director of the pediatric neurology unit at Shaare Zedek Hospital in Jerusalem, which showed medical marijuana can help reduce "problematic" behavior in autistic children.
MediPharm Labs' expansion plans; Tilray's earnings; the recent performance of the ETFMG Alternative Harvest ETF; the views of Canopy Growth's CEO Bruce Linton on "the growing global marijuana industry and the impact of Canadian legalization;" and the response of a Canadian bank to Citron's short report on Cornos.
Jeff Siegel's investment thesis for Défoncé Chocolatier, which he believes is an acquisition target.
And Alex Oleinic's list of 5 Books To Read Before Investing In Cannabis.
Interesting Data
Some interesting sales figures for this week:
Nevada announced cannabis dispensaries sold roughly $425 million in recreational marijuana in their first full year of recreational sales, generating $70 million in tax revenue.
"Not only did this exceed the state's revenue expectations of $265 million, but the industry hasn't experienced major regulatory issues throughout the year that other states have dealt with," said Andrew Jolley, President of the Nevada Dispensary Association and CEO of The+Source. Jolley cautioned against high taxes and regulatory costs, noting that these factors dissuade customers from purchasing legal dispensaries.
California released its tax data for Q2 cannabis sales. Implied reccreational retail revenues surged by 36 percent quarter-over-quarter to about $290 million. Implied wholesale revenues reached $29.9 million up from $10.7 million in Q1.
"We note while these results fall below expectations, it does not include medical marijuana sales, in which sales and excise taxes are excluded," said Matt Karnes, founder and managing partner at GreenWave Advisors.
Events Calendar
September 7–9: Oklahoma is getting its first Hempfest ever: the Hempfest Oklahoma.
September 8: PotLandia's 1st Annual Canna-Comedy Event will be held at NW Cannabis Club, in Portland, OR. This event will feature Oregon's top Cannabis farms, producers, and dispensaries, celebrating Portland's best comedians including Dustin Brandon, a disabled cannabis activist and comedian who "uses comedy and his life's hardships as a platform for change."
September 14: New York City will see the "Green Market Summit – The Advanced Economic State Of Cannabis," the first of a series of conferences titled Green Market Summit. This event hosted by Green Market Report will be held in partnership with The Street at One World Trade Center. The keynote speaker is CNBC and TheStreet's Jim Cramer, who will interview Kevin Murphy CEO of Acreage Holdings.
September 20: Miami will be visited by Leafwire's Future of Cannabis Pitch Contest, which has already seen Denver and Los Angeles in its first two stops. The event is hosted by Leafwire and will feature 6-8 companies completing a three-minute pitch followed by a three-minute Q&A from the judges to win cash and prizes. For more info, or to apply to pitch, go to http://leafwirepitchslamapply.pagedemo.co/
September 21–22: Anaheim, CA will get the CBD Expo West 2018. Powered by CBD Health and Wellness Magazine, the CBD-focused event will feature 75 exhibitors, along with a large lineup of presentations and panel discussions from experts in the production, distribution and sale of CBD products.
October 11– 13: The New West Summit, a conference focused on "game-changing, disruptive developments in technology, science, media and investment within the Cannabis space," will hit Oakland, California. Speakers include Weediquette's Krishna Andavolu, Slow Ventures' Dave Morin, Berner the rapper, Steve DeAngelo, Ricardo Baca, and many others.
October 19–21: The Initiative presents Hustle Hard: A Cannabis Friendly Retreat For Women Who Mean Business, a three-day intensive retreat for women in cannabis in Bend, Oregon.
October 25–26: Enlighten, the first full-scale enterprise technology solution in the cannabis space will be partnering with Lemonhaze to put on The Lemonhaze Cannabis & Comedy Convention, taking place at the newly refurbished Tacoma Dome. This event hopes to be for Cannabis what SXSW has been for technology, pairing innovation and a hub of influence with fun and education. The event will feature comedy by Doug Benson as headliner, and will combine a major networking event for the cannabis industry together with performances from some the world's most recognized entertainers.
October 30–31: Michigan is hosting its 1st Commercial Cannabis Conference & Expo. This inaugural year is special, celebrating its first year in a commercial framework and supporting the upcoming recreational legalization vote. Collectively, the state cannabis community is taking a stand for a healthy and strong cannabis industry in Michigan.
Photo by Javier Hasse.
© 2020 Benzinga.com. Benzinga does not provide investment advice. All rights reserved.
---