Défoncé Chocolatier: A Prime Cannabis Edibles Acquisition Target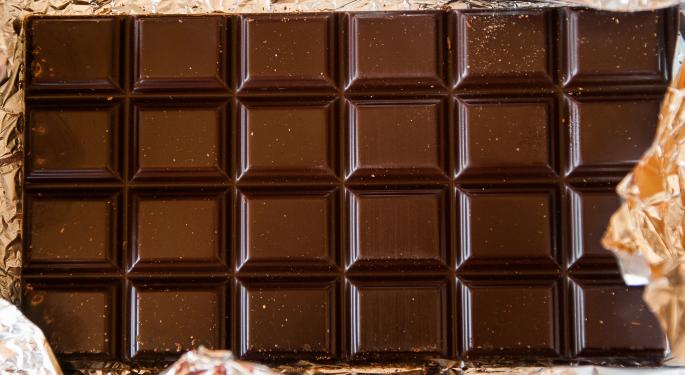 C21 Investments (CSE: CXXI) on Aug. 13 announced it acquired Oregon-based edibles company Grön Confections. C21 ponied up about $7 million for the maker of infused chocolates, which seems like a pretty good deal for C21.
The most successful edibles companies going forward will be those that are bringing something of credible value to the marketplace –- not just more gummies loaded with sugar and questionable emulsifying agents.
Grön does an excellent job in this arena, ensuring high quality and sustainable business practices. It's this mentality that strengthens the underlying catalysts for growth and success in the cannabis industry, and it's one that cannabis investors should take seriously.
A Look At Défoncé
In fact, this is one of the reasons I'm a huge fan of Défoncé Chocolatier, which is an infused chocolate-maker that's completely raised the bar in terms of high-end edibles. And there are a few reasons for this.
First, the consistency of the company's products is unmatched. Unlike a lot of edibles on the market, Défoncé has figured out a way to ensure that every piece of chocolate delivers the exact same experience every single time.
Each section of the Défoncé chocolate bar contains exactly 10 milligrams of THC. The molds have actually been custom-made to capture the chocolate in quantities and shapes that guarantee dosing for overall bars and individual sections. And just to ensure this consistency is never lost, each batch of chocolate is tested three times by an outside analytics lab.
Design has also helped put Défoncé in a different class of edibles. While some may not put much thought into it, Défoncé has designed its packaging in a way that communicates a higher caliber of edible. In fact, Mic.com, a media company that targets millennials (and enjoys a $100 million valuation), said "If Apple designed pot chocolate bars, this is what they'd look (and taste) like."
Although, to be honest, it really all boils down to taste and experience. No one does it better than Défoncé. And believe me when I tell you that I've tried just about every infused chocolate on the market.
Don't get me wrong. There are definitely some good ones out there, such as Grön and Glacé, a Vegas-based edibles company that makes some fantastic chocolate, but could probably use a bit of work on its marketing strategy. Tracking that stuff down in Sin City should be much easier than it is. But of all the infused chocolates in the marketplace, I maintain the Défoncé is, for lack of a better word, the best. And not just from a consumer's point of view, but from an investor's point of view, as well.
A Prime Acquisition Target
The truth is, while I love Défoncé for its high-quality chocolate bars, it does much more.
The company produces chocolate for the Chong's Choice brand (one of the most successful and respected in the industry), it's preparing to open a few high-end chocolate retail stores in California and Nevada where it will sell artisinal infused chocolate truffles (and the margins on these products are insane), and it was recently chosen by actor Gwyneth Paltrow to be featured in her new cannabis boutique in Venice, CA. This is actually a pretty big deal, as Paltrow's brand – known as Goop – is currently valued at about $250 million. Getting the "Goop" stamp of approval is like being on Oprah's book list.
Understand, I don't say this to dismiss the Grön deal. It's a great company, and its deal with C21 could absolutely help the company reach new heights. But I maintain that in terms of edibles companies, when it comes to acquisitions, the Défoncé brand would be the golden goose.
Once there's a clear path to federal legalization – which will likely happen within the next three years – big name companies will start to aggressively acquire companies like Défoncé.
As licenses will be limited at that point due to regulations, coupled with the fact that cannabis brands will be established, it will absolutely be a seller's market with incredible multipliers and valuation caps. I actually foresee companies like Nestle, Mars, and Kraft finding the high profit-margins in cannabis edibles extremely attractive. And a company like Défoncé would be a prime acquisition target.
The edibles companies that are currently well-funded and have built solid brands would be wise to play the long game, as the payoff in just a few more years will dwarf anything that's on the table today. Huge fortunes are going to be made, but investors will definitely have to exercise some patience if they want the biggest bang for their buck.
Related Links:
Canopy Growth CEO Discusses Canadian Legalization, Beverage Deals
Posted-In: Défoncé Chocolatier Grön ConfectionsCannabis Opinion Markets Best of Benzinga
View Comments and Join the Discussion!