What's Next For The Company With 'The Largest Extraction Footprint In Canada'?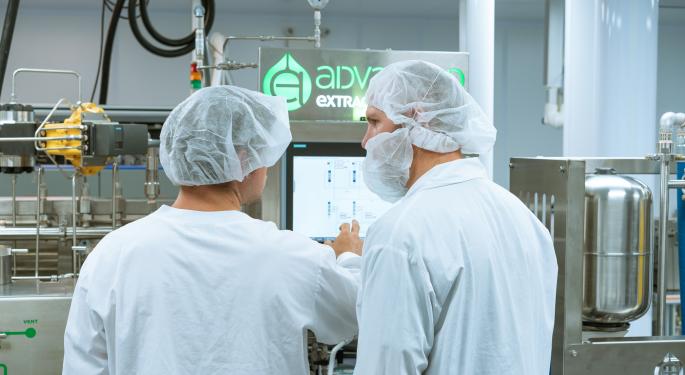 "This is a big day," said Benzinga Founder and CEO Jason Raznick, as he joined a diverse group of cannabis representatives from around the world in Toronto last week to discuss vital updates of the fast-growing industry. We spoke with MediPharm Labs, a key player in the cannabis industry's emergence into the mainstream.
Leading cannabis extraction company MediPharm Labs Inc. strives to be "a connector" in the industry. The Company is a pioneer in Canada, with the distinction of being the first in the country to become a Health Canada-approved Licensed Producer (LP) of cannabis oil without first receiving a cannabis cultivation license. MediPharm Labs; mandate is to offer extraction services and purified cannabis concentrates to existing cannabis operations, so that that they can focus on their own cultivation.
How is your firm capitalizing on the opportunities in cannabis?
MediPharm Labs' business has two distinct revenue models:
Contract Processing – MediPharm Lab assists authorized Licensed Producers by offering tolling services for extraction of pharma-grade, purified oil from cannabis flower.
White Label Services - Their unique joint venture model allows MediPharm Labs to formulate, commercialize and distribute advanced cannabis-derivative products to both retail and patient distribution channels. This contract manufacturing can be applied to all regulated cannabis concentrate products.
What is the biggest challenge the company faces?
Like any startup, the biggest challenge facing MediPharm Labsis staffing up quickly enough with the right talent and sourcing/commissioning equipment to stay out ahead of the changing landscape. But we are confident that we are well down that path. MediPharm Labs is built on the foundation of a strong executive team, with professionals from complementary industries that include global pharmaceuticals, health care, energy and biotechnology manufacturing. Our company is a recognized leader in the Cannabis industry, and our science-based team delivers quality and innovation through research, discipline, and forward thinking.
Our research-driven focus is headed by Dr. Chris Talpas, Director of Quality Control and Assurance. Chris has 24 years of experience in the bio-pharmaceutical field, having been involved in all aspects of development from bench-top to commercial manufacture. After completing his BSc. and Doctorate degrees in Biochemistry, he joined Hemosol as a research scientist and then transitioned into the Process Development group where he worked on scaling up the manufacturing process to support clinical manufacturing of a haemoglobin-based blood substitute. Thereafter, he managed the clinical manufacturing plant.
An expert in Chromatography, Dr. Talpas comes to MediPharm Labs with a wealth of expertise in the qualification and validation of complex processes and equipment, as well as the development and maintenance of quality systems, having just served as the Director of Manufacturing Sciences at Therapure Biopharma.
What is your growth strategy? How do you plan to expand within your current vertical, and do you plan to expand to other products and markets?
MediPharm Labs is first and foremost a medical company. We create and distribute high quality medical products that can be exported to the substantial global cannabis market. There are 40+ jurisdictions worldwide where cannabis consumption is legal, and the vast majority of those jurisdictions are for medical products only. MediPharm Lab's state-of-the-art facility is in compliance with European current Good Manufacturing Practices (cGMP) requirements and designed to ISO standard cleanrooms and critical environments. The standard of design and construction are currently the most innovative and technically advanced in the Canadian cannabis industry, and will provide for our products to be exported globally.
Our pharma-grade purified cannabis concentrates will also be attractive to both medical patients and adult-use consumers who want pure, safe and consistent products with precise dosing. MediPharm Labs is excited to take part in the wellness and recreational cannabis market through our partnerships with existing high-performing consumer brands, as new permitted product categories become legal. These JV partners who are experts in their own fields of production [ be it manufacturing of beverages, baked goods, confectionary, etc.] will work with MediPharm Labs as an ingredient supplier, for product formulation, processing and assistance with licensing.
Any other thoughts?
Our operations are international. MediPharm Labs has completed a $7+million build-out of our 70,000 Sq Ft facility in Ontario, Canada, designed and built to European GMP standards with ISO rated critical environment clean rooms. The company has assembled an expert production team with deep bio-pharmaceutical experience and has installed advanced cannabis extraction equipment that gives MediPharm the capacity to process 100,000kg of dried cannabis flower into oil annually, the largest extraction footprint in Canada. MediPharm Labs has already received its License to produce cannabis oil and awaits its sales license, anticipated for September 2018. Further equipment has been ordered and expansion plans are in place to build future capacity to extract 250,000 kg of dried cannabis annually.
MediPharm Labs Australia Pty. Ltd. has also completed its application process with the federal Office of Drug Control to extract and import medical cannabis products in Australia. We are in the process of build out on our site a short distance from Melbourne in New South Wales.
Posted-In: Cannabis Capital Conference MediPharm LabsCannabis Fintech Markets Interview Best of Benzinga
View Comments and Join the Discussion!