The 'Shark Tank Of Cannabis' Debuts On Amazon Prime With Millions To Distribute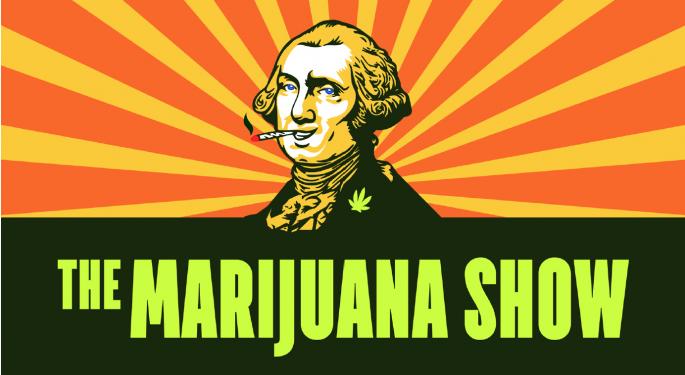 Shortly after California legalized marijuana for recreational uses, I wrote an OpEd for CNBC arguing, "Beyond its impressive numbers, California's largest impact on legal weed will stem from the state's disproportionate cultural reach and its ability to shape opinion."
My case was built around Joseph Nye's soft-power theory, and centered on TV and movies normalizing cannabis. In retrospect, the series I brought up, namely Showtime's Emmy- and Golden Globe-winning "Weeds" and Netflix, Inc. (NASDAQ: NFLX)'s "Disjointed," still perpetuated, to a certain extent, many of the stoner stereotypes – even though I must still acknowledge the involvement of Mary Louise Parker, Kathy Bates and Chuck Lorre in these projects certainly brought mainstream attention to cannabis culture.
Nonetheless, with polls from Gallup and the Pew Research Center showing support for cannabis legalization in the U.S. standing above 60 percent, it's time to re-think cannabis. Pot is no longer just a thing to have fun with: it's now a huge revenue generator, a massive basis of taxation and a job creator.
And so, a show that reflects this new reality is arriving at the mainstream. Beginning Aug. 1, Amazon.com, Inc. (NASDAQ: AMZN) Prime subscribers will be able to watch the third season of "The Marijuana Show" any time.
'The Marijuana Show'
Created by Wendy Robbins and Karen Paull, "The Marijuana Show" has been often called "The 'Shark Tank' of Cannabis." As the creators explain: "Nine savvy and engaging entrepreneurs pioneering a multi-billion dollar marijuana industry compete for mentorship and investment. Cast members are put through emotional, physical and professional challenges and one contestant becomes the next marijuana millionaire."
Benzinga spoke with Robbins about the show.
"We started this show in 2014 and now it's 2018 and the same industry challenges face all of us: limited banking, insurance is an issue, merchant accounts, investments, stigma, limited advertising and cannabis is still federally illegal," said Robbins ."'The Marijuana Show' is produced to deal with those issues. We offer investment, mentorship, merchant accounts, a global marketing platform, and our show focuses on ending the stigma by showing real entrepreneurs dealing with challenges, changing regulations, and investment."
Paull added, "In 2014 we had the idea to look for the next marijuana millionaire. That became our tagline. We bootstrapped the production and two weeks later we had 200 people audition in Denver. The show became a huge hit and a year later we got a million dollar investment to finance future production."
"The Marijuana Show" will have offered a total of $20 million in funding when the third season ends. The ladies behind it said they'll be soon launching a fund with another $20 million to invest in cannabis companies. They are currently raising funds.
The Contestants
Contestants on Season 3 of "The Marijuana Show" were selected through auditions all over the country. The final contenders are:
Restored Balance's CEO Heather Lawrence: a mom of eight children who lives in Utah and created a natural CBD skincare line that has been called "immortality in a bottle."
Mark Restelli, CEO of Hwy, was a professional football player with a career ending injury. He pitches for an investment for the "cliff bar of cannabis."
Jessica Ferranti represnts Sesh Technologies, a company that makes a machine that can roll 450 joints in two minutes.
Matt Wilson and Nicole Wicker pitched the Oblend, a home dispensary unit that blends the perfect wellness recipe.
Lia Conzemius Luz competes to raise money for her hemp farm and products with Lumina Botanicals.
Erai Beckmann's father died of liver cancer. Motivated by love, he and his team created Humanity products to help patients.
Chris Dell'Olio was building sites with his best friend since he was 14. He's now 23 and is Webjoint's CEO.
Todd Kleperis of Hardcar is a vet who hires only vets to protect cannabis and money.
Mentors include Bob Hoban and Brent Johnson of The Hoban Law Group, and Bob Eschino, founder of Incredibles.
The Marijuana Show (#mjrealityshow) will release its first five episodes of Season 3 on Aug. 1 and episodes 6-9 in the Fall. Follow on Facebook and Twitter.
Cannabis investors can't afford to miss the Benzinga Cannabis Capital Conference, a premier gathering of investors and entrepreneurs painting an honest picture of the opportunities and challenges in cannabis investing. Space is limited—get your tickets before they sell out.
View Comments and Join the Discussion!
Posted-In: Amazon Prime Disjointed Karen Paull Marijuana Show NetflixNews Media Interview Best of Benzinga