Benzinga's Daily Biotech Pulse: Biogen, AC Immune Slip Despite Positive Trials, Sarepta Slapped With Clinical Hold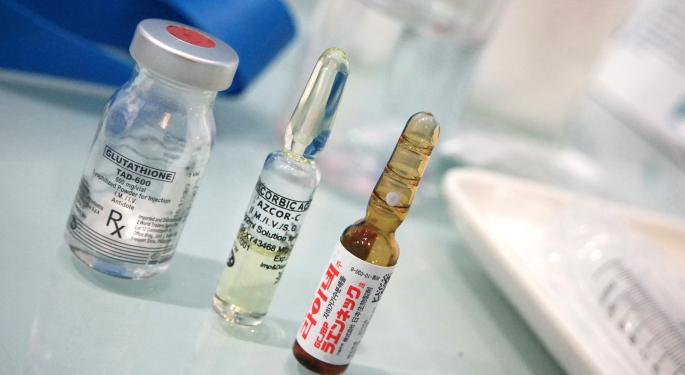 Here's a roundup of top developments in the biotech space over the last 24 hours:
Scaling the Peaks
(Stocks hitting 52-week highs on July 25)
Down In The Dumps
(Stocks hitting 52-week lows on July 25)
Agile Therapeutics Inc (NASDAQ: AGRX)(FDA turned down the company's appeal regarding Twirla)
ContraVir Pharmaceuticals Inc (NASDAQ: CTRV)
Cytori Therapeutics Inc (NASDAQ: CYTX)
Diffusion Pharmaceuticals Inc (NASDAQ: DFFN)
Genocea Biosciences Inc (NASDAQ: GNCA)
Immune Pharmaceuticals Inc (NASDAQ: IMNP)
MeiraGTx Holdings PLC (NASDAQ: MGTX)
Neurometrix Inc(NASDAQ: NURO)
Orgenesis Inc (NASDAQ: ORGS)
Reshape Lifesciences Inc (NASDAQ: RSLS)
RXi Pharmaceuticals Corp (NASDAQ: RXII)
Surface Oncology Inc (NASDAQ: SURF)
TESARO Inc (NASDAQ: TSRO)
Titan Medical Inc. (TSE: TMD)
VBI Vaccines Inc (NASDAQ: VBIV)
Stocks In Focus
Biogen Falls As Street Adopts Caution On Alzheimer's Candidate
After presenting a poster on mid-stage trial results for its Alzheimer's disease candidate elenbecestat, Biogen and partner Eisai made an oral presentation of detailed results from a Phase 2 study of another AD treatment candidate BAN2401 at the Alzheimer's Association International Conference.
BAN2401 is an anti-amyloid beta protofibril antibody, which was evaluated in an 856-patient, placebo-controlled, double-blind, parallel-group, randomized trial. The patients suffered from mild cognitive impairment due to AD, or mild Alzheimer's dementia, with confirmed amyloid pathology in the brain.
Among the doses tested, the highest doses of 10 mg/kg monthly and 10 mg/kg biweekly were found to have higher efficacy, and the 10 mg/kg biweekly dose slowed cognitive decline by 30 percent compared to placebo at 18 months.
Notwithstanding the positive results, investors bid down the stock amid caution regarding the success.
Biogen fell 11.42 percent to $340 after hours.
AC Immune Reports Positive Results For Alzheimer's Drug Candidate
AC Immune SA (NASDAQ: ACIU), which also has an AD drug candidate crenezumab it develops with Roche Holdings AG Basel ADR Common Stock (OTC: RHHBY), also presented new exploratory Phase 2 data for the candidate at the AAIC.
The results showed that crenezumab significantly reduced Abeta oligomers in cerebrospinal fluid in patients with AD.
"These first of their kind data are very promising as they support the proposed mechanism of action of crenezumab to preferentially bind to and promote removal of neurotoxic oligomers, a form of Abeta," the company said. Crenezumab is currently in two Phase 3 trials.
The stock slid 11.94 percent to $14.49 in after-hours trading.
Sarepta's Duchenne Muscular Dystrophy Trial Put On Clinical Hold
Sarepta Therapeutics Inc (NASDAQ: SRPT) announced the Phase 1/2a clinical trial of its Duchenne Muscular Dystrophy Micro-Dystrophin Gene Therapy has been put on clinical hold by the FDA. The FDA cited the presence of a trace amount of DNA fragment in research-grade third-party supplied plasmid as reason for the action.
"We intend to rapidly respond to the FDA's clinical hold letter, including a commitment to the Agency to only use GMP-s plasmid," the company said.
Sarepta shares declined 6.26 percent to $123 in after-hours trading.
See Also: The Week Ahead In Biotech: Conferences, PDUFA Dates, Clinical Trial Results, Earnings And IPOs
Gilead's CEO To Step Down; Q2 Results Beat Estimates
Gilead Sciences, Inc. (NASDAQ: GILD) reported Q2 non-GAAP earnings of $1.91 per share, ahead of the $1.56 consensus estimate. Revenues of $5.648 billion also surpassed the $5.21 billion consensus estimate.
The company raised its full-year non-GAAP product gross margin guidance.
Separately, the company said its president and CEO John Milligan will step down after being with the company for 28 years.
The stock fell 1.48 percent to $77.75 in after-hours trading.
Vertex Report Strong Q2 Results
Vertex Pharmaceuticals Incorporated (NASDAQ: VRTX) reported Q2 non-GAAP earnings of 94 cents per share, and a 46 percent increase in its cystic fibrosis, or CF, revenues to $750 million. Analysts, on average, estimated earnings of 75 cents per share and revenues of $680.98 million.
The company also raised its full-year CF product revenue guidance to $2.9 billion to $3 billion.
Roche First-Half Results Beat Estimates; Raises Guidance
Roche reported better-than-expected first-half results, helped by strong performances by new drugs, and also raised its full-year sales growth outlook.
Nabriva Announces Common Stock Offering
Nabriva Therapeutics PLC (NASDAQ: NBRV) said it has commenced an underwritten public offering of $50 million shares. All the shares are to be sold by the company. Nabriva announced Tuesday a deal to buy Zavante Therapeutics.
The stock fell 8.22 percent to $3.24 in after-hours trading.
On The Radar
Earnings
Allergan plc (NYSE: AGN) Q2 EPS $4.42 Beats $4.12 Estimate, Sales $4.124B Beat $3.91B Estimate
ABIOMED, Inc. (NASDAQ: ABMD) Q1 EPS $0.78 Misses $0.82 Estimate, Sales $180.01M Beat $173.27M Estimate
Alexion Pharmaceuticals, Inc. (NASDAQ: ALXN) Q2 EPS $2.07 Beats $1.70 Estimate, Sales $1.045B Beat $977.89M Estimate
Amgen, Inc. (NASDAQ: AMGN) (after the market close)
Alkermes Plc (NASDAQ: ALKS) Q2 EPS $0.29 Beats $0.14 Estimate, Sales $304.642M Beat $247.08M Estimate
Baxter International Inc (NYSE: BAX) Q2 EPS $0.77 Beats $0.71 Estimate, Sales $2.842B Beat $2.83B Estimate
Cytokinetics, Inc. (NASDAQ: CYTK)
Edwards Lifesciences Corp (NYSE: EW) (after the market close)
Celgene Corporation (NASDAQ: CELG) Q2 EPS $2.16 Beats $2.10 Estimate, Sales $3.814B Beat $3.7B Estimate
Seattle Genetics, Inc. (NASDAQ: SGEN) (after the market close)
Retrophin Inc (NASDAQ: RTRX) (after the market close)
IPO
Liquidia Technologies said it priced its initial public offering of 4.55 million shares at $11 per share. The shares will be listed on the Nasdaq under the ticker symbol LQDA.
View Comments and Join the Discussion!
Posted-In: Biotech Earnings News Offerings FDA IPOs Top Stories Trading Ideas Best of Benzinga