Benzinga's Daily Biotech Pulse: Hematology Conference In The Spotlight, Dr. Reddy To Launch Generic Opioid Addiction Drug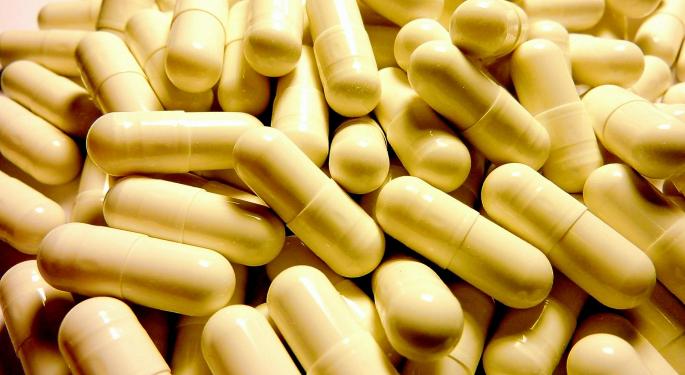 Here's a roundup of top developments in the biotech space over the last 24 hours.
Scaling the Peaks
(Stocks hitting 52-week highs on June 14)
Down In The Dumps
(Stocks hitting 52-week lows on June 14)
Stocks In Focus
Verastem Announces Common Stock Offering
Verastem Inc (NASDAQ: VSTM) announced a registered sale of 7.17 million shares to funds managed by Consonance Capital, priced at $6 per share. The company expects to realize gross proceeds of $43 million from the offering.
The stock rallied 8.24 percent to $6.04 after hours.
Dr. Reddy's To Launch Generic Opioid Addiction Drug
Dr.Reddy's Laboratories Ltd (ADR) (NYSE: RDY) announced that the FDA gave its nod to its generic version of U.K.-based INDIVIOR PLC/S ADR(OTC: INVVY)'s opioid addiction drug Suboxone. The company said it's launching buprenorphine and naloxone sublingual film, a therapeutic equivalent to Suboxone, in the U.S.
Mylan NV (NASDAQ: MYL) was also granted approval for its own generic version, although the company didn't release information on a potential launch.
On The Radar
European Hematology Association Presentations
Ra Pharmaceuticals Inc (NASDAQ: RARX) – Phase 2 data for paroxysmal nocturnal hemoglobinuria treatment candidate RA101495
Karyopharm Therapeutics Inc (NASDAQ: KPTI) – updated Phase 1b/2 data for its multiple myeloma treatment selinexor, in combination with standard approved therapies, namely Velcade, Pomalyst or Darzalex
La Jolla Pharmaceutical Company (NASDAQ: LJPC) – Phase 3 data for LJPC-401 for treating beta thalassemia patients suffering from iron overload
MORPHOSYS AG/S ADR (NASDAQ: MOR) – Phase 2 data for chronic lymphocytic leukemia therapy MOR208+idelalisib
Blueprint Medicines Corp (NASDAQ: BPMC) – Phase 1 data for avapritnib, codenamed BLU-285, that is evaluated in a study dubbed EXPLORER for treating advanced systemic mastocytosis
ArQule, Inc. (NASDAQ: ARQL) – Phase Ia data for its B-cell malignancy treatment candidate ARQ 531
Affimed NV (NASDAQ: AFMD) – Phase 1b data for Hodgkin lymphoma cancer treatment AFM13 in combination with Merck & Co., Inc. (NYSE: MRK)'s Keytruda
Beigene Ltd (ADR) (NASDAQ: BGNE) – Phase 1/2 data for its BGB-3111 for treating Waldenstom's macroglobulinemia
Stemline Therapeutics Inc (NASDAQ: STML) – Phase 2 data for SL-401 for treating blastic plasmacytoid dendritic cell neoplasm cancer
Global Blood Therapeutics Inc (NASDAQ: GBT) – Phase 2a data for GBT440, which is being evaluated in a study called HOPE-KIDS 1 for treating sickle cell disease in children aged between 6 and 17; In a release ahead of the presentation, the company said new 24-week data for 900mg strength of GBT440 showed sustained and durable improvements in hemoglobin levels and a reduction in clinical measures of hemolysis
Epizyme Inc (NASDAQ: EPZM) – Phase 2 data for its diffuse large B-cell lymphoma and follicular lymphoma treatment candidate
Atara Biotherapeutics Inc (NASDAQ: ATRA} – Phase 2 data for its ATA 129 for Epstein-Barr virus
BIOLINERX Ltd/S ADR (NASDAQ: BLRX) – Phase 2 data for BL-8040, which is tested for stem-cell mobilization for bone-marrow transplantation
Other Presentations
Selecta Biosciences Inc (NASDAQ: SELB) is due to release Phase 2 data for SEL-212, which is being evaluated for tophaceous gout, at the 2018 European League Against Rheumatism Congress.
FDA Tidbits
FDA Commissioner Scott Gottlieb released a statement delving on the agency's efforts to acquaint consumers with information on dietary fiber in food. The FDA issued guidance for food manufacturers to count the fibers while calculating the finer per serving to declare on the Nutrition Facts label. In addition to the eight dietary fibers the agency already recognizes, it's also evaluating additional fibers to be recognized.
View Comments and Join the Discussion!
Posted-In: Biotech News Offerings FDA Top Stories Pre-Market Outlook Trading Ideas Best of Benzinga