Is It Time To Remove General Electric From The Dow 30?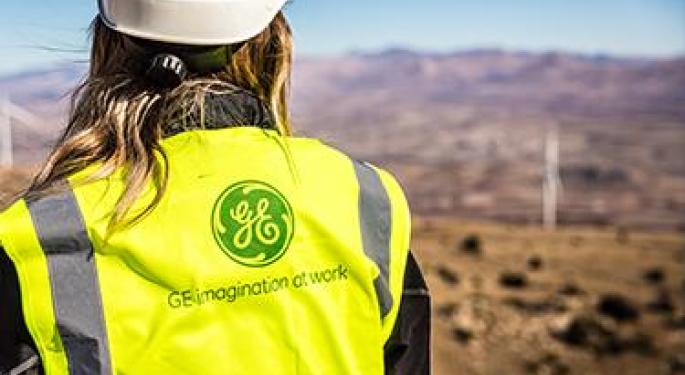 It's happened to AT&T Inc. (NYSE: T). It's happened to Citigroup Inc (NYSE: C). It's happened to Chevron Corporation (NYSE: CVX), General Motors Company (NYSE: GM) and Sears Holdings Corp (NASDAQ: SHLD)'s predecessor Sears, Roebuck & Co.
It might be time for General Electric Company (NYSE: GE)to get the boot off the Dow Jones Industrial Average.
GE's Dow Heritage
General Electric is one of the 12 inaugural components of the index and the only original still included. Having first joined the Dow in 1896, GE was removed two years later before returning in 1907.
Since then, it's seen many a peer come and go.
The Wall Street Journal, which selects the stocks, has often inflated the index value by supplanting lower-priced, underperforming stocks with higher-priced companies, generally maintaining the mixed sector composition.
The process paved the way for Walt Disney Co (NYSE: DIS), Wal-Mart Stores Inc (NYSE: WMT), Boeing Co (NYSE: BA) and Visa Inc (NYSE: V) — and dozens of others — to forge their way on the ever-changing list.
GE's Future On The Index
Now, General Electric increasingly appears to fit the profile of firms meriting replacement.
Management halved its dividend this month; the stock has fallen 42 percent year-to-date, weighing down the Dow's 19-percent gains; and the Street has little confidence in near-term improvement. A majority of analysts advise holding or selling, and CNBC's Jim Cramer recently criticized the company's board as worthy of his wall of shame.
If the Journal opts to drop General Electric, a number of stable, enduring firms could vie for its spot.
Alphabet Inc (NASDAQ: GOOGL) (NASDAQ: GOOG), Amazon.com, Inc. (NASDAQ: AMZN) or Facebook Inc (NASDAQ: FB) could join fellow FAANG juggernaut Apple Inc. (NASDAQ: AAPL), on the list, increasing the Dow's overlap with the SPDR S&P 500 ETF Trust (NYSE: SPY) and better aligning the Dow with the S&P 500's tech representation.
Other best performers of 2017 demonstrating long-term stability include Square Inc (NYSE: SQ), Alibaba Group Holding Ltd (NYSE: BABA), Universal Display Corporation (NASDAQ: OLED), NVIDIA Corporation (NASDAQ: NVDA) and Take-Two Interactive Software Inc (NASDAQ: TTWO).
Joel Elconin contributed to this report.
Related Links:
General Electric Is A 'Screaming Buy' And 'Spectacular Opportunity,' Analyst Says
The Only High-Yield Dow Stock Making New Highs Is...
Photo courtesy of GE.
View Comments and Join the Discussion!
Posted-In: DJIA Dow Jones Industrial AverageEducation Opinion Top Stories Markets General Best of Benzinga