Tech CEOs Descend On The White House: Who Won't Be There?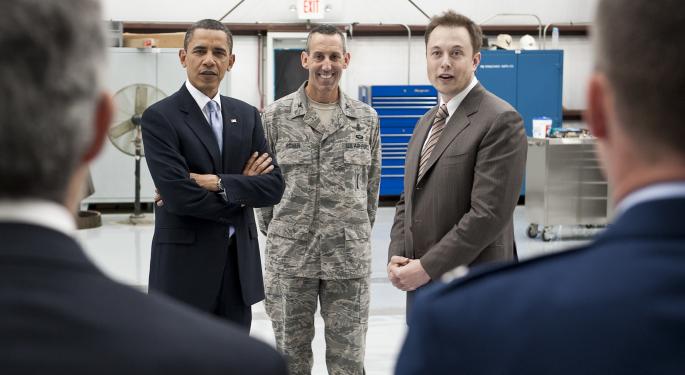 President Donald Trump's newly-formed American Technology Council will meet Monday for the first time. Its members will dive straight into a broad range of issues, meant to develop new best practices for government regarding its use of information technology.
The council's agenda includes working sessions on cyber security, fraud detection, big data, cloud computing and artificial intelligence.
The federal government spends over $80 billion each year on information technology and employs about 113,000 IT professionals, but suffers from outdated and inefficient systems, according to Bloomberg sources.
The council will also work on non-tech specific topics such as the H-1B visa program that the president has said he would cut back, drawing criticism from many of the country's biggest companies.
The council is made up of CEOs from Silicon Valley's most prominent companies, as well as over a dozen White House officials.
While nearly all of the group will be in attendance, there are a few faces that will not be seen in Washington.
Elon Musk, CEO Of Tesla Inc (NASDAQ: TSLA) And SpaceX
Musk is the highest profile CEO not to attend the summit.
After Trump announced he would exit the Paris Agreement, Musk tweeted that he would be resigning from his positions on the president's advisory councils.
Musk, who had previously defended his decision to join the councils as taking a necessity seat at the table, was criticized on Twitter for going back on his word.
Marc Benioff, CEO Of Salesforce.com, Inc. (NYSE: CRM)
Benioff was also among the cascade of CEOs that panned Trump's decision, but like the majority decided to stay on the council.
He will not be in attendance due to a scheduling conflict that arose after the meeting was rescheduled, reported the Wall Street Journal.
Travis Kalanick, CEO Of Uber
The embattled CEO of Uber Travis Kalanick cut ties with the White House in an attempt to reduce public criticism.
He recently announced that he would be taking a leave of absence from the company, following the results of multiple probes into Uber's work culture and the sudden death of his mother.
Uber confirmed to CNN that Kalanick had no plans to participate in the summit.
White House Officials
Among the thousands of federal offices Trump is yet to fill are the U.S. Chief Technology Officer and Director of the Office of Science and Technology Policy.
Both positions hold spots on the council according to the executive order detailing its creation.
The Attendees
The following 18 tech leaders are slated to attend the summit, as well as one guest each.
Julie Sweet, CEO of Accenture Plc (NYSE: ACN)
Shantanu Narayen, CEO of Adobe Systems Incorporated (NASDAQ: ADBE)
Tom Leighton, CEO of Akamai Technologies, Inc. (NASDAQ: AKAM)
Jeff Bezos, CEO of Amazon.com, Inc. (NASDAQ: AMZN)
Tim Cook, CEO of Apple Inc. (NASDAQ: AAPL)
Peter Thiel, co-founder of Founders Fund
Ginni Rometty, CEO of International Business Machines Corp. (NYSE: IBM)
Brian Krzanich, CEO of Intel Corporation (NASDAQ: INTC)
John Doerr, chairman of Kleiner Perkins
Ajay Banga, CEO of Mastercard Inc (NYSE: MA)
Satya Nadella, CEO of Microsoft Corporation (NASDAQ: MSFT)
Zachary Bookman, CEO of OpenGov
Safra Catz, co-chief executive of Oracle Corporation (NYSE: ORCL)
Alex Karp, CEO of Palantir
Steven Mollenkopf, CEO of QUALCOMM, Inc. (NASDAQ: QCOM)
Bill McDermott, CEO of SAP SE (ADR) (NYSE: SAP)
Pat Gelsinger, CEO of VMware, Inc. (NYSE: VMW)
Related Links:
Benzinga's Bulls And Bears For The Past Week: FANG Stocks And Big Mergers
Massive Media Layoffs Begin As Verizon Juggles HuffPost, AOL, Yahoo
________
Image Credit: "President Barack Obama, left, Air Force Col. Lee Rosen, Commander, 45th Launch Group, center, and SpaceX CEO Elon Musk talk with Dr. John P. Holdren is Assistant to the President for Science and Technology during a tour of the commercial rocket processing facility of Space Exploration Technologies, known as SpaceX, at Cape Canaveral Air Force Station, Cape Canaveral, Fla. on Thursday, April 15, 2010. Obama also visited the NASA Kennedy Space Center to deliver remarks on the bold new course the administration is charting to maintain U.S. leadership in human space flight. Photo Credit: NASA/Bill Ingalls NASA Identifier: 201004150012HQ" By Glenn Research Center (https://www.dvidshub.net/image/860991) [Public domain], via Wikimedia Commons
Posted-In: News Futures Politics Management Events Markets Tech Trading Ideas Best of Benzinga
View Comments and Join the Discussion!