Uber's New Hires Could Help End PR Nightmares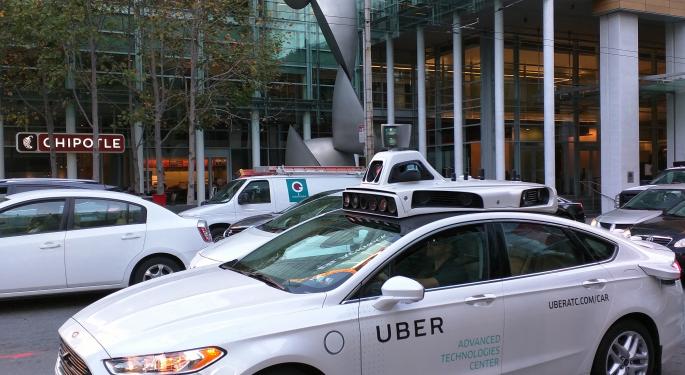 It would be an understatement to say Uber has had a bad year. Besides posting a $708 million loss on $3.4 billion in revenue in the first quarter, the company has been hit by scandal after scandal.
Uber's public relations nightmares may end soon though, thanks to the hire of Frances Frei, a Harvard professor and administrator.
She will take the role of senior vice president of leadership and strategy and work alongside human resources chief Liane Hornsey, reported CNN.
Under Frei's guidance, the company hopes to change its troubled culture, making it more friendly to women and drivers.
Uber has already begun to hold leadership training sessions designed by Frei, who was unable to be reached for comment.
Other Notable Hires
The company is also working on its lack of diversity, bringing on former-Apple Inc. (NASDAQ: AAPL) executive Bozoma Saint John for an unknown position, reported TechCrunch. Saint John also worked as a marketing executive for PepsiCo, Inc. (NYSE: PEP).
What these two women will be able to accomplish for the ride-hailing giant is yet to be seen, but fixing the company's broken culture and strained public perception will be critical moving forward.
The company's nightmare has featured scene ranging from sexual harassment to law enforcement evasion.
Sexual Harassment Allegations
In February, Uber engineer Susan Fowler wrote in a personal blog post about being sexually harassed by her manager. She also detailed the cut-throat culture at Uber headquarters.
Following the allegation, Uber hired former-U.S. Attorney General Eric Holder to lead a company-wide investigation.
Former-senior vice president of engineering, Amit Singhal, was also asked to resign after a separate sexual harassment claim came to light; Singhal denied the allegations.
On Tuesday, it was also revealed that 20 employees had been fired amid a second ongoing probe led by Perkins Coie LLP attorney Bobbie Wilson into 215 human resources reports of sexual harassment and other discrimination, reported Bloomberg. So far, 100 of the 215 cases have cleared the accused of any wrongdoing.
Executive Exodus
Thirteen Uber executives have left the company since the start of the year for varying reasons, nearly all of which tying back to Uber's culture in the workplace.
These executives include the president and the heads of the communications, finance, engineering, product, engineering and self-driving car departments.
Over half of these roles are yet to be filled, and the company is currently looking for an experience COO and CFO.
Kalanick Loses His Cool
Just a day after Fowler published her blog post, a video surfaced of Uber CEO Travis Kalanick fighting with an Uber driver over falling fare prices. After going viral, Kalanick issued an apology to the driver and company.
"This is the first time I've been willing to admit that I need leadership help and I intend to get it," he went on to say, which has manifested in the hiring of Frei.
Greyball Investigation
In March, it was revealed that Uber has for years been using a piece of software called "Greyball," which allowed the app to recognize city regulators and deny them rides.
The program operated in major cities where Uber's service was banned or resisted by law enforcement, including Philadelphia, Paris, Boston and Las Vegas.
In March, the city of Portland launched an investigation into the use of Greyball. The U.S. Department of Justice opened its own, broader investigation in May.
Waymo Suit
Alphabet Inc (NASDAQ: GOOG) (NASDAQ: GOOGL) off-shoot Waymo filed a lawsuit in March, suing Uber for intellectual property theft and patent infringement.
Waymo claims that its former-engineer Anthony Levandowski stole thousands of files before quitting to start his own autonomous car company, which was bought by Uber. Levandowski, who pleaded the fifth to avoid self-incrimination, was fired in late-May.
The trade secret case was referred the Department of Justice, indicating that Waymo has a very strong argument for itself.
#DeleteUber
Politically, Uber has not fared much better. When President Donald Trump signed the travel ban, the New York Taxi Alliance stopped servicing JFK Airport for one hour to support the protestors who had gathered there. At the same time, Uber announced that it had turned off its surge pricing and would continue servicing the airport.
Combined with Kalanick's membership on Trump's business advisory council, the act was seen as pro-Trump and widely criticized.
Soon after, the hashtag #DeleteUber went viral on Twitter Inc (NYSE: TWTR). Over 200,000 users deleted the app, and ride-hailing competitor Lyft rose from No. 39 to No. 4 on the Apple's free apps chart.
Kalanick responded by resigning as one of Trump's advisors and announcing that $1 million would be set aside to help those affected by the ban.
Uber recently came under fire again for surge charging users in London during the terrorist attack on London Bridge last week. Uber has refunded those passengers on Monday, reported the BBC.
Related Links:
Where The Lyft-Waymo Deal Steers Ride-Hailing
What The New Gig Economy Bill Means For Workers, In Layman's Terms
________
Image Credit: By Diablanco (Own work) [CC BY-SA 3.0 (http://creativecommons.org/licenses/by-sa/3.0)], via Wikimedia Commons
Posted-In: #DeleteUberNews Travel Legal Management Tech Media General Best of Benzinga
View Comments and Join the Discussion!