Benzinga's Bulls And Bears For The Past Week: FANG Stocks And Big Mergers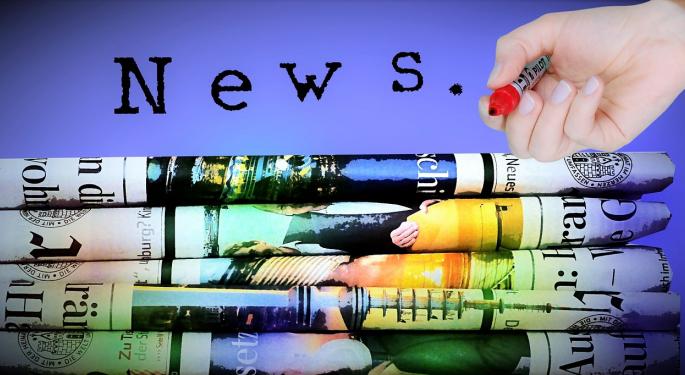 Benzinga has featured a look at many investor favorite stocks over the past week.
Mergers were all over the headlines, particularly late in the week.
The much ballyhooed FANG stocks were also in the news.
In a week that saw the FANG stocks stumble, the completion of the takeover of Yahoo and the surprise announcement of the buyout of Whole Foods, Benzinga continued to feature a look at the prospects for many investor favorite stocks. Here are just a few of the bullish and bearish calls arising from the past week's headlines.
FANG Stocks
"Factors Driving FANG Still Intact, But Macro Backdrop More Mixed" by Merrick Weingarten takes a look at why one key analyst remains cautiously optimistic for potential upside in this group of large-cap tech stocks, even though the firm downgraded Google; that is to say, Alphabet Inc (NASDAQ: GOOG) (NASDAQ: GOOGL).
Netflix, Inc. (NASDAQ: NFLX) and Amazon.com, Inc. (NASDAQ: AMZN) are among "The 9 Best S&P 500 Stocks Of The Past 15 Years" according to this article by Wayne Duggan. Investors who saw the long-term potential of these stocks back in 2002 have been handsomely rewarded. See what other stocks were the cream of the crop.
Verizon And Yahoo
In "Massive Media Layoffs Begin As Verizon Juggles HuffPost, AOL, Yahoo," Elizabeth Balboa examines the disruption — including layoffs — at the media properties of Verizon Communications Inc. (NYSE: VZ) now that the merger with Yahoo is complete. Verizon's new digital unit, called Oath, is a union of Yahoo and AOL assets.
Also check out the bearish sentiment on another big merger in "Walgreens–Rite Aid Deal In Its Final Act."
Amazon And Whole Foods
Merrick Weingarten's "Amazon's Acquisition Of Whole Foods Should Create Lower Prices, Offer Better Consumer Experience" discusses the "seismic event that is rattling out from Seattle," referring to the announced acquisition of Whole Foods Market, Inc. (NASDAQ: WFM) by Amazon.
In Elizabeth Balboa's "Comparing Walmart And Amazon's Recent Acquisitions," see what news of an acquisition by Wal-Mart Stores Inc (NYSE: WMT) was totally overshadowed by Amazon's big announcement on Friday. And find out what their recent acquisitions say about the strategies of these fiercely competitive mega-retailers.
"Amazon Shouldn't Worry About Antitrust Law, For Now" by Ezra Schwarzbaum ponders what might prompt the Federal Trade Commission to consider subjecting the growing Jeff Bezos empire to antitrust investigations. Is the Whole Foods deal likely to decrease competition in a significant way? Could Amazon change the antitrust landscape?
And check out " The Unflinching Rise Of Amazon's Stock Price Begs 3 Questions" for more on Amazon's seemingly unstoppable rise.
Posted-In: Alphabet Amazon Amazon.comLong Ideas M&A Short Ideas Top Stories Trading Ideas Best of Benzinga
View Comments and Join the Discussion!