Betty Liu Talks About Bloomberg Television's Coverage Of The Goldman Sachs News (NYSE:GS)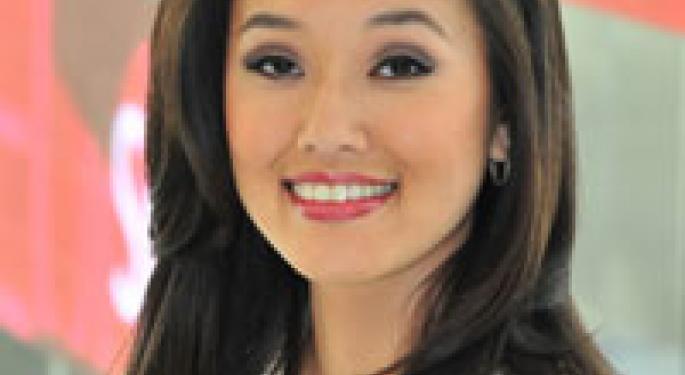 Betty Liu is the anchor of "In the Loop with Betty Liu," which airs weekdays from 8:00-10:00 AM ET on Bloomberg Television. During her time at Bloomberg, Liu has interviewed newsmakers such as Berkshire Hathaway Chairman & CEO Warren Buffett, former GE Chairman & CEO Jack Welch and media pioneer Ted Turner.
Q: Betty, you anchored a live show on Bloomberg TV this Sunday night with some experts on the Goldman Sachs lawsuit, like Bill Cohan (author of "House of Cards") and Louise Story, who helped break the story at the New York Times. What was the main point of contention among your guests when it came to the SEC charges?
A: It was a really great show because we had so many different, smart viewpoints on the story. I think the main point of tension was simply: is Goldman guilty? Bill was arguing that it's too early to tell. He took from his experience reporting and writing about the Bear Stearns case and noted how easy it was to jump to the conclusion of fraud until the full details emerged and it showed a much more nuanced story.
Christine Harper, our Bloomberg reporter who's been breaking many stories on Goldman, argued that in some ways, fraud or no fraud, Goldman was already being judged harshly. It's a new day on Wall Street when the UK Prime Minister is calling your bank "morally bankrupt".
Q: Based on your talks with Wall Street experts, did this story come out of nowhere? Did anyone see this coming?
A: No, it most definitely didn't come out of nowhere. There had been reports out months ago that Goldman was being investigated by the SEC for their CDO transactions. In addition to our coverage, Gretchen Morgenson and Louise Story of the New York Times wrote such a detailed account in December of what happened with this one Abacus deal that many on Wall Street felt this had to be true. The details were too compelling. Gregory Zuckerman of the WSJ wrote about this one trade in his book about John Paulson.
So the runway lights were up, it's just that nobody quite knew when the story would land - ie. the SEC filing suit. Some had doubts the SEC had the guts to go after such a storied Wall Street firm as Goldman.
Q: I know Warren Buffett is a big investor in Goldman. You interview Buffett frequently and you recently interviewed Berkshire board member Ron Olson. Based on your coverage of Buffett, do you think he is concerned by this news?
A: Ron Olson emailed me the afternoon when this story broke and said that he still stands by Berkshire's Goldman investment but that if the allegations of the SEC lawsuit prove true, he would be "disappointed". Our timing was quite prescient- we had just flown out to LA that Monday to interview him and we talked about the Goldman investment. Buffett and the board believe in Goldman's integrity. Buffett has a habit of investing in corporate leaders - not just the company itself - and he has stood by Lloyd Blankfein despite all the pot shots being aimed at the CEO.
When the news broke, I got on the air about Buffett's investment because almost immediately, those who followed Buffett could see the irony in all this: He has never liked Wall Street but he's not averse to the money that can be made there. He put his reputational risk on the line by investing in Goldman because what they offered was too good of a deal to pass up (especially for a billionaire investor who loves making money).
It's happened once before at Salomon when his stake in the firm almost blew up in his face. Now there's Goldman. Did he stake too much of his own moral currency in Goldman for the sake of profit? That's what presumably Buffett and his board are feeling uncomfortable with right now.
Q: Bloomberg's been all over the Goldman Sachs story, going live on Sunday night and interviewing a number of top investors, like Michael Holland who runs a $4B fund, to discuss the case. What were the experts and investors you spoke to most surprised about when it comes to this lawsuit and political response to it?
A: I've heard repeatedly how surprised they were by the aggressiveness of the SEC. For so long, the story around the SEC was that they were weak in overseeing the financial system and while things were changing, nobody had seen any concrete results. Well, Friday's news on Goldman was the boldest statement yet that the SEC was going to be an attack dog on Wall Street.
Q: What are investors most concerned about as a result of this story?
A: I think they're worried about whether this is an individual case or an institutional problem. If it's the latter, then almost every firm who ever dabbled in CDOs - either as an investor, a middleman, a shorter - could be vulnerable to greater scrutiny...and lawsuits. They're also concerned that this will balloon into overly harsh regulation on Wall Street banks, which while good in terms of reining in risk, could also eventually hurt the ability of banks to return to healthy profit. That being said, you're not seeing a huge selloff in banks that you might expect from these concerns.
Q: What would you want to ask Lloyd Blankfein of Goldman Sachs right now?
A: Did you know about the Abacus structure? Do you approve the way it was structured? What did you do when you heard the SEC was suing you? Have you reached out to them to settle?
Q: As a journalist, how do cover this fast-moving story with accuracy?
A: That's the essence of being a good news reporter, right? To be the fastest on a story but also accurate. You make sure you have your facts triple-checked, you bounce tidbits off more than one source to make sure everyone is hearing the same thing and you always check your facts through an original source of information.
View Comments and Join the Discussion!
Posted-In: Betty Liu Bloomberg TVMovers & Shakers Media General