1 Minute Review
Have you ever dreamed of owning a Basquiat painting or one of Warhol's pop art masterpieces? You can with Masterworks — even if you don't have $1 million in the bank. 
Masterworks is a new platform that allows investors to own shares of famous works of art. Artwork is held in a climate-controlled, secure environment while Masterworks searches for an independent collector or buyer to sell at a profit. When a piece is sold, you'll receive a share of the profits proportional to your initial investment.
Investors will enjoy Masterworks' easy-to-follow system and choice of famous art investments.
Best For
You want to diversify your portfolio with alternative, specifically art, investments
Earn returns up to 8-30%
You're interested in investing in art
Pros
A dedicated art membership rep that will help you invest and answer questions
Clean, attractive, easy to use platform design
Cons
Requires a phone interview before you can invest
Fee can be confusing for new investors
Why Masterworks?
Why invest with Masterworks? Some of the best reasons to open a Masterwork account include:
Easy data location: Masterworks' platform is well-designed and SEC and bank documents are easily available.
Unique investing method: Masterworks offers a unique investing platform and method. It registers major works of art as entities with the SEC and offers shares of Class A stock for each piece.
Unique asset class: Masterworks offers one of the most affordable ways to put money in major works of art.
Masterworks Quick Summary
| | |
| --- | --- |
| Tradable assets | Fractional shares representing famous works of art |
| Platform | Easy to understand — but there are no analysis tools |
| Mobile app | N/A |
When you invest with Masterworks, you purchase Class A stock shares that represent partial ownership in a particular work of art.
The minimum amount that you'll need to invest varies depending on the work of art you're investing in and no individual investor may own more than 10% of any individual work of art.
After Masterworks has purchased the painting, it holds it in a stored location for safety and insurance reasons, which keeps your investment protected. From there, Masterworks actively attempts to sell the painting at a profit to art collectors and investors. If 7 years pass and there's no solid opportunity to sell the artwork at a higher price, Masterworks will consider sending the painting to auction. At no point is there a guarantee that you'll receive a return on your investment, but Masterworks does actively vet investments and only offers works from established artists.
Before you invest, it's important to understand Masterworks' fees. Currently, Masterworks charges 3 separate fees to investors:
Annual management fee: You'll pay a 1.5% annual management fee for each year you invest with Masterworks. This fee goes toward expenses like art insurance, storage and transportation.
Profit-taking: When Masterworks sells the work of art, the platform takes a flat 20% commission if the painting has increased in value.
Different standards apply to institutional and business investors.
Anyone can invest through Masterworks. Before you can invest and purchase shares of artwork, you'll need to complete a quick phone interview. When we tried to sign up, we were told that we were #310 on Masterworks' waitlist. Investors eager to get in on the art market fast may want to sign up now to hold their place.
Once you make your way into the platform, you'll enjoy a simple and streamlined design. Some of the things we love about Masterworks include:
Upfront crowdfunding: If you're only interested in browsing by works that will definitely be funded, you'll love Masterworks' direct and upfront funding calculator.
Simple bank linking process: After you create your Masterworks account, you'll be directed to link your bank account directly from your Masterworks home page. Though you can't link your account and begin purchasing until you complete your required interview, you won't have any trouble finding necessary forms or access points when you're ready to start investing.
Easy-to-find SEC filings: The best place to learn more about Masterworks and its offering requirements is by checking out each piece of art's SEC filing. You can view SEC filings for every piece of art currently available for investing directly on its page.
Masterworks offers a few interesting ways to learn more about investing in the art market and the pieces of artwork currently available on the platform. Some of the educational features we love include:
Brief biographies of each artist: Masterworks makes it easy to learn more about the life and history of the artists whose paintings it offers. Each piece even includes an additional "Further Reading" section with materials to help you learn a little more about the context of the piece up for sale.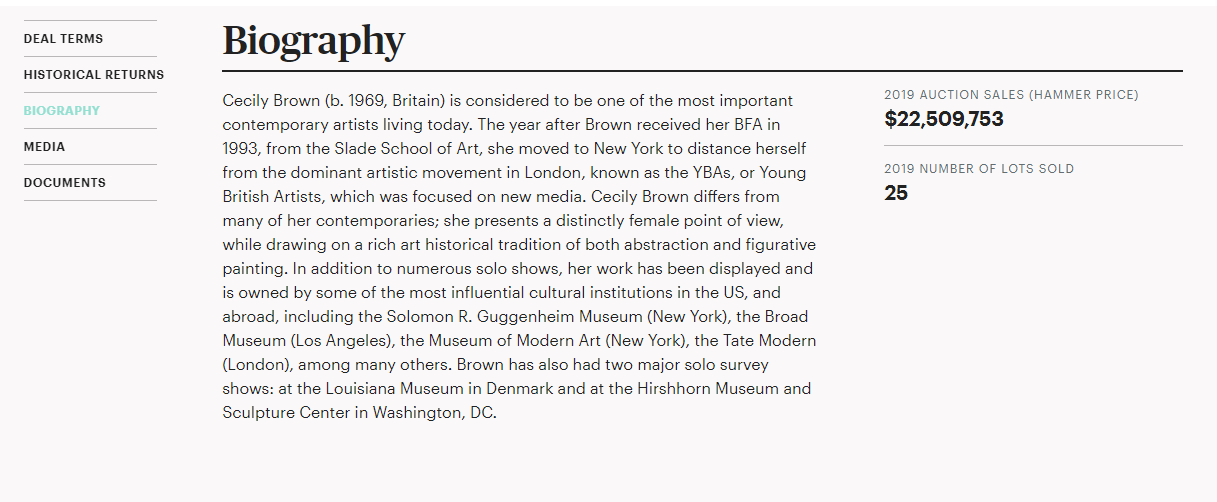 Masterworks price database: You can take a look at all of the artists and their paintings in Masterworks' unique price database and view the return of thousands of paintings and artworks.
Masterworks Insights: You may assume that Masterworks' "Insights" is a blog just created for search engine optimization purposes rather than providing actual information, but this assumption is incorrect. Masterworks Insights is a hub of gripping, well-researched and informative articles. The tone of Insights' offerings is easy enough for total beginners to understand and each article brings a new perspective. Some previous article topics include deeper dives into artists' histories, the benefits of adding art to your investing portfolio, ideas for investing in art on a budget and much more.
The Insights section also includes a third-party research section that aggregates outside news articles from a variety of well-known sources focused on art. Here, you'll find articles from Barclays, Morgan Stanley and Deloitte, to name a few. Article offerings are updated frequently, so don't be afraid to check back every few days to see what's new.
Auction sales data and public research reports: If any particular piece of artwork remains unsold after 5 years, Masterworks begins considering putting the piece up for auction. Masterworks offers investors historical auction data for each of the artists it features. It also offers reports on the current state of the global art market, published regularly by sources like Citi GPS and Deloitte. These reports are different than daily news offerings because they cover larger art trends in more depth as the market moves and changes.
Masterworks currently offers 2 ways to get in contact with its customer service team.
By phone: You can get in contact with Masterworks by calling 203-518-5172. Masterworks customer service team is available from 9 a.m. to 6 p.m. EST.
By email: Get in contact with Masterworks by email — send the team a message at support@masterworks.io.
Another unique bonus: You'll get your own dedicated representative who can answer your questions at any time. Unlike most investment platforms, you get access to your own personal Masterworks membership representative whenever you want.
Masterworks offers investors the opportunity to invest in works of art by some of the world's most well-known artists. But how does Masterworks decide what's worth investing in and what will increase in value?
The Masterworks investment process is as follows:
Masterworks identifies a work of art its team is interested in purchasing. Masterworks focuses on purchasing artwork from "blue chip" artists — artists whose artwork has a history of improving value and maintains relatively high auction prices. Think Claude Monet, Andy Warhol and contemporary favorites like Yayoi Kusama. Masterworks then puts up its own capital to purchase the piece of artwork.
Masterworks files the artwork with the SEC. After Masterworks takes control of the work of art, it registers the artwork with the SEC. You can view the SEC filing and offering circular from the artwork's profile page on Masterworks.
Masterworks offers shares to its users. After registering with the SEC, Masterworks offers investors on its platform the chance to buy "shares" of the artwork.
Masterworks keeps your artwork safe and sound. Masterworks then holds the work of art in a temperature-controlled, museum-grade gallery. Masterworks waits for the artwork to appreciate in value and actively searches for an investor to sell the work of art at a profit. In exchange, you pay 1.5% of your total share balance in fees to cover storage and insurance.
You receive a payout. After 3 to 7 years, Masterworks may sell the painting to an investor or at auction. You'll receive your portion of the profits, which is proportional to the number of shares you've purchased.
Masterworks has also launched a trading platform. You can sell your shares to other investors through the Masterworks bulletin board feature. However, Masterworks cannot guarantee you that the bulletin board will contain liquidity options.
Very few Americans can afford to own a quintessential Jackson Pollock painting or one of Cecily Brown's beautiful works of art. Masterworks allows investors to get in on the art collecting world at a fraction of the cost of purchasing one of these groundbreaking works of art at auction.
You'll also need to be ready to complete a phone interview to verify that you are who you say you are, which may be a bit of a hassle for investors who are used to 100% online processes. On the plus side, this phone call unlocks your ability to have a lifelong art sales rep whenever you need customer support.
Where it loses points in fees and account processes, Masterworks makes up in concept and style. Its platform is well-organized and easy to navigate, with important documents front and center. Linking your bank account is a snap, and you can begin browsing available investments before you finish confirming your account. Masterworks' "Insights" page and price database is also surprisingly informative, with fun, easy-to-read articles on everything from the current state of the art market to art history and theory.
It's important to remember that Masterworks isn't a one-stop shop for retirement and long-term investing. Art is speculative, and even a Warhol or Van Gogh has the potential to lose value. If you do decide to open an account with Masterworks, use it to supplement another standard brokerage account.
Frequently Asked Questions