1 Minute Review
Leave Your Own 1 Minute Review!
SureTrader is a Bahamas-based broker/dealer regulated by the Securities Commission of the Bahamas.The draw for traders is the ability to sidestep the United States SEC pattern day trader (PDT) rules. Because of this, SureTrader continues to rake in traders who are below the $25,000 PDT level, so those with small amounts can trade as much as they want. While SureTrader seems to have troubles with customer service and several platform glitches, it still seems to depend on each individual trader as to whether these "bugs" are actually bothersome or not.
Best For
Traders with little capital who would be under the $25,000 pattern day trader rule
Traders who are experienced and seeking trading leverage
Those with a hunger for advanced charting capabilities
International investors
Pros
No pattern day trading rules.
Low brokerage account minimum deposit of $500
Powerful trading tools: allows Instant access to multiple charting features and real-time market data
Up to $50 in free trades for new accounts
Cons
Inactivity fee of $50 for accounts with less than 15 trades per quarter
$25 per day margin or equity call fee
As of Nov. 2019 SureTrader has been closed.
Who Uses SureTrader?
For Novice Investors
If the thought of beginning day trading has new day traders mopping sweat from their brows and wiping sweat from their palms, they'll be relieved to realize they can learn the ropes with a $100,000 free demo without incurring any losses before trying for real. The account minimums are low, allowing new day traders the flexibility to start small and get the hang of day trading. Additionally, SureTrader devotes a section of its website to new day traders, and even mentions, word for word, "remember that even the most experienced traders were once newbies themselves."
For Advanced Traders
Any advanced trader will recognize the value of the no pattern day trading rules and run with it, but it's possible that once they hit the $25,000, they'll be gone. Professional traders will also appreciate SureTrader Desktop/SureTrader Pro. Orders can be placed quickly, and advanced charting and other advanced features (hot keys, anyone?) will make any seasoned day trader happy. Plus, shares of short and pink sheet stocks will also make advanced traders fall in love with SureTrader, as not every broker these kinds of options.
SureTrader Commissions and Fees
Options commission is $4.95 +$0.50 per contract

$500 for cash account, $500 for margin account

No ECN (routing) fees with new commission rates
| Volume per month | Per Share Rate | Per Trade Minimum and Maximum |
| --- | --- | --- |
| 0-250,000 | $0.01 with $4.95 per trade | $50 per trade maximum |
| 250,001-500,000 | $0.008 with $3.95 per trade | $50 per trade maximum |
| 500,001-750,000 | $0.006 with $2.95 per trade | $50 per trade maximum |
| 750,001-1,000,000 | $0.004 with $1.95 per trade | $50 per trade maximum |
For volumes over $1,000,000 and up: Contact ActiveTrader@SureTrader.com
Margin or equity call fees are an additional $25 per trade.

Option exercise or assignment are charged $25 each.

Trade Fee 1: $0.0000256 of the total dollar amount of securities sold. It's assessed for all sell orders and is added to any total commissions charged.

Trade Fee 2: $0.000119 per share of securities sold ($0.002 per option contract) with a maximum of $5.95 per trade. This fee is the FINRA TAF fee and is assessed on all sell orders and is added to any total commission charged.

$40 fee for outgoing funds

$50 inactivity fee (charged quarterly if customer is under 15 trades)

Hard to borrow short locate fees are passed on to the client, and the fees vary.

Overnight short fee: 0.5% fee charged on short positions held overnight

Holding positions on margin overnight are subject to an interest rate of 7.5% APR.

Equity margin call fee is charged to any account above 6:1 margin and is liquidated by SureTrader at $25 per symbol plus the trade desk fee, $25.

Trading non-DTC eligible securities have additional settlement fees.

Overnight margin call fee is charged to any account with equity below 50%.

Note: Can get 6:1 intra-day and 2:1 overnight leverage on margin-able securities above $3 with a $500 account minimum
SureTrader Platform and Tools
There are three trading platforms to choose from SureTrader Desktop ($49 per month) SureTrader Web-Based Trading (Free) and SureTrader Mobile (iPhone or Android) app ($25 per month). The software comes complete with fully integrated point-and-click trading and customized views of the market. (Note: platforms only work on PCs.)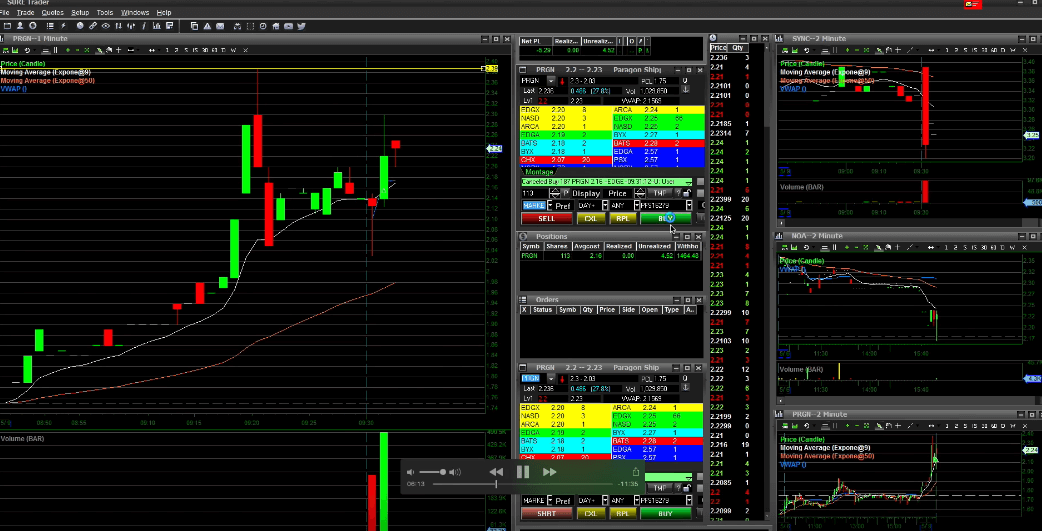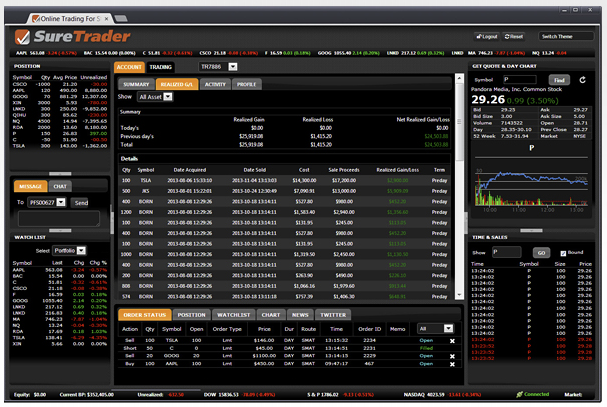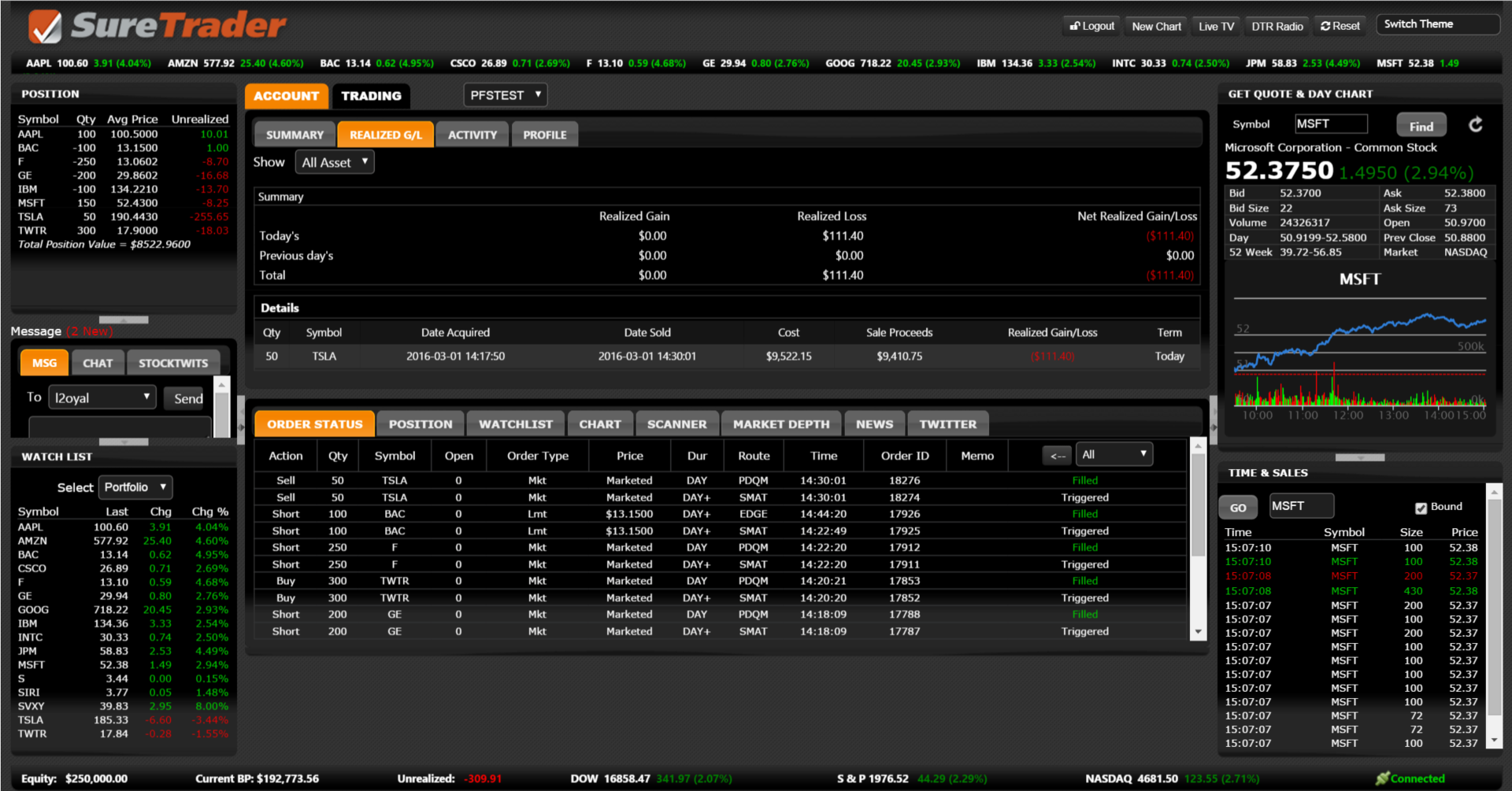 SureTrader Platform
Overall glance of webtrader
ActiveWeb
SureTrader's ActiveWeb Platform
Profit and Loss Display
Easily glance over your PL report.
SureTrader Customer Service
SureTrader's customer service seems to be the most controversial aspect of the stock broker's offerings. Reviews of its customer service can be found the minute you Google "SureTrader customer reviews." Complaints include:
Live help conflict resolution takes too long (can lose out on your trades)
Phone lines are busy, long wait, or nobody answers (also, traders have lost money during that waiting period)
Controversial customer service comments aside, these types of reports could stem from the success or lack thereof of individuals trading. Traders are likely to be more satisfied if they are making money, so it's tough to separate out the valid complaints from non-successful day traders' sour grapes.
SureTrader & Its Ease of Use
Again, this is one of the areas that seems to be dependent upon the trader. Once more, are the money-makers happiest? Customers have both complained and been enthralled with the ease by which they could set up an account. They have equally praised SureTrader's platform and as much as they have been appalled by it. To start a new account, traders need to scan some identification and provide a utility bill. However, it seems to run the gamut as to how long the process takes, but it should only take a couple of days.
Asset Classes/Tradable Securities Offered by SureTrader
SureTrader offers the following:
Equities (including pink sheets)

Options
There are no commodities, mutual funds or forex trading at this time.
Final Thoughts on SureTrader
Best For
Traders with little capital who would be under the $25,000 pattern day trader rule
Traders who are experienced and seeking trading leverage
Those with a hunger for advanced charting capabilities
International investors
As with anything, traders need to be sure they understand everything before they dive into bed with a new platform and broker. Many online complaints have been about "hidden fees," but SureTrader's fees are all outlined on their website. It's a matter of digging in and understanding what each trade will cost, each time, and don't forget to add in the platform fees as well. The small charges add up and could quickly eclipse an initial $500 investment. This bears mentioning again, but new customers from the United States need to be sure they're compliant with IRS rules in order to trade with SureTrader. (The U.S. SEC rule states that U.S. trading accounts amounting to less than $25,000 are not allowed to execute more than three trades in any 5-day rolling period.) SureTrader is FATCA compliant, which means that U.S. individuals and companies must fill out a W-9. Non-U.S. individuals must fill out a W-8BEN and companies must complete a W-8BEN-E. It's possible for U.S. individuals to open an account, but traders have to provide additional paperwork. Overall, SureTrader is a great option for newbie traders to get their feet wet, as well as those who are more risk averse but beware of fees and commissions (which will have already have been thoroughly researched, right?) in order to make sure trading with SureTrader is the best possible experience.