Benzinga Money is a reader-supported publication. We may earn a commission when you click on links in this article.
Learn more.
What's the newest asset class taking the investment world by storm? Cryptocurrency. Lack of regulation is its biggest appeal. However, that may change, given a recent call for regulating this segment.
Though it is a big hit with investors, especially because of the record run of Bitcoin, the most popular of all the digital currencies, there have been skeptics crying foul over the legitimacy of this investment class.
Note: CFDs are complex instruments and come with a high risk of losing money rapidly due to leverage. Between 74-89% of retail investor accounts lose money when trading CFDs. You should consider whether you understand how CFDs work and whether you can afford to take the high risk of losing your money.
The mushrooming of cryptocurrency is proof that it's moving toward mainstream acceptance. Apart from Bitcoin, there are a multitude of cryptocurrency options for traders such as Litecoin, Ethereum, Ripple, Bitcoin Cash, Dash, etc.
Best Cryptocurrency Trading Platform:
What is Cryptocurrency?
Technically, cryptocurrency, also known as digital currency, are entries made in a digital ledger which cannot be tampered with unless they fulfill certain conditions. In other words, it is a peer-to-peer electronic cash system.
The best part is, it is decentralized, with no server or central authority. Cryptocurrency consists of each peer in a network of peers who have a record of the complete history of transactions and are privy to the balance of every account. Ultimately, cryptocurrency is a medium of exchange created and stored electronically in the blockchain using encryption techniques with a two-fold purpose:
To control the creation of monetary units.
To verify the transfer of funds.
This image showcases how cryptocurrency works: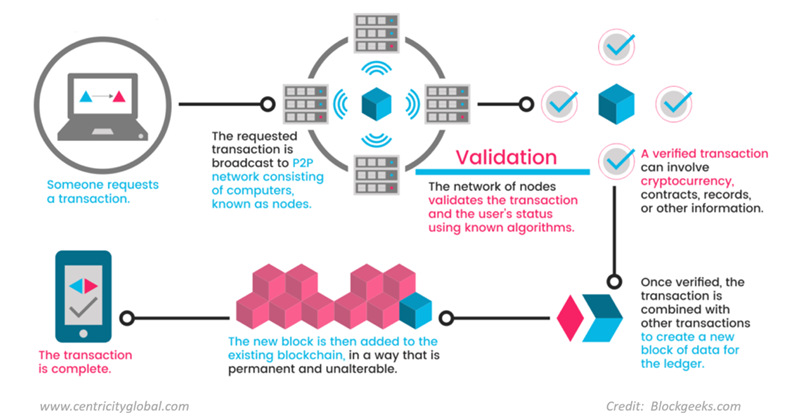 Characteristics in the Cryptocurrency Market
Cryptocurrency is a medium of exchange created and stored electronically in the blockchain. Those interested in trading in cryptocurrency should have a good understanding of the characteristics of the cryptocurrency market.
Decentralized: This market is decentralized, with no government or bank involved. This ensures the privacy of transactions and the elimination of transaction charges. What's more, there is no capital limit with respect to the transactions.
Limited Supply: The supply of cryptocurrencies are limited, as it cannot be created arbitrarily and will have to be mined by digital means. For example, Bitcoin founders have stipulated that only 21 million Bitcoins can be mined in total.
Why the Cryptocurrency Craze?
The cryptocurrency craze is reaching a feverish pitch due to several reasons, some of which are listed below:
It ensures fraud-proof transactions, given that everything is done digitally, which disallows counterfeiting or reversal of transactions by senders.
Settlement is immediate.
Lack of transaction fees, with the miners currently being compensated by the network.
Universal recognition, as it is not affected by interest rates, exchange rates, charges, etc.
Cryptocurrency Terms
Block: In simple terms, block is like a page of a record or ledger. Blocks are files where data concerning a digital currency network is stored permanently.
Blockchain: It is the list of all transactions in a peer-to-peer network.
Mining: Mining is a computationally-intensive process the computers or nodes in a cryptocurrency network complete to verify the transaction record. In return, miners receive digital coins as compensation.
Mining Rigs: Computer system used for mining cryptocurrencies.
Node: Any computer that connects to a blockchain is called a node.
Cryptocurrency Exchanges: These are websites where cryptocurrencies can be bought or sold, or in other words, exchanged in return for other digital currencies or traditional currencies.
ICO: Initial Coin Offering, or ICO, is selling a new digital currency or token at a discount by a company to raise money. It is the means by which a new cryptocurrency venture raises funds.
Cryptocurrency Wallet: A software program used to store private and public keys which are used to send and receive digital currencies and monitor their balance by interfacing with various blockchains.
Pros and Cons of Cryptocurrency Trading
Pros
Staggering returns. Going by the breathtaking rally in Bitcoin, you have the potential to get rich investing in digital currencies. From $968.23 at the end of last year, Bitcoin has rallied over 740 percent and has recently scaled the $8,000 barrier.
The potential presented by the cryptocurrency as a preferred medium of savings, especially as fiat currencies, are exposed to geopolitical, economic and financial uncertainties and makes it a preferred investment choice.
Cons
Not the best bet for investors seeking fixed returns, as an investor in the digital currency is not entitled to dividend income.
Risk of being brought under regulatory purview
Scalability of cryptocurrencies
Hacking of cryptocurrency firms
It's possible to lose your capital.
Our Top Rated Platforms
Commissions
Depends on security and leverage
Account Minimum
$50 for US and Australia; $200 everywhere else
1. Best Overall: eToro
eToro lets you connect, share strategies and talk markets with a vast community of users who already use eToro. When you open a new account, eToro gives you $100,000 to practice trading cryptocurrency in a virtual portfolio so you can improve your skills.
In addition to eToro's ever-expanding variety of cryptocurrencies and crypto/crypto pairs, you'll also enjoy over 30 tools and indicators. One more perk from eToro: You can tap into unlimited withdrawal amounts and a streamlined deposit feature. Get started today and see where crypto trading can take you!
Read Benzinga's full eToro Review.
2. Runner-up: Uphold
Uphold is the easiest way to trade bitcoin, gold, XRP and more than 100 other assets from one convenient account. Some highlights:
0% trading commissions
0% fees on credit & debit card deposits
0% bank and crypto withdrawal fees
Create an account and trade in less than 2 minutes
With Uphold, you're able to buy cryptocurrency with a credit card or debit card so you're able to lock in prices sooner. Their mobile app is available to both iOS and Android devices.
3. Best Demo: Crypto Rocket
Crypto Rocket is a cryptocurrency, forex, and CFD broker with multiple trading platforms and no minimum to sign up. In addition to their own proprietary web platform, Crypto Rocket supports MetaTrader 4, the powerful forex trading platform preferred by experienced investors.
Both Windows and Mac users can use MetaTrader too. Over 30 different cryptocurrencies are available to trade, along with 50 different forex pairs and CFDs for American stocks like Twitter and Amazon. There's no minimum balance requirement to open an account and Crypto Rocket provides customer support 24/7 through email, phone, and live chat.
Not sold on the platform? Crypto Rocket provides demo accounts to prospective clients with all the features and functions of a live trading account. When trading with Crypto Rocket, you'll be getting lightning-fast trading technology and a company promise of fairness and transparency. Crypto Rocket takes the best overall spot on our list and it's well-earned.
Commissions
0.50% per sale
4. Best For Number of Choices: CoinBase
CoinBase is one of the original cryptocurrency trading outfits and it remains a top choice thanks to their efficient platform, massive client base, and variety of cryptocurrency options available for trade. As of this writing, Coinbase has 17 different cryptocurrencies to buy and sell, including most of the popular options like Bitcoin, Ethereum, Bitcoin Cash, Litecoin, and XRP. But Coinbase also offers lesser-known coins like Zcash, Augur, and Dai, which allows clients to build a deep and diverse cryptocurrency portfolio on a single platform.
CoinBase clients also get access to two great features: Coinbase Wallet and Coinbase Pro. Wallet creates a centralized location for all a client's coins and provides access to ICOs and new advances in digital currency technology. And Coinbase Pro is a premium platform providing the most secure trading experience on the market, plus API tools to create automated trading systems. CoinBase might be the dinosaur of the group, but they still have plenty to offer for cryptocurrency traders.
Account Minimum
$10.00 USD
5. Best Platform and Tools: Voyager
For many cryptocurrency brokers, providing access to different coins is all that matters. Since the cryptocurrency market is still in its infancy, few brokers have gone above and beyond to provide clients with powerful tools for charting and analysis. However, Voyager wants to break that mold by providing sophisticated tools to analyze different digital currencies, along with the ability to purchase over a dozen different coins on the same platform. Plus, it's entirely commission-free and the minimum trade size is a mere $10.
Voyager clients have access to the latest cryptocurrency news and charting tools that can be used directly on their smartphone app. Use the charting tools to change time frames from hours to years and compare multiple cryptocurrencies side by side on the same chart. Use standard lines or candlesticks to better understand trends while keeping tabs on real-time news update from financial news outlets. Right now, Voyager is available in every state but New York (but they're working on that!)
6. Best Manual Trading Terminal: Capfolio
Capfolio is one of the most advanced cryptoasset trading platforms that has redefined what a trading platform should be. Users get access to everything they need in terms of:
Manual trading terminal
Automated trading strategies
Advanced backtesting engine
News and research with sentiment analysis
Social leader and clone trading
7. Best Promotion: Robinhood
Robinhood is also giving away something for free – shares of company stocks like Ford, GE, or even Apple. All you need to do is send out a referral code to a friend or relative and get them to open an account. After they sign up and make a deposit, you AND your friend will receive one free share to add to your portfolio.
There's a 1 / 250 chance you'll get a big winner like Apple or Berkshire Hathaway, but the more common stocks awarded have low share prices like Ford or Snapchat. Still, you can refer as many friends as you'd like and earn up to $500 in free stocks.
Disclaimer: eToro is a multi-asset platform which offers both investing in stocks andcryptoassets, as well as trading CFD assets.
Please note that CFDs are complex instruments and come with a high risk of losing money rapidly due to leverage. 75% of retail investor accounts lose money when trading CFDs with this provider. You should consider whether you understand how CFDs work, and whether you can afford to take the high risk of losing your money.
This content is intended for information and educational purposes only and should not be considered investment advice or investment recommendation.
Cryptoassets are unregulated and can fluctuate widely in price and are, therefore, not appropriate for all investors. Trading cryptoassets is not supervised by any EU regulatory framework. Past performance is not an indication of future results.
Benzinga's #1 Breakout Stock Every Month
Looking for stocks that are about to breakout for gains of 10%, 15%, even 20% potentially or more? The only problem is finding these stocks takes hours per day. Fortunately, Benzinga's Breakout Opportunity Newsletter that could potentially break out each and every month. You can today with this special offer:
Hire a Pro: Compare Financial Advisors In Your Area
Finding the right financial advisor that fits your needs doesn't have to be hard. SmartAsset's free tool matches you with fiduciary financial advisors in your area in 5 minutes. Each advisor has been vetted by SmartAsset and is legally bound to act in your best interests. If you're ready to be matched with local advisors that will help you achieve your financial goals, get started now.