1 Minute Review
E*TRADE is an online discount trading house that offers brokerage and banking services to individuals and businesses. One of the first brokers to embrace online trading, E*TRADE not only survived both the dot-com bubble and Recession — it thrived. You can choose from two different platforms (one basic, one advanced). E*TRADE is a suitable broker for traders of most skill levels, whether you want to buy mutual funds and hold them for decades or dabble in options swing trading. E*TRADE offers a library of research and education materials to help you out.
Best For
Active traders
Derivatives traders
Retirement savers
Pros
Sophisticated trading platforms
Wide range of tradable assets
Exceptional customer service
Cons
Limited currency trading
Higher margin rates than competitors
No paper trading on its standard platform
E*TRADE's come a long way since the days of its funny talking baby commercials. E*TRADE now offers an abundance of account types, tradable asset classes and tools that can empower you to trade or invest.
Why E*TRADE Brokerage Over Others?
Why might you opt for E*TRADE over dozens of other brokers? Let's go through a few reasons.
Best mobile trading: E*TRADE offers 2 different mobile apps, each available for iOS and Android. The standard E*TRADE app is a terrific starter, with accessible features and a short learning curve. Both day traders and buy-and-hold investors can make use of the standard E*TRADE Web app. You may want to leverage the Power E*TRADE app if you're an advanced trader, which brings advanced charting tools and sophisticated analysis right to your smartphone screen.
Exceptional customer service: E*TRADE offers 24/7 customer support that's easily reached from a number of different avenues — whether you prefer chat, email or phone, E*TRADE covers it.
Platform tutorials: Few brokers offer E*TRADE's robust tools for educating clients about using its platforms. Each platform (E*TRADE Web and Power E*TRADE) offers tutorial videos about how to make different types of trades, use various screeners and manipulate stock charts. These tutorials will get you up and running on the platform quickly. Even veteran traders might learn more through the video section.
E*TRADE Quick Summary
E*TRADE was founded in 1982; online trading was a novelty in the discount brokerage space until the dot-com boom. Once the dust settled, E*TRADE was one of the online brokerages still standing. It's since evolved into a one-stop-shop for your finances with banking services, managed investments and retirement planning advice.
| | |
| --- | --- |
| Asset Classes | Stocks, ETFs, mutual funds, bonds, options, futures, FDIC-insured savings |
| Platform | Standard E*TRADE Web platform, Power E*TRADE for advanced traders |
| Mobile App | One of the top mobile platforms in the industry, retains all functionality from the desktop version. |
| Account Minimum | $0 for standard accounts, $500 for Core Portfolios, $25,000 for Blend Portfolios, $150,000 for Dedicated Portfolios |
| Available Account Types | Taxable, Custodial, IRA (traditional, Roth, rollover, IRAs for minors, SEP, SIMPLE), 401(k) (traditional, individual, Roth), Managed portfolios, Banking services (savings, checking, line of credit) |
E*TRADE has joined the zero-commission revolution and charges no fee to trade stocks, ETFs and most mutual funds. Options contracts are an industry-standard $0.65, but that price drops to $0.50 if you make more than 30 trades per quarter. Futures contracts are $1.50 per side, which is cheaper than E*TRADE's biggest competitor, TD Ameritrade. Margin rates are also cheaper at E*TRADE than TD Ameritrade, but still fairly expensive compared to Vanguard.
| | |
| --- | --- |
| Stocks | Free |
| ETFs | Free |
| Mutual Funds | Free, unless a $19.99 transaction fee is noted |
| Options | $0.65 per contract $0.50 per contract if you make more than 30 trades per quarter |
| Futures | $1.50 per side |
| Bonds | $1 per bond |
| Margin Rates | Start at 9.75% for less than $10,000 |
E*TRADE leverages multiple platforms, 2 different mobile apps and a variety of account types and financial services to provide an inclusive brokerage experience. Most brokers aim their platform toward a specific type of investor, but E*TRADE offers a little something for everyone. Does this overburden the trading system? Not at all.
E*TRADE wisely splits services into E*TRADE Web and Power E*TRADE platforms, which gives advanced traders the tools they need without overwhelming those who just want to fund their retirement accounts.
User-friendly interface: If you've ever used Yahoo Finance, you'll notice some similarities in the stock quote pages on both platforms. You can view account balances, screen for securities, and access fundamental and technical data with just a few clicks (or taps if you're on mobile). E*TRADE Web has all the basic aspects most investors will need, but Power E*TRADE opens up the advanced charting features, backtesters, and trade analyzing tools to more seasoned traders.
Simple sign-up and trade execution: The onboarding process is a simple application and you can fund your account via ACH. Buying and selling securities doesn't require a scavenger hunt, either. Just type in your stock ticker and click on either the bid or ask price. Choose your order type and hit send. You just made a trade. E*TRADE prides itself on lightning-fast order execution to ensure clients get the best possible prices on their trades.
Powerful analysis tools: Power E*TRADE is aptly named. It's the platform of choice for sophisticated traders, thanks to a bounty of charting tools, screeners and studies. Power E*TRADE offers over 100 technical indicators and 30 different chart-drawing tools for studying securities, plus an analyzer to help you weigh the risk and reward of each trade. Don't know technical analysis? It's explained in plain English right on the chart — even the Greek letters in options trading.
E*TRADE offers 3 main avenues for providing clients with research and education to improve not only their trading acumen, but to better understand investing and markets. E*TRADE will walk you through the process of trading on their platform in a way no other broker does.
Video tutorials: E*TRADE's video tutorials aren't overwhelmed with technical trading jargon or economic minutiae. The narrator breaks down how to trade stocks, options, use screeners and adapt your trading style to the mobile app. You'll find 13 tutorial videos for the E*TRADE Web platform and 12 for the Power E*TRADE platform.
Market research: E*TRADE offers market research available from both fundamental and technical perspectives. Detailed fundamental stock reports give you data like P/E ratio, dividend yield, annual revenues and EPS stats. On the flip side, MarketEdge provides more advanced technical data like Beta, MACD and RSI numbers. You'll also find the tried-and-true Morningstar reports, which group important data points together.
Investor education: E*TRADE is far from intimidating when you're a new investor. Not only is the platform easy to learn and use, but the new investor education materials can quickly bring you up to speed on how the market works. The investor library breaks down topics by asset class (stocks, options, ETFs), taxes, retirement planning and current events. E*TRADE begins with the basics like buying versus selling and saving versus investing.
E*TRADE offers our favorite customer support feature — 24/7 live chat! Volume delays are common, especially on days when the market whipsaws. Phone support is available for brokerage and banking customers, with separate lines for businesses and employers with sponsored plans.
| | |
| --- | --- |
| Email | Form on client homepage |
| Phone | 800-387-2331 |
| Chat | Chat widget linked at the bottom of each webpage |
| In-person Support | Over 30 branches nationally |
E*TRADE offers all the asset classes you'd expect from a major broker: equities, options, forex, futures and bonds. You'll find a variety of ETFs and mutual funds but fewer options for trading futures and forex. For example, only 9 currencies are available to trade on E*TRADE and they aren't available a full 12 months per year. E*TRADE is an exceptional platform for trading stocks, ETFs, mutual funds, and options, but you might find more diverse offerings with other brokers.
E*TRADE Stocks, ETFs and Mutual Funds
Stocks, ETFs, and (most) mutual funds are free to trade on E*TRADE, but that doesn't stand out much anymore. Mutual fund and ETF screeners are also free, even if you don't have an E*TRADE account. Search through over 2,300 ETFs and 9,000 mutual funds, sorted by asset allocation, leverage, expense ratio, Morningstar rating and more. Use the advanced search feature to look for securities based on risk profiles and technical indicators.
E*TRADE Forex
E*TRADE's forex trading doesn't really have much to offer. Only 9 currencies are listed (10 if you count bitcoin, but special permission is needed) trading is done on the futures market, not the spot market. You won't trade actual currencies, only futures contracts. E*TRADE forex futures can only be traded a few months a year, too, depending on the currency.
E*TRADE Options
Options trading on the Power E*TRADE platform is one of the broker's best features. Options contracts are available for stocks, indices and futures (if you don't mind paying extra). Equity options cost $0.65 per contract, but that can be reduced to $0.50 if you make more than 30 trades per quarter.
Options on futures cost $1.50 per contract. E*TRADE offers 4 options trading levels, including a strict Level 1 that only allows covered calls and buy-writes. Long calls and puts require Level 2 approval. You'll be able make any type of trade, including naked calls and puts — if Level 4 status is granted.
E*TRADE Futures
E*TRADE offers futures trading in 8 different markets: equity indices, energy, interest rates, currencies (including Bitcoin), metals, grains, softs and livestock. Futures are $1.50 per contract and trading is available 24/6. Only a few basic currency futures are available, and the bitcoin futures carry a $2.50 contract fee.
E*TRADE's standard E*TRADE mobile app and Power E*TRADE are free to clients on both iOS and Android, but they serve different purposes. E*TRADE Web mobile is aimed at the buy-and-hold, "set-and-forget-it" type of investor, while Power E*TRADE mobile seeks out the day trading and derivatives crowds.
E*TRADE Mobile
E*TRADE's first mobile app is reliable and uncluttered, with a simple design and sleek interface. Major index quotes and market news greet clients as they open the app. New users won't have any trouble finding their account balances and holdings or navigating their way to the trading widget. Trades are executed as easily as the web platform and still come with E*TRADE's speed guarantee. Charting and analysis tools are present on this app, but not nearly at the levels found on Power E*TRADE.
Power E*TRADE Mobile
Derivatives traders will appreciate Power E*TRADE's ability to compress all the bells and whistles of the desktop platform into a smartphone version without losing functionality. All chart patterns and analysis tools convert from the desktop to the smartphone screen without any hiccups. The LiveAction tool can scan for volatility and market moves without needing to enter tons of criteria into a stock screener. Power E*TRADE also allows for complex trading techniques, such as multi-leg options chains, writing puts and calls and even the purchase of bitcoin futures.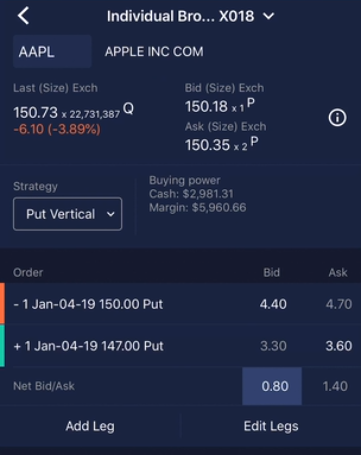 All education and research materials can be access through both apps, along with customer service features and important documents.
E*TRADE upgraded its reputation from the quirky startup with the baby commercials to a powerhouse broker with tools and technology. The Power E*TRADE platform can go toe-to-toe with Thinkorswim and its options and futures fees are lower than many competitors.
E*TRADE's technology doesn't overwhelm new traders. No matter which platform you prefer, trading on the go is possible with a paired E*TRADE smartphone app and customer service chat help. E*TRADE's all grown up and deserves a seat at the big boys' table.