The Importance Of Immigrants On Wall Street, In Silicon Valley And For The United States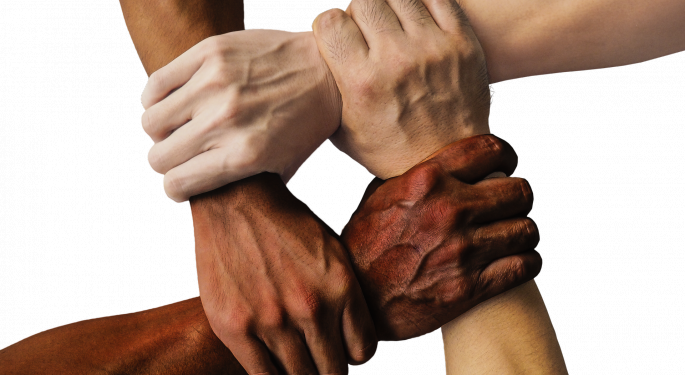 A ballpark hot dog without Kraft Heinz Co(NASDAQ: KHC) condiments?
That's the All-American experience without foreign-born talent.
It's playtime without Hasbro, Inc. (NASDAQ: HAS), road trips without General Motors Company (NYSE: GM)'s Chevrolet, binge watching without Comcast Corporation (NASDAQ: CMCSA), homework without Alphabet Inc (NASDAQ: GOOG) (NASDAQ: GOOGL), shopping sprees without Nordstrom, Inc. (NYSE: JWN) and birthday calls without AT&T Inc. (NYSE: T)
Some of the most well-known brands in American culture were established by immigrants or their children. So were more than 200 companies on the 2010 Fortune 500 list — a number vastly disproportionate to the ratio of U.S. immigrants to native-born Americans.
And the statistics go on and on.
Immigrant Impact By Numbers
In 2011, the Partnership for a New American Economy reported that immigrants had founded 20 percent of the Fortune 500 companies established in the previous 25 years. These businesses generated $1.7 trillion in revenue, while those founded by the children of immigrants contributed an additional $2.5 trillion. The total surpassed the GDPs of every country outside the United States, China and Japan.
By 2012, the same firm reported that immigrants — who founded 28 percent of companies in 2011 — were twice as likely as native-born Americans to launch new businesses.
And as of March 2016, immigrants were occupying top management positions at more than 70 percent of billion-dollar startups in the United States — and they had founded 50.6 percent of them. The National Foundation for American Policy (NFAP) reported that the 44 companies, with a collective value of $168 billion, generated an average of 760 American jobs each.
Other immigrant-led companies had greater economic impact. At the time of the report, SpaceX employed 4,000, Mu Sigma 3,500 and Palantir Technologies 2,000.
In some cases, these economic benefits were stalled by entrepreneurs' long immigration processes.
The founder of the $3.7-billion AppDynamics Inc (NASDAQ: APPD), Jyoti Bansal, delayed his startup's founding for seven years as he waited for his employment-based green card. The company now employs 900 workers.
Immigrants At The Top Of American Business
Despite his trials, the Indian-born Bansal has achieved his — and many of his employees' — American dream. And he's in good company.
Here is a list of just some of the foreign-born talent at the top of American business:
Ajaypal Singh Banga: President and CEO of Mastercard Inc (NYSE: MA)
Banga worked for 15 years in his native India before transitioning into American business. He joined MasterCard in 2009 and rose to CEO in 2010. In 2015, President Barack Obama appointed Banga to the President's Advisory Committee for Trade Policy and Negotiations.
John Bryant: President and CEO of Kellogg Company (NYSE: K)
An Australian native, Bryant has headed Kellogg since 2011.
Safra Catz: CEO of Oracle Corporation (NYSE: ORCL)
Catz was born in Israel and moved to the United States at age 6. Named No. 20 on Forbes' list of the World's 100 Most Powerful Women, she became co-president of Oracle in 2011 and CEO in 2014.
Stephen Easterbrook: President and CEO of McDonald's Corporation (NYSE: MCD)
Britain's Easterbrook has worked with McDonald's for nearly his entire career. After rising to president of the European brand in 2010, he took over the whole company in 2015.
Hikmet Ersek : President and CEO of The Western Union Company (NYSE: WU)
Ersek was born and raised in Turkey and received his college education in Austria. He joined Western Union in 1999 and has headed the company since 2010. In 2012, Corporate Responsibility Magazine named him a Responsible CEO of the Year.
Andres Gluski : President and CEO of AES Corp (NYSE: AES)
Venezuelan-born Gluski took over AES in 2011. Under his leadership, the company has received four of the last seven International Edison Awards for performance in the electric sector.
Peter Hancock: President and CEO of American International Group Inc (NYSE: AIG)
London-born and Hong-Kong-raised Hancock has spent his entire career in American finance. He was named CEO of AIG in 2014.
Hubert Joly: CEO of Best Buy Co Inc (NYSE: BBY)
Joly is a Frenchman who has been involved in American business since the start of his career. He took over Best Buy in 2012.
Ahmet Muhtar Kent: CEO of The Coca-Cola Co (NYSE: KO)
Although born in the United States, Kent grew up in Turkey and the U.K. as the son of a Turkish diplomat. He began his career overseeing international branches of Coca-Cola before rising to CEO of the company in 2008.
Elon Musk: CEO of Tesla Motors Inc (NASDAQ: TSLA)
Musk was born in South Africa, became a Canadian citizen in 1989 and gained American citizenship in 2002. With an estimated net worth of $11.5 billion, he ranked No. 21 on Forbes' list of the World's Most Powerful People in December.
Satya Nadella: CEO of Microsoft Corporation (NASDAQ: MSFT)
Born and raised in India, Nadella immigrated to the United States to pursue a master's degree and quickly rose in the ranks of Microsoft. He has headed the company since 2014 and was listed No. 51 on Forbes' record of the World's Most Powerful People in 2016.
Indra Krishnamurthy Nooyi: President and CEO of PepsiCo, Inc. (NYSE: PEP)
Also a native of India, Nooyi moved to the United States to continue her education in the late '70s. After stints at various American corporations, she joined PepsiCo in 1994 and became president and CEO in 2006. She ranked No. 14 on Forbes' list of the World's Most Powerful Women in 2016.
Sundar Pichai: CEO of Google
Indian-born Pichai moved to the United States for post-graduate studies, gained American citizenship and joined the Google team in 2004. He rose to CEO in 2015 and has an estimated net worth of $1.5 billion.
Posted-In: immigrants immigrationEducation Politics Topics Management Top Stories General Best of Benzinga
View Comments and Join the Discussion!