Funding, IPOs, M&A: A Look At Fintech In 2018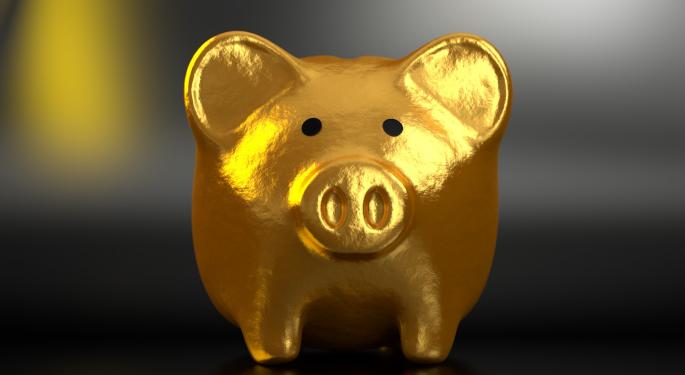 This story is the third in a multipart series by Benzinga on the state of the fintech sector in 2018.
As the fourth quarter kicks off, Benzinga is taking a look back at some of the fintech stories we've covered in the last nine months. They include continued dealmaking between major financial institutions and fintech startups; numerous capital injections; newer trends such as environmental, social and governance investing; and our own events, including the Benzinga Global Fintech Awards held in May.
This roundup is not meant to be comprehensive; check back on our sector page for Benzinga's ongoing coverage of the fintech space.
If you want to learn more about the industry and meet leaders from some of the hottest fintech startups in person, check out the Benzinga Fintech Summit on Nov. 14 in San Francisco.
Avant Spins Off SaaS Business
Personal loan startup Avant announced Sept. 24 it's spinning off its lending infrastructure tech business into a new platform, Amount. The business builds consumer lending products for major banks based on the technology backbone that Avant's lending line has already built out.
"If banks don't want to devote hundreds of millions of dollars and years of work to build their own lending technology, Amount can help them do that with a lower dollar investment and a higher likelihood of success," Avant CEO Al Goldstein told Benzinga.
The startup has originated $6 billion in loans in six years.
Even Financial Raises $18.8M
Even Financial, which provides recommendations for personal finance websites, raised $18.8 million in a Series A funding round led by GreatPoint Ventures. The capital raise had participation from Goldman Sachs Group Inc (NYSE: GS), Canaan Partners, F-Prime Capital, Lerer Hippeau, American Express (NYSE: AXP) Ventures, Arab Angels, Plug and Play Ventures, Valuestream Ventures, NerdWallet Co-Founder Jacob Gibson and Credit.com Senior Vice President Jason Owen.
JPMorgan Rolls Out Free Digital Trading App
Online brokerage stocks traded down when JPMorgan Chase & Co. (NYSE: JPM) announced the free digital trading app You Invest in August.
The bank's 47 million online and mobile banking customers gained immediate access to the app when it launched.
State Street Acquires Charles River In $2.6B Deal
Investment manager State Street Corp (NYSE: STT) bought Charles River Development for $2.6 billion in cash. The software-as-a-service company provides customers with fintech tools used to manage more than $25 trillion in assets, and the company generated $300 million in sales in 2017.
ESG Investing Startup OpenInvest Raises $10.4M
Fintech startup OpenInvest, which allows users to create portfolios of companies that follow environmental, social and governance criteria, raised $10.4 million in a Series A funding round led by QED Investors.
The ESG space is rapidly growing: investors put $1.4 billion into ESG funds in January, 2 1/2 times more than they did in January 2017, according to Morningstar.
M1 Finance Launches Portfolio Lines Of Credit
Chicago-based roboadvisor M1 Finance introduced M1 Borrow in June. The feature, which is available to clients on the platform with account balances of at least $25,000, allows borrowing of up to 35 percent of their portfolio's value at a 3.75-percent interest rate.
"The ease is pretty unmatched. It's really just go in, type in the amount that you want, click a button and it's instantly available in your M1 account," CEO Brian Barnes told Benzinga.
Amazon Enters India's Fintech Market
Amazon.com, Inc. (NASDAQ: AMZN) is investing heavily in fintech, with a focus on the huge, high-growth Indian market. Amazon announced this year it was raising its total investment in the country from $5 billion to $7 billion.
$40 million in funding for Amazon Pay's India operation in late 2017, followed by $30 million in additional funding for Amazon Pay that was announced in March.
Participation in a $16-million funding round in February for Georgia-based Greenlight Financial Technology, which is developing a smart debit card designed for children.
A $22-million investment in the Indian online lender Capital Float as part of a $67-million Series C fundraising round in April. The startup has partnered with Amazon India to provide loans to e-commerce sellers.
The lead investment in online Indian insurance startup Acko's $12-million fundraising round in May.
Roboadvisor SigFig Raises $50M
SigFig provides digital wealth management tools to financial institutions and counts Wells Fargo & Co (NYSE: WFC), UBS Group AG (NYSE: UBS) and Citizens Financial Group, Inc. (NYSE: CFG) among its customers.
The company announced in June it raised $50 million in a Series E round with participation from Bain Capital, Union Square Ventures, DCM Ventures, UBS and New York Life.
"We are now aggressively expanding our services and reach to improve how banks utilize technology with their clients and increase the number of everyday people using technology to manage their finances," CEO Mike Sha said in a statement.
GreenSky Goes Public
GreenSky Inc (NASDAQ: GSKY), a fintech platform that connects users to providers of small-balance loans, listed on the Nasdaq in May. Morgan Stanley and Credit Suisse were out bullish on the stock when its quiet period expired, while Sandler O'Neill took a neutral stance.
The 2018 Benzinga Global Fintech Awards
Benzinga announced winners in nearly 30 categories at the Global Fintech Awards May 15-16 in New York City.
The panel discussions at this year's event included executives from companies such as JPMorgan & Chase, HSBC Holdings plc (ADR) (NYSE: HSBC), Citigroup Inc (NYSE: C), Foursquare, Amazon, Stash, TradeStation, Direxion, Quicken Loans, Ritholtz Wealth Management, Riskalyze, InvestCloud, Westwood, Facebook Inc. (NASDAQ: FB), TD Ameritrade Holding Corp. (NASDAQ: AMTD) and IBM.
TradingView Completes $37M Funding Round
TradingView, the operator of a financial and social platform meant to democratize trading among self-directed investors, closed a $37-million Series B funding round in May. The company won "Best Analysis Tool" at the 2017 Benzinga Global Fintech Awards.
Women's Wealth Forum Highlights Women In Finance
Benzinga spoke with Gretchen Gardinier, the managing director of electronic services at Charles Schwab Corporation (NYSE: SCHW) and a participant in the Benzinga Women's Wealth Forum, held March 21 in Boston.
"I believe it opens new financial opportunities for all … it's really about access," Gardinier said when asked if fintech opens up new financial opportunities for women. "With the abundance of available financial literacy opportunities and the combination of technology and fewer barriers to entry, more people are able to participate in creating a stronger, more informed financial future."
Ron Suber Joins MoneyLion Advisory Board
Former Prosper Marketplace president and fintech investor Ron Suber in March joined the advisory board of the personal finance management startup MoneyLion.
MoneyLion links to a user's bank accounts and employs artificial intelligence technology to recommend financial products. The app offers loans, a credit card marketplace and credit monitoring, and had 2 million users at the time of publication.
Unison CEO Talks 'Unlocking' Real Estate Equity
Unison CEO Thomas Sponholtz talked to Benzinga about his company — which was founded in 2004 and uses investor capital to match homebuyers' down payments in exchange for equity in their home — and how it weathered the financial crisis.
"Many Americans are cash-poor, but house-rich — 80 percent of their net worth is tied up in their home," Sponholtz said in February. "What if you unlocked the house and made it an active part of their wealth? That's a powerful concept. You could activate $20 trillion of equity into the U.S. economy."
Swell Investing Launches Redesign
After launching in May 2017 as a subsidiary of Pacific Life, impact investing platform Swell Investing kicked off the year with a redesign that shows users a breakdown of the company's six impact portfolios: green tech, clean water, zero waste, renewable energy, disease eradication and healthy living.
"We met with probably over 100 users through research sessions. That led us to understand some things that they would like to experience more in our account experience. It was a lot more than just the performance — it was more around 'what more can I understand about where the market is going and what the company is doing?'" CEO Dave Fanger told Benzinga.
Fintech Award Winner Visible Alpha Raises $38M
Visible Alpha, which won a Benzinga Fintech Award in 2016 in the Best Research Platforms, Apps & Tools category, announced a $38-million funding round led by Goldman Sachs.
The company said it has more than 450 research providers on its platform, which is used by more than 100 buy-side firms.
View Comments and Join the Discussion!
Posted-In: Acko Amazon Pay Amount Avant Benzinga Global Fintech AwardsFintech Top Stories Media Best of Benzinga