Pot Stocks, ETFs, Top News And Data From The Cannabis Industry This Week
This was a big week for cannabis legalization on the international plane, with the country of Georgia decriminalizing cannabis use and possession though a court ruling, and the Argentine province of Jujuy announcing the local government would start producing marijuana for medicinal and research uses.
On the markets front, Scythian Biosciences sold its Caribbean and Latin American assets to Aphria and then turned around to use that money to get into the Florida market. Looking at the transaction, Debra Borchardt, CEO of Green Market Report said, "If they really believed these were great markets to be in, then why would they sell them? I feel like one of these parties got snookered, but I'm not sure who. Florida could be huge, but then it seems like the competition will be tough. The international markets are untested yet, so it's an unknown."
She then moved on to talk earnings reports.
"Of all the earnings that came out this week, the one thing that really struck me was Scott's Miracle-Gro comment about California over-production of cannabis putting pressure on its Hawthorne division. Too much supply must've caused the prices to fall and that means growers can't spend as much with companies like Scott's. I wonder how many more companies have felt this and didn't say anything publicly," Borchardt said.
Marijuana Indexes & ETFs
In the capital markets realm, the United States Marijuana Index, which tracks 18 of the largest marijuana stocks in the U.S., dropped roughly 2.2 percent this week, while the North American Marijuana Index, which also includes Canadian stocks, also lost about 2.2 percent of its value.*
Over the last five trading days, the Horizons Marijuana Life Sciences Index ETF (OTC:HMLSF) (TSE:HMMJ) slipped 1.2 percent, while the ETFMG Alternative Harvest ETF (NYSE:MJ) gained 0.9 percent. The SPDR S&P 500 ETF Trust (NYSE:SPY) was up 0.7 percent.
Stock Moves
Here are some of the top marijuana stocks (market cap above $100 million) in U.S. exchanges and how the performed over the last five trading days:
In Other News
NMS Capital Advisors said it would be leading High Times' Reg A+ IPO raise.
"We're very excited to lead the Reg A+ raise for High Times," Trevor M. Saliba, Chairman of NMS Capital Advisors told Benzinga. "Their company is a pioneer in the cannabis news and media space, with a 43-year history. With the proceeds from this capital raise, they will grow their presence globally as they look to acquire other quality companies and host more events throughout the world. We believe the Reg A+ format is a great method of raising capital for High Times, as it allows everybody to become a shareholder of such an exciting company. With the expected growth of the cannabis industry in years to come, High Times is positioning itself for a bright future."
Related Link: The Cannabis Industry's Go-Public Frenzy: A Chat With Companies That IPOed This Year
Season 3 of "The Marijuana Show" debuted on Amazon Prime. The show boasts a 5-star rating so far. You can watch it here.
A Detroit judge dropped felony charges against six people arrested in the raid of a cannabis grow operation with a reported $1 million in plants, owned by former NBA player Al Harrington. The judge said the facility was within the bounds of its temporary state license.
The world's largest cannabis compliance firm, Toronto-based Cannabis Compliance Inc. became the newest founding member of the Global Cannabis Partnership (GCP). The consulting firm joins 16 other founding members in the creation of a worldwide social responsibility standard for the safe and responsible production, distribution and consumption of legal, adult-use recreational cannabis.
"With Canada leading the world on medical and legal, adult-use recreational cannabis cultivation, production and distribution, it's no surprise that other nations are looking at us for expertise from an industry, as well as policy legislation, perspective," said Deepak Anand, Vice President of Business Development and Government Relations at CCI. "CCI looks forward to contributing, through policy and regulatory development, to the overarching CSR mandate within the GCP. We believe that social responsibility standards in the global cannabis industry are imperative, and that the CSR piece is critical to the success and progress of the industry and for society."
The GCP is the first of its kind in the growing global recreational cannabis industry. To date, 17 well-respected organizations have joined the Partnership, representing a cross-section of organizations that play – or will play – a role in the legal, adult-use recreational cannabis supply chain.
Speakeasy Cannabis Club Ltd (OTC:SPBBF), a late stage ACMPR applicant, announced its plans to begin work on its first 60 acre outdoor plantation and process facility in Rock Creek BC for the spring of 2019. CEO Marc Geen stated, "The recent release of regulations allowing outdoor production is a dream come true for us. It has always been our plan to grow outdoors on a large scale, but we did not expect regulations to allow it to happen this soon. The climate here in Rock Creek is absolutely perfect for growing cannabis outdoors and we are thrilled at the opportunity to begin as soon as possible."
Development cost are forecast to be under $10.00 per square foot for the outdoor plantation and processing facility, by comparison, greenhouse and indoor facilities cost approximately 20 to 30 times more per square foot.
The Green Organic Dutchman announced the record date for the spinout of TGOD Acquisition Corporation: on about September 28, 2018. The arrangement will require approval by a two-thirds majority of the votes cast by TGOD shareholders at a special meeting of TGOD shareholders expected to take place in September.
New Jersey is now accepting applications for up to six new vertically integrated, medical marijuana facilities. There's a mandatory applicant meeting in Trenton on August 9, and applications are due by August 31.
"However, those who have not been long preparing to file an application may have little chance as it requires exhaustive personal and corporate disclosures, identification of qualifying real estate and site control, floor plans, grow and processing protocols, and financials, among other things – all within 30 days," said Joshua S. Bauchner, a partner with the law firm of Ansell Grimm & Aaron, PC who heads the firm's Cannabis Law Practice Group.
Cannabis-focused Phyto Partners recently launched its second fund, Phyto II, and has now started planting seed capital in a budding industry, by investing in physician and patient focused businesses, Managing Partner Larry Schnurmacher told Benzinga. The firm recently invested in Sail and Marijuana Doctor.
"Our investment thesis has taken us to the demand side of the medical cannabis industry by helping physicians and patients navigate a new medicine. Physicians need the resources and services to help their patients incorporate CaaM into their treatment protocols and patients need knowledgeable healthcare professionals to educate them about CaaM for their healthcare needs. Sail and Marijuana Doctor solve those problems," Schnurmacher said
TheraCann announced the launch of its breakthrough ETCH biotrace (TM) technology. The molecular "tag and trace" system is poised to further refine and transform the cannabis regulatory environment by adding capabilities that allow for forensic tracking of cannabis and cannabis derivatives across the supply chain.
"TheraCann International together with our partner, Applied DNA Science, are poised to deliver what we consider is the future of cannabis 'seed-to-sale' solutions. ETCH biotrace™ combines the CertainT® platform to tag cannabis and its derivative products at the point of cultivation and processing and track it throughout the entire supply chain using TheraCann's integrated software and block-chain infrastructure to ensure true traceability," CEO Jason Warnock told Benzinga. "The benefits of implementing ETCH biotrace ranges from proof of origin, strain and product licensing, government compliance, intellectual property and brand protection, anti-counterfeiting, added security for labels and packaging as well as physical security for facilities."
Humboldt Apothecary said it's releasing a new line of tinctures rich in CBD and amplified with organic herbs. The tinctures are well-suited for microdosing and should help cannabis consumers with insomnia and unwanted tension.
Picture courtesy of Humboldt Apothecary.
Maine, which became the eighth state to legalize cannabis for adult use in 2016, is expected to roll out its adult use program in 2019. In the meantime, cultivation product and service provider Growlife Inc (OTC:PHOT) opened a new retail location in Portland, Maine.
"The timing could not be better for the opening of a retail storefront for GrowLife Hydroponics in Portland, Maine," said GrowLife CEO Marco Hegyi. "Expanding our physical presence in the Northeast is a strategic move as legislation in the region continues to evolve."
Kannalife Sciences, a company focused on the search for an effective chronic traumatic encephalopathy (CTE) treatment, announced a share exchange agreement with TYG Solutions (OTC:TYYG), coming one step closer to being the only publicly traded company in the cannabinoid therapeutics space with an exclusive license to a U.S. government patent from the National Institutes of Health.
"The transaction with TYYG allows us to look toward the future as a publicly traded company and continue our research into developing disruptive cannabinoid-based therapeutics for neurodegenerative and oxidative stress-related diseases," said CEO Dean Petkanas.
Growing Talent announced it's launching LASER, Los Angeles Social Equity Reform. LASER is a digital incubator that provides application support, technical assistance and investment capital.
Seven months after the launch of its B2B networking and marketing platform for the cannabis industry, Cannabiz Connection announced a networking event series for the top 10 cities in Michigan. The first networking events will take place in Ann Arbor and Detroit, followed by Grand Rapids, Lansing, Traverse City, Kalamazoo, Flint, Bay City and the Upper Peninsula.
"Over the last several months, the Cannabiz Connection platform has seen tremendous growth and we are actively helping people grow and build successful cannabis careers in Michigan," said Jamie Cooper, founder and CEO of Cannabiz Connection. "The networking event series is a natural next step for us, as the demand in the industry to meet the right contacts at the right time has increased. The old adage, 'it's not what you know, it's who you know' holds true in this industry."
Honest Marijuana Company said it's bringing one of the first nano-sized products into the industry for an all-new way to use cannabis. After working with a European company that has patent-pending technology over the past year and a half, Honest Marijuana Company now has the ability to turn non-water-soluble substances like cannabinoids into nano-size so they can be added into transdermal patches, topical lotions, and more for the cleanest, most efficient, healthiest, and most discreet cannabis consumption.
Sproutly Canada Inc (OTC:SRUTF) announced it has completed the acquisition of Infusion Biosciences Canada Inc. and SSM Partners Inc.
MassRoots Inc (OTC:MSRT) said it Registration Statement on Form S-1 was declared effective, permitting the re-sale of shares of common stock and warrants to purchase shares of common stock issued as part of capital raised during the past year. The company recently re-launched its mobile applications and business portal to address the increasing needs of cannabis consumers and businesses across the country while improving their network infrastructure to support incoming growth.
"With the launch of our revamped mobile applications and business portal, we believe we now have the product necessary to generate solid monthly recurring revenue. With the ongoing development and release of additional value-add features to the business portal, we believe our continued execution could enable us to have several hundred paying clients by the end of the year," CEO Isaac Dietrich told Benzinga.
Find out more about these news and others on Maricann Group Inc (OTC:MRRCF), CV Sciences Inc (OTC:CVSI), Isodiol International Inc (OTC:ISOLD), and Zynerba with our friends at Marijuana Money, who make a weekly video summary of the top financial and business news in the cannabis industry.
More From Benzinga's Cannabis Newsdesk
Over the week, Benzinga's Elizabeth Balboa reported that:
Segra International Corp. closed an oversubscribed private placement offering for about C$7.2 million. The units sold were composed of one common share, one liquid penalty warrant, and half of a common share purchase warrant, two of which enable the purchase of one common share at $1.
OrganiGram Holdings Inc (OTC:OGRMF) reported record third-quarter financial results with net income rising 162 percent sequentially to C$2.8 million. Sales increased 95 percent year over year to set another quarterly record.
ABcann Global Corp (OTC:ABCCF) announced its $133 million purchase of BC-based Canna Farms, the first licensed producer in British Columbia. [And] Canopy Growth Corp shareholders voted to acquire all yet-unowned interest in Canopy Health and Canopy Animal Health Inc. Management will seek approval from the Ontario Superior Court of Justice on Thursday in order to complete the transaction Friday.
The Global Cannabis Stock Index struck a 2018 low as it fell 10 percent in July. Only eight of 53 components posted gains," while "Pharmacies in Italy were given a green light to sell medical cannabis.
Molson Coors Brewing Co (NYSE:TAP) and The Hydropothecary Corporation, a Canadian cannabis producer, announced "the formation of a joint venture Wednesday to develop non-alcoholic, cannabis-infused beverages."
Interesting Data
According to Viridian Capital Advisors' Cannabis Deal Tracker, capital raises in the industry surpassed $4.8 billion as of July 27. See details of the investments by type, week and sub-segment in the charts below.
Investments tripled year-over-year.
A lot more money was raised with equity than with debt.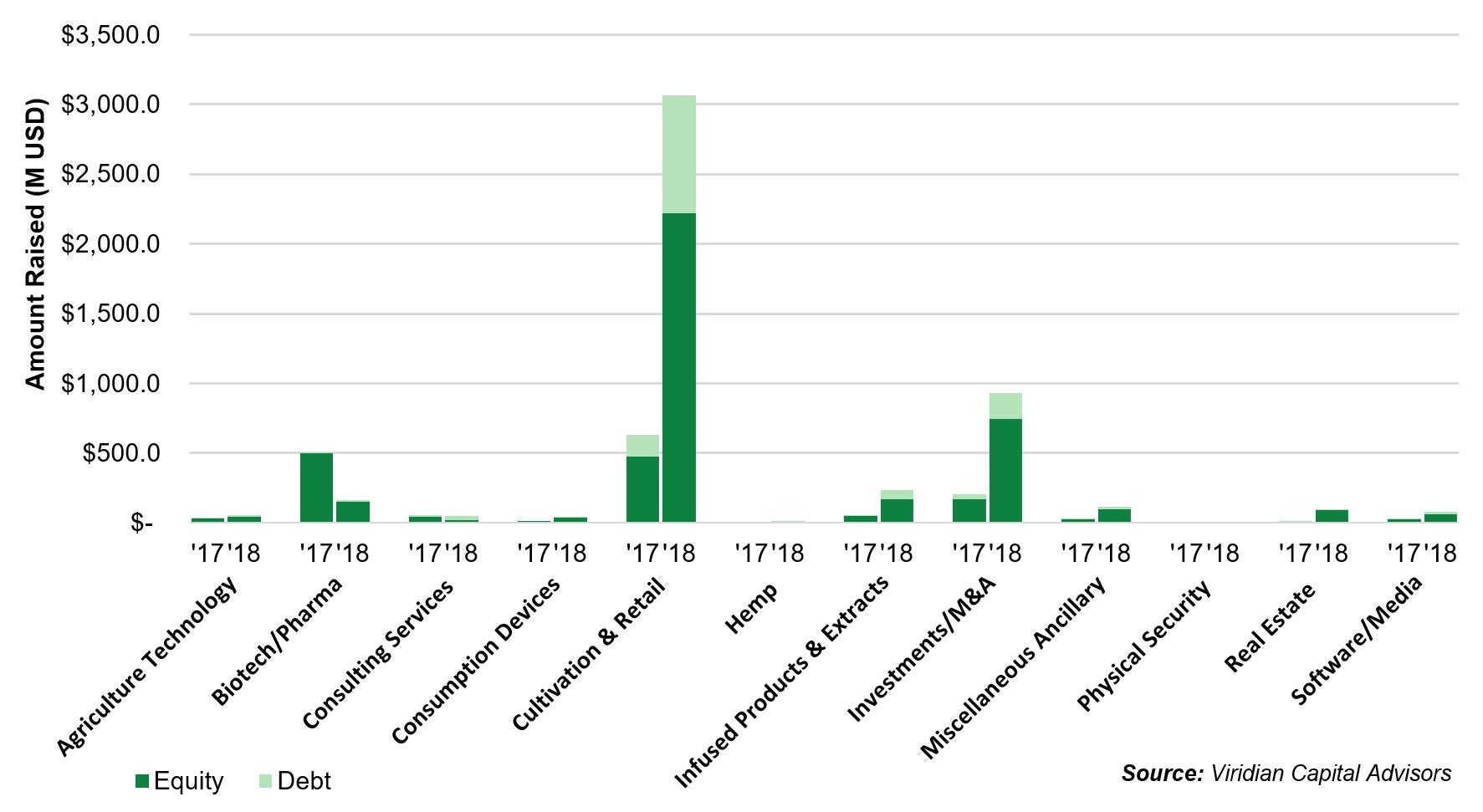 Cultivation and retail was the investor favorite by far.
Events Calendar
August 3-4: Coco Loco will hold its opening in Aurora, Colorado. A fresh alternative to juice, smoothie and "to go" eats, this family owned and operated eatery provides the option of adding hemp-derived CBD oil or Irish sea moss to any item.
August 4: The 5th Annual 420 Games will take place at Golden Gate Park. Yoga, 4.20 mile run, cannabis companies, music, Lagunitas Beer Garden and keynote speeches from UFC Legend Frank Shamrock and Harborside's Steve DeAngelo.
August 6: The Minority Cannabis Business Association is hosting a Happy Hour in Washington D.C., in partnership with the National Cannabis Bar Association. Attendance will get you $100 off of registration for the Cannabis Law Institute, a "two-day event in continuing legal education and equity within the cannabis industry" that will be hosted in September.
August 6-19: Thinking of a career change? Be sure to tune into Green Flower's free Cannabis Career Summit here.
August 14-16: MJBizCon will host MJBizConINTL at the Metro Toronto Convention Centre.
August 16-17: Benzinga is hosting its first Cannabis Capital Conference in Toronto, Canada.
August 30: Gassposts.com is hosting the second event in its GP Connect Series at The Majestic in Los Angeles. The experience "will provide an environment for cannabis brands, distributors and retailers to engage face to face to conduct business."
September 7-9: Oklahoma is getting its first Hempfest ever. "After a year of working with Oklahoma politicians and venues we finally get to announce the world's largest hemp festival is coming to Oklahoma. With Dj Snoopadelic [Snoop Dogg] coming for a free show in Oklahoma and the massive 4-stage 3-day lineup we are about to announce, we are hoping to bring out the masses and educate on what the hemp industry really is," Scott Mckinley, event organizer and CEO of Hi Tunes Distribution told Benzinga.
September 14: New York City will see the "Green Market Summit – The Advanced Economic State Of Cannabis," the first of a series of conferences titled Green Market Summit. This event hosted by Green Market Report will be held in partnership with The Street at One World Trade Center. The keynote speaker is CNBC and TheStreet's Jim Cramer, who will interview Kevin Murphy CEO of Acreage Holdings. Tickets can be purchased on this website.
September 21-22: Anaheim, CA will get the CBD Expo West 2018. Powered by CBD Health and Wellness Magazine, the CBD-focused event will feature 75 exhibitors, along with a large lineup of presentations and panel discussions from experts in the production, distribution and sale of CBD products. Tickets and can be purchased online; check out cbdexpo.net for more detail.
Picture by Javier Hasse.
© 2020 Benzinga.com. Benzinga does not provide investment advice. All rights reserved.
---