Market Wrap For February 10: Markets Cautious Ahead Of Yellen Testimony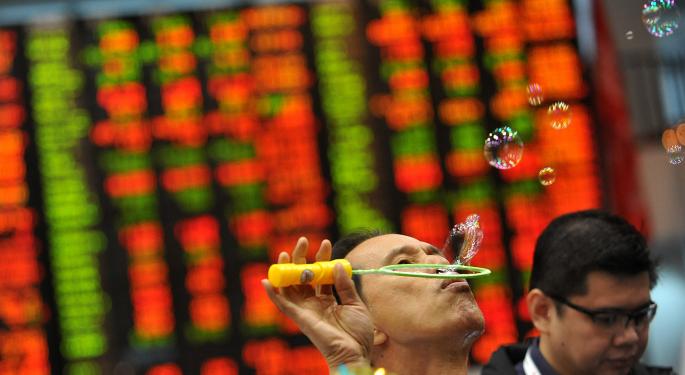 U.S. stocks traded mixed today as investors are anxiously waiting for Tuesday's testimony from Janet Yellen.
Yellen will make her first appearance before the U.S. House of Representatives with a Senate session scheduled for Thursday.
Elliot Spar, market strategist at Stifel told CNBC that "many are on the sidelines as they await Janet Yellen's testimony tomorrow before the House. I expected it to be one of these 'we will continue to taper but on the other hand it is data dependent.' What the markets reaction to that is anybody's guess and I'm not going to."
Recommended: What Do The Cycles Say About February 2014?
The Dow gained 0.05 percent, closing at 15,801.79.
The S&P gained 0.16 percent, closing at 1,799.84.
The Nasdaq gained 0.54 percent, closing at 4,148.17.
Gold gained 0.90 percent, trading at $1,274.30.
Oil gained 0.26 percent, trading at $100.14 a barrel.
Silver gained 0.47 percent, trading at $20.03.
News of Note
The Wall Street Journal reported that the proportion of workers who voluntarily left their jobs (also known as the "quit rate") rose to a post-recession high of 1.8 percent in November.
Canadian Prime Minister Stephen Harper sees the Keystone XL pipeline being approved with or without President Obama's seal of approval. Harper suggested that if Obama does not approve the project, another president will and also added that "it takes a lot of energy to repress and to block a decision that is clearly and overwhelmingly in the national interest of the country."
Japan's current-account deficit widened to ¥638.6 billion ($6.2B) in December from ¥592.8 billion in November, marking the largest gap ever. A weak yen and surging imports, particularly energy, led to the widening gap.
Equities-Specific News of Note
Analysts at Morgan Stanley upgraded American Express (NYSE: AXP) to Overweight from Neutral with a price target raised to $100 from a previous $90. The analysts noted that its OptBlue program can gain traction in the small business community. The analysts noted "OptBlue will make it easier for merchants to accept Amex cards, boosting the company's wallet share: OptBlue addresses small merchants' concerns as third-party acquirers negotiate directly for a combined, single-grid contract for all networks. Amex will eliminate statement charges and provide next-day payment to small merchants. We believe this will significantly boost acceptance, enabling Amex to gain wallet share from existing cardholders." Shares gained 1.56 percent, closing at $88.36.
Analysts at Societe General upgraded JPMorgan (NYSE: JPM) to Buy from Hold. The analysts noted that noted that JPMorgan would likely settle its mortgage litigation and that its loan growth outlook is looking brighter. The analysts also noted that JPMorgan has little exposure to emerging markets which would allow the bank to outperform its peers that are overexposed if emerging markets continue to underperform in the global stage. Shares gained 0.18 percent, closing at $56.72.
Analysts at Raymond James upgraded Texas Roadhouse (NASDAQ: TXRH) to Strong Buy from Outperform with an unchanged price target of $29. The analysts noted that the company "has drifted to a point where it now has the lowest EV/EBITDA multiple in our growth restaurant universe." The analysts also see continued historical out performance over it's industry peers, especially on same store sales. Shares gained 3.57 percent, closing at $25.25.
Analysts at Deutsche Bank maintained a Buy rating on Alexion Pharmaceuticals (NASDAQ: ALXN) and raised the price target to $205 from a previous $125. The analysts noted ""The next new product launch for Alexion is Asfotase Alfa for severe Hypophosphatasia (HPP). Our deep dive into the drug suggests the market is bigger vs. street expectations." The analysts added "We see a ~$1.6B unadjusted Opp'y for Asfotase Alfa in HPP. We model adjusted sales at ~$1.2B as we assign 50% prob. in severe adult-onset population due to uncertainty We model 50%, 40%, and 10% of HPP is infantile, pediatric, & adult onset. Given patient mix, we could be conservative in our assumption that the blended avg price per patient over time is ~$200K as this is below Myozyme ($600K) pricing. Shares hit new 52 week highs of $171.09 before closing the day at $170.17, up 4.00 percent.
Analysts at Wedbush maintained an Outperform rating on Intercept Pharmaceuticals (NASDAQ: ICPT) while raising the price target to $493 from a previous $449. The analysts noted "We have added alcoholic hepatitis to our valuation for OCA and ICPT. In collaboration with Indiana University and the National Institute on Alcohol Abuse and Alcoholism (NIAAA), Intercept is supporting a blinded Phase 2 trial treating 60 patients with alcoholic hepatitis (NCT02039219 on clinicaltrials.gov). Enrollment is expected to begin in March. Prevalence estimates for alcoholic hepatitis (AH) range from 10%-35% of alcoholics (about 8% of the US population) or about 2.4-8.4 million US patients may have alcoholic hepatitis (World J Hepatol 2011 Vol 3(5) 108-113). We project gross annual peak sales of OCA treating AH could reach over $3 billion worldwide." Shares gained 3.91 percent, closing at $365.30.
Analysts at FBR Capital downgraded Monster Worldwide (NYSE: MWW) to Market Perform from Outperform with a price target of $7. The analysts noted that Monster's "sharp upward stock move on modest growth improvement has brought risk/reward back into balance. Moreover, with Monster having delivered two consecutive quarters of buyback surprises, Street and buy-side estimates are now beginning to incorporate the share shrink potential that we identified earlier. We believe MWW is capable of growth in spurts, but it remains to be seen whether the company can produce durable growth as Monster works to overcome competitive pressures. Shares lost 1.08 percent, closing at $7.35.
Analysts at Credit Suisse upgraded Cheniere Energy (NYSE: LNG) to Outperform from Neutral with a price target raised to $50 from a previous $48. The analysts noted "With the recent pullback in the stock (down meaningfully from a high of close to $47 a few weeks ago), we think the risk/reward has shifted to the upside. We have refined several assumptions in our model which take our TP up modestly from $48 to $50, representing ~20% upside and enough to warrant an Outperform rating." Shares gained 1.17 percent, closing at $42.37.
Proxy-advisory firms Institutional Shareholder Services and Egan-Jones recommended that Apple (NASDAQ: AAPL) shareholders reject Carl Icahn' proposal that the company repurchase an additional $50 billion worth of shares. Coincide, or not, Carl Icahn wrote a letter to Apple shareholders today saying that there is "no reason to persist" with his offer and that the activist hedge fund is "extremely excited about Apple's future." Shares gained 1.79 percent, closing at $528.99.
Related: Will Apple's Recent $14 Billion Share Repurchase Satisfy Carl Icahn?
Caesars Entertainment (NYSE: CZR) is reportedly working with Lazard Capital on a financial restricting plan and that the company is not facing an imminent bankruptcy. Shares lost 3.67 percent, closing at $21.81.
The Macau Government Tourist Office reported that the level of tourists that traveled to the gambling region during the Lunar New Year period rose 13 percent to 770,000 compared to last year. Occupancy rates at five star hotels topped 97 percent. Shares of Melco Crown Entertainment (NASDAQ: MPEL) lost 0.66 percent, closing at $40.67, while Las Vegas Sands (NYSE: LVS) lost 1.21 percent, closing at $76.04 and Wynn Resorts (NASDAQ: WYNN) hit new 52 week highs of $224.62 before closing the day at $222.37, up 0.19 percent.
Walgreen (NYSE: WAG) received a letter signed by eight Democratic senators urging the company to follow CVS Caremark and halt sales of tobacco products. Shares lost 0.51 percent, closing at $60.65.
Related: CVS vs. Altria - Which Would You Rather Invest In?
BlackBerry's (NASDAQ: BBRY) executive in charge of its BBM instant messaging service, Andrew Bocking, has left the company. It is unclear over the terms of his departure at this time. Shares gained 0.41 percent, closing at $9.87.
The Wall Street Journal wrote that Sprint (NYSE: S) is rethinking its plans to buy T-Mobile U.S. (NYSE: TMUS) from Deutsche Telekom after the Justice Department and FCC hinted that such an acquisition would not be approved. Nevertheless, Sprint could try to purchase T-Mobile, but will take its time in doing so. Shares of Sprint lost 4.11 percent, closing at $7.69 while T-Mobile U.S. lost 1.18 percent, closing at $30.07.
McDonald's (NYSE: MCD) reported that its global comparable-store sales rose 1.2 percent in January. U.S. comparable-store sales fell 3.3 percent due to severe winter conditions in the U.S. Shares lost 1.11 percent, closing at $94.86.
Dick's Sporting Goods (NYSE: DKS) reported that same-store sales rose seven percent during the fourth quarter as cold weather in the U.S. helped sales of certain winter related products. Shares gained 1.51 percent, closing at $51.87.
American Airlines Group (NYSE: AAL) reported that total revenue passenger miles rose 3.8 percent in January as capacity was 2.3 percent higher. Shares hit new 52 week highs of $36.15 before closing the day at $35.58, down 0.25 percent.
The Chinese Finance Ministry will extend a program of subsidies for buyers of electric powered cars.
Related: Tesla Looks To China To Drive Growth
According to Reuters, Aeropstale (NYSE: ARO) is considering working with private equity firms to raise capital instead of going through the public markets. Shares lost 0.75 percent, closing at $6.60.
Israeli based Teva Pharmaceuticals (NASDAQ: TEVA) is under investigation by U.S. authorities for possible violations of the federal False Clams Act relating to market and sales of the company's Copaxone and Azilect products. Shares lost 1.06 percent, closing at $44.05.
AOL's (NYSE: AOL) CEO Tim Armstrong created a lot of negative attention (and rightfully so) over comments he made that the company will delay matching employee 401(k) contributions to the end of each calendar year due to higher health care costs for "two distressed babies" born to employee families. Armstrong has since apologized for his comments and reversed its 401(k) contribution changes. Shares lost 3.21 percent, closing at $45.76.
Winners of Note
Analysts at Wells Fargo initiated coverage of FireEye (NASDAQ: FEYE) with an Outperform rating and a price target of $83 to $87. The analysts noted "We believe FEYE offers a once in a decade opportunity to invest in a truly disruptive technology that will meaningfully alter the competitive landscape within the cyber security space. We think recent high profile attacks such as Target and Neiman Marcus increase awareness for security – particularly those in the anti-malware space such as FEYE. At an estimated $410MM in '14E revenue, FEYE should be able to grow at a 45%+ 5 year CAGR. Lastly, FEYE's management is highly respected and has a history of creating shareholder value." Shares hit new 52 week highs of $78.70 before closing the day at $76.88, up 8.70 percent.
Recommended: Have Investor Sentiments Shifted In 2014?
Analysts at Goldman Sachs initiated coverage of Rocket Fuel (NASDAQ: FUEL) with a Buy rating and a $69 price target. The analysts noted "We view the acceleration of programmatic buying to be one of the more significant undercurrents shaping the online advertising landscape in 2014. Rocket Fuel, with its "artificial intelligence" technology, is helping to enable this shift." The analysts also added "while the competitive landscape is expansive and technology differentiation is a challenge, we expect increased penetration and emerging channels to drive upward estimate revisions." Shares gained 8.16 percent, closing at $55.13.
Analysts at Raymond James upgraded Red Robin Gourmet Burgers (NASDAQ: RRGB) to Strong Buy from Outperform while maintaining a price target of $80. The analysts noted "We expect Red Robin to solidly outperform peers over the intermediate term driven by management's multi-pronged brand transformation. This should drive consistent comp and EPS out performance and meaningful stock price appreciation from current levels over the next few years." Shares gained 13.00 percent, closing at $75.26.
SodaStream (NASDAQ: SODA) announced that it will partner with Skinnygirl on a new lifestyle beverage brand to be released in the second half of 2014. Shares gained 7.67 percent, closing at $40.45.
Related: Wall Street Analyst: SodaStream Has No Reason To Worry Over Keurig Cold
Alibaba offered to buy the portion of AutoNavi (NASDAQ: AMAP) it does not already own for $21 per ADS, valuing the deal at $1.8 billion. In a press release, AutoNavi said that its Board of Directors "intends to promptly form a committee of independent directors (the "Independent Committee") to consider the Transaction. The Independent Committee will be authorized to retain advisers, including an independent financial adviser and legal counsel, to assist it in its work." Shares of AutoNavi surged 24.37 percent, closing at $20.57 and traded in between $20.41 and $21.20.
Arena Pharmaceuticals (NASDAQ: ARNA) said that its Belviq weight loss drug will be available to more people following an agreement with CVS Caremark. More than half of all Americans with insurance should have access to the drug which is intended for overweight and obese adults with at least one serious medical condition. Shares gained 7.17 percent, closing at $6.43.
Whitney Tilson praised MagicJack (NASDAQ: CALL) calling it his "next Netflix." Tilson's firmed disclosed a 164,000 share position citing the company's low valuation (5.6x trailing EPS), huge short interest (43 percent of the gloat), recent management changes, and a large market opportunity as reasons to hold a positive bias on the company. Shares surged 18.18 percent, closing at $16.25.
Decliners of Note
The Federal Drug Administration (FDA) said that Medicines Company's (NASDAQ: MDCO) Cangrelor drug for preventing blood clots should not be approved. The government agency noted that the company needs another trial in order to correct flaws. Analysts at ISI Group said that hidden in the FDA document, another review has recommended approval of Cangrelor. The FDA's comments come ahead of a meeting of an advisory committee that is to take place on Wednesday. Analysts at Summer Street said that the drug would be a commercial failure even if it is approved. Shares lost 5.26 percent, closing at $32.42.
Boardwalk Pipeline (NYSE: BWP) declared a ten cent per unit quarterly dividend, representing a decrease of 81 percent from the prior dividend. Distributed cash flow for the fourth quarter totaled $139 million and $558 million for full year 2013, down three percent and 12 percent, respectively, from 2012. The company suffered from lower transportation revenues as many key contracts expired. Analysts at Credit Suisse downgraded shares to Underperform from Neutral with a price target lowered to $20 from a previous $32 following the dividend reduction. Shares plunged to new 52 week lows of $12.79 before closing the day at $13.01, down 45.99 percent. As a side note, Loews (NYSE: L) owns 53 percent of BWP and saw its shares lost 4.25 percent to close at $43.26.
Earnings of Note
This morning, Sohu.com (NASDAQ: SOHU) reported its fourth quarter results. The company announced an EPS of $0.12, missing the consensus estimate of $0.38. Revenue of $385 million beat the consensus estimate of $195.8 million. Quarterly profit tumbled to $2 million despite a 29 percent rise in revenue. The company noted that it experienced a 78 percent rise in operating expenses due to a bigger staff and increased costs for marketing and promotions. Sohu expects its first quarter revenue to be $355 million to $367 million and EPS to be -$1.10 to -$1.20, below a consensus of $378.6 million and break even. Shares gained 0.04 percent, closing the day at $71.55 but traded as low as $66.00 this morning.
This morning, Hasbro (NYSE: HAS) reported its fourth quarter results. The company announced an EPS of $1.12, missing the consensus estimate of $1.22. Revenue of $1.28 billion missed the consensus estimate of $1.3 billion. Hasbro saw strong growth in girls toys (Furby, My Little Pony) during the quarter, but the boys segment saw sales fall by 16 percent. Revenue in the U.S. and Canada fell five percent to $2.01 billion while International sales rose five percent to $1.873 billion. Shares gained 4.53 percent, closing at $52.36.
After the market closed, Rackspace Holdings (NYSE: RAX) reported its fourth quarter results. The company announced an EPS of $0.14, in-line with the consensus estimate. Revenue of $408 million beat the consensus estimate of $404.56 million. The company announced that its CEO Lanham Napier has retired from his position and the as a member of the board. Napier "plans to invest in and advise other entrepreneurial companies" and the company's Co-founder and current chairman Graham Weston will act as interim CEO. Shares were trading lower by nine percent going in to the company's earnings conference call.
Related: Rackspace Earnings Preview: Will Short-Term Setbacks Hurt the Long-Term Picture?
Quote of the Day
"It's as if 100K service sector jobs went missing in the payroll report." – David Rosenberg, chief economist at Gluskin Sheff who is scratching his over Friday's soft payroll number. Rosenberg argued that Friday's number doesn't follow January's ISM services report or the ADP jobs print showing 160,000 private-sector services jobs created last month.
View Comments and Join the Discussion!
Posted-In: Aeropstale Alexion Pharmaceuticals Alibaba American Express Andrew BockingNews Federal Reserve After-Hours Center Best of Benzinga