Tariffs, Drug Prices, Legislative Gridlock: What Economists Are Watching Following The Midterm Election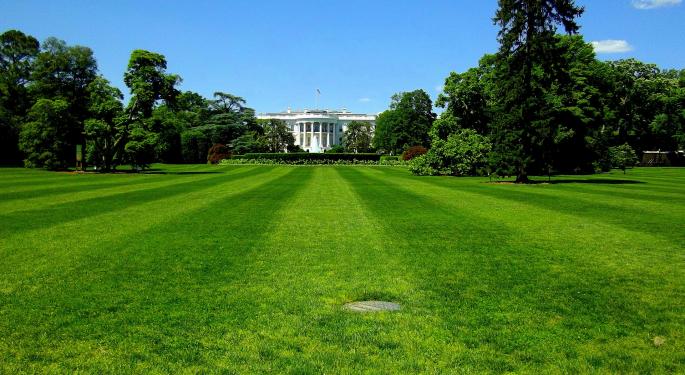 Democrats didn't get the blue wave they hoped for Tuesday, but they picked up enough votes to take the majority in the House of Representatives, with Republicans maintaining control of the Senate.
A divided Congress wasn't particularly surprising to analysts, but there were still plenty of stocks moving Wednesday morning as the market digested the election returns.
Market Trends
A Democratic House could provide some resistance to President Donald Trump's trade war tariffs on China. U.S. tariffs on $200 billion of Chinese goods are set to rise to 25 percent starting on Jan. 1. The potential for Democrats to pressure Trump to back down on China is theoretically good news for U.S. companies that rely on Chinese supply and demand.
Pharmaceutical companies could be in for a rough few years. There are very few areas of overlap between the Democratic agenda and Trump's, but lower drug prices is seemingly one of them. If the Democrats want to prove they can get results even with limited power, they may choose to offer little protest to Republican defense and infrastructure spending in exchange for the president's cooperation on a drug price legislation.
In addition to a potential crackdown on drug prices, pharmaceutical companies may be uneasy about the momentum in the marijuana legalization movement.
Recreational marijuana was legalized in Michigan and medicinal marijuana was legalized in Missouri Tuesday, and the ETF MANAGERS TR/TIERRA XP LATIN AME (NYSE: MJ) gained 2.6 percent.
Height's Take
Prior to the election, Height Capital Markets predicted a divided Congress and discussed individual stocks that could be winners and losers from a legislative standpoint.
In a divided Congress scenario, Height said a number of stocks are positioned to benefit from potential policy changes:
At the same time, Height said a split Congress creates the possibility of negative policy changes for the following stocks:
Historical Trends
The primary election takeaway for most investors can be boiled down to one word, said RSM US LLP chief economist Joseph Brusuelas.
"Gridlock — that's the primary economic and financial implication of the Democrats' takeover of the U.S. House of Representatives and the Republicans' retention of power in the Senate," Brusuelas said Wednesday.
"While financial markets tend to favor gridlock, the lack of major policy changes and a White House that continues to press on a deregulation agenda likely portend fierce policy battles that will revolve around the fiscal path of the federal government, trade, environmental policy and health care."
The good news for investors is that history has been kind to the market following midterm elections. Regardless of which party comes out on top in November, the general cyclical stock market trends surrounding midterm elections have historically been good news for investors.
Over the past 80 years, from one month prior to midterm elections to two months following the elections, the S&P 500 has averaged an 8-percent gain, according to Deutsche Bank. That stretch includes just one net loss of 4 percent in 1978.
Unfortunately, analyst Binky Chadra said in the same report that the sample size of 21 midterm elections is extremely small, and seasonal trends and other conflating data may have contributed to the gains.
The post-election market reaction is off to a strong start. The SPDR S&P 500 ETF Trust (NYSE: SPY) was trading higher by 1.24 percent at $278.58 at the time of publication Wednesday, and the SPDR Dow Jones Industrial Average ETF (NYSE: DIA) was nearly 1 percent higher.
Related Links:
Here's What's At Stake For Your Investments In The 2018 Midterms
Midterms And The Stock Market: Potential Winners, Losers From The Coming Election
View Comments and Join the Discussion!
Posted-In: Binky Chadra Deutsche BankAnalyst Color Politics Economics Analyst Ratings Trading Ideas General Best of Benzinga