The Highs And Lows Of Earnings Season Dominate July's IMX Results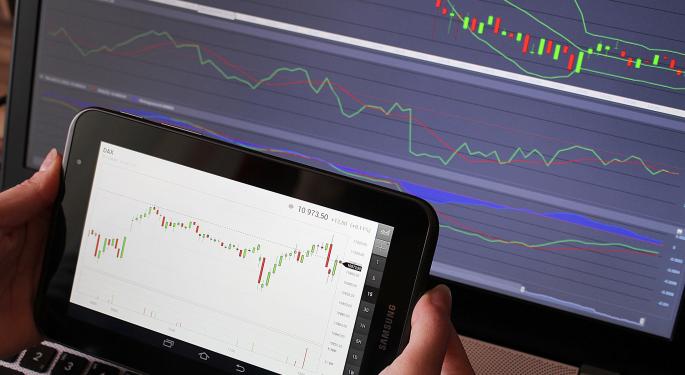 Despite some unexpected volatility during an eventful earnings season, the Investor Movement Index (IMX) — TD Ameritrade's monthly survey of investor sentiment — remained flat at 5.45.
While overall feeling toward the market is somewhat mixed with the prospect of an intensifying trade war, low relative volatility and solid economic data meant that TDA clients were again net buyers of equity for the 18th month in a row.
Reporting Season Enthusiasm Earns Stocks A Buy
Despite primarily mixed reports, TD Ameritrade investors flocked to a few prominent companies that reported over the month. Among two of the most popular acquisitions to have missed either top or bottom line estimates were FANG constituents Netflix, Inc. (NASDAQ: NFLX) and Amazon.com, Inc. (NASDAQ: AMZN). While the latter has recovered from a nearly 6-percent drop from its July high to the end of the month, Netflix is still trading near a two-month low.
Also popular among TDA investors were Ford Motor Company (NYSE: F) and AT&T Inc. (NYSE: T), both of which also reported missing the mark on sales and EPS. The former also suffered a hit to its share price in the month due to a continued downward trend in auto sales, while AT&T weathered the report and raised its FY2018 outlook.
Rounding out the net buys were General Electric Company (NYSE: GE), which continues to flounder near a 52-week low; Canopy Growth Corp. (NYSE: CGC), which spiked in June following Canada's move to legalize recreational cannabis use; and the 2018 Chinese IPO IQIYI Inc. (NASDAQ: IQ).
Selling At The Top
Despite the eagerness to jump into behemoths like Amazon and Netflix (even at a brief discount), other companies trading near their tops found their fair share of sale pressure from TD Ameritrade investors.
Among them was Walt Disney Co. (NYSE: DIS), which surged 8.5 percent in the month to a new 52-week high of around $113.50 after completing its acquisition of much of Twenty-First Century Fox (NYSE: FOXA) media assets.
Square Inc. (NYSE: SQ) also found resistance at the top. The mobile payments stock fell more than 10 percent on an Apple Inc. (NASDAQ: AAPL) headline near the end of July while at an all-time high near $72.50. It re-took that level following a strong report at the start of August.
Other sellers that reached new, several-month highs included Walmart Inc. (NYSE: WMT) and Exon Mobil Corporation (NYSE: XOM) as well as biotech companies Bristol-Meyers Squib Co. (NYSE: BMY) and Gilead Sciences, Inc. (NASDAQ: GILD), both of which reported solid numbers and strong guidance.
Aside from high-flyers, TDA investors also lightened their portfolio of shares of Under Armour Inc. (NYSE: UA) Snap Inc. (NYSE: SNAP) and Cisco Systems, Inc. (NASDAQ: CSCO).
For a full breakdown of TD Ameritrade's IMX as well as a historical look at the index, you can read the full report here.
View Comments and Join the Discussion!
Posted-In: IMX Investor Movement Index TD AmeritradeNews Markets Best of Benzinga