Pot Stocks, ETFs, Top News And Data From The Cannabis Industry This Week
The biggest news in cannabis this week probably came out of Acreage Holdings. The company that counts U.S. House speaker John Boehner and former governor Bill Weld among its directors announced it had raised $119 million in private capital and has plans to go public in Canada. It's believed this is the largest capital raise completed by a private cannabis company.
When Benzinga asked CEO Kevin Murphy about the decision to go public in Canada, he explained that, while it was "not by process of elimination," it was the best option available, given their impossibility to list in the NYSE or the Nasdaq as a cannabis operator in the U.S.
"It was a big week for cannabis companies planning to go public," Green Market Report's CEO Debra Borchardt told Benzinga, bringing up Acreage's raise. "This puts Acreage on solid ground before going public this fall. Then, we closed out the week with Dixie Brands announcing it was doing a reverse takeover in order to go public. Still, we weren't done because Palliatech, which is better known for its Curaleaf brand, said it was combining with Canadian company Lead Ventures to go public. Lead Ventures trades on the Canadian Securities Exchange. Without a doubt, this will be a super exciting fall for new cannabis stocks."
In other big news, voters in Los Angeles will decide on the creation of a publicly-owned bank that would service cannabis businesses on the Nov. 6 ballot. And the United Kingdom announced physicians will be able to legally prescribe cannabis-derived medicines and products by autumn -- but only to those patients that have an "exceptional clinical need."
Marijuana Indexes & ETFs
In the capital markets realm, the United States Marijuana Index, which tracks 18 of the largest marijuana stocks in the U.S., gained roughly 1.8 percent this week, while the North American Marijuana Index, which also includes Canadian stocks, lost about 2.6 percent of its value.
Over the last five trading days, the Horizons Marijuana Life Sciences Index ETF (OTC: HMLSF) (TSE:HMMJ) slipped almost 1.3 percent, while the ETFMG Alternative Harvest ETF (NYSE: MJ) shed almost 2.5 percent of its value. The SPDR S&P 500 ETF Trust (NYSE: SPY) was up 0.4 percent.
Stock Moves
Here are some of the top marijuana stocks (market cap above $100 million) in U.S. exchanges and how the performed over the last five trading days:
In Other News
PotNetwork Holdings Inc. (OTC: POTN) withdrew its application with the SEC to become a fully reporting company after its auditing firm lost PCAOB certification.
LiveWell announced it acquired a 12-percent stake in GCH, securing distribution rights to Willie Nelson's cannabis brand, Willie's Reserve, in Canada. The firm will also take over management of 51st Parallel and pursue a reverse takeover of Target Capital, the latter of which will enable listing on the Canadian exchanges.
NanoSphere Health Sciences Inc (OTC: NSHSF) was awarded a patent for its phospholipid nanoparticle technology.
"In recent months, we have seen Evolve Formulas sales increase by 30 percent, been awarded the Frost & Sullivan Best Practices Award for Technological Innovation 2018 and now have announced two patents covering both our core technology and manufacturing for the NanoSphere Delivery System™, as well as its unique applications for cannabinoid drug delivery," Robert Sutton, Chairman and CEO of NanoSphere Health Sciences and Evolve Formulas told Benzinga.
MariMed Inc/SH SH (OTC: MRMD) bought cannabis accessories e-commerce iRollie LLC for $600,000 in stock.
Aurora Cannabis received conditional approval to build a hybrid cultivation, manufacturing and distribution plant, in Malta –- the first of its kind in that country. The company also closed its $2.5 billion acquisition of MedReleaf Corp (OTC: MEDFF) and announced it would be covering its employees' medical marijuana. Simultaneously, MedReleaf Corp bought MED Colombia for €2.75 million in cash, securing licenses to grow cannabis and produce extracts in the South American nation.
Green Organic Dutchman Holdings appointed 20-year IBM veteran Geoff Riggs as its chief information officer to develop IT, e-commerce and artificial intelligence strategies.
Green Flower hired of former Arcview Group Sales Executive, Will Petruski, as its new Vice President of Sales. The company then announced it has opened registration for its free streaming "My Cannabis Career" summit taking place between Aug. 6 and Aug. 19.
The Blinc Group's co-CEO Arnaud Dumas de Rauly testified at The Office of the U.S. Trade Representative public hearings regarding proposed tariffs on approximately $16 billion worth of Chinese products. Their stance is that these proposed tariffs increases related to vapor product devices, batteries intended for use in vaping devices, and pre filled pods and cartridges will do great harm to American businesses, medical marijuana patients and adult use consumers while doing nothing to empower American companies to manufacture these products themselves.
"Cannabis vaping products comprise an average of 25 percent of cannabis sales in medical marijuana or adult use states. With these tariffs, access to such products will be made virtually impossible given the current 10 percent to 15 percent margins. Dispensaries and retailers will likely stop carrying the products, inherently forcing patients and customers who use vaporizers to use more aggressive consumption methods," Dumas de Rauly told Benzinga. "This isn't to mention states like New York and Florida, whose medical marijuana program will be harder to access for patients as it is based solely on vaping products. The proposed rise in the tariffs assessed on these products will only result in a tax increase on American businesses - and ultimately on consumers - which will discourage adult smokers from switching to these harm reduction products and cannabis patients from gaining access to their medication."
International Cannabrands Inc. (OTC: GEATF) announced Steve Gormley has been appointed as the new president and CEO.
"Mr. Gormley has nearly twenty years' experience developing, branding, marketing, launching, managing and operating businesses in the US and international markets with over seven years' experience in the cannabis industry. International Cannabrands owns the exclusive rights to Julian Marley's JuJu Royal™ brand to educate people about the natural connection between Julian Marley, Rastafarian culture, reggae music, and marijuana," the company said.
Gormley added, "I am excited to lead International Cannabrands into the future. The company has developed a robust platform with a view on acquiring renowned and profitable micro brands. We are committed to increasing shareholder value, strong fundamentals and to position the company for the eventual repeal of Prohibition in the United States. With the addition of Neal Pomroy, the company is poised for success. We have an outstanding team. I am grateful to be part of this venture."
Artisans On Fire, a cannabis-focused creative ad agency, has re-imagined the concept of "This is your brain on drugs" PSA's to fight the stigma against legal safe-use cannabis. They hope this video (made pro bono just like the original PSAs) will serve as a simple, direct, and effective approach to highlighting some of the more positive uses of cannabis.
When prompted about the video, Dustin Iannotti, creative director and co-founder of Artisans on Fire said: "The original 'This is your brain on drugs' spot became the most popular and impactful PSA of all time, largely based on its simple and direct messaging as well as its memorable imagery. At the time, the ad was credited with single-handedly lowering drug use and increasing a stigma around all drugs, including cannabis. The problem was the egg metaphor was largely inaccurate and terribly unscientific.
"Cannabis is used by athletes to increase athletic performance. Cannabis is used by creative types like chefs, designers, and artists to increase their focus and creativity. Cannabis is also used by people to relieve pain. We wanted to re-imagine the original PSA because this commercial lumped in cannabis as a drug that deserved a stigma attached to it. It's about time safe legal cannabis has it's own PSA. Artisan's on Fire just wants to play our part in helping educate people and change the conversation around this incredibly versatile drug that, when used responsibly, can have a wide array of benefits."
Cannabis plants can now be forensically tracked through every stage of the supply chain with the launch of ETCH Biotrace, a cannabis tagging system that uses Applied DNA's CertainT platform, in partnership with TheraCann. This new seed-to-sale solution seeks to provide transparency to the legal cannabis industry and is designed to molecularly tag cannabis plants in commercial harvests rapidly.
Dr. James Hayward, president and CEO of Applied DNA Sciences, said, "With the growth of the legal cannabis industry reported to reach $50 billion in just 10 years, the industry needs a reliable system to prove origin and provenance of the plants being tracked in seed-to-sale systems. By using ETCH Biotrace to tag, track and trace cannabis plants, we are providing a powerful tool that the industry can use to prevent illegal diversion of and illegally-sourced cannabis from entering the supply chain. Using the seed-to-sale system of ETCH Biotrace, which includes our CertainT platform, the combined system can comply with legislative guidelines established in different states and countries."
Last Friday, Mission Zero, a non-profit dedicated to helping veterans dealing with suicidal thoughts, organized an event that took roughly 20 combat veterans to a Big 3 basketball game in Miami. This outing was part of the organization's program, Veterans Night Out, a series of activities for vets designed to create awareness and education around medical cannabis while having a good time.
Upcoming events include "a trip to the Navy SEAL Museum, followed by Top Golf," Belén added.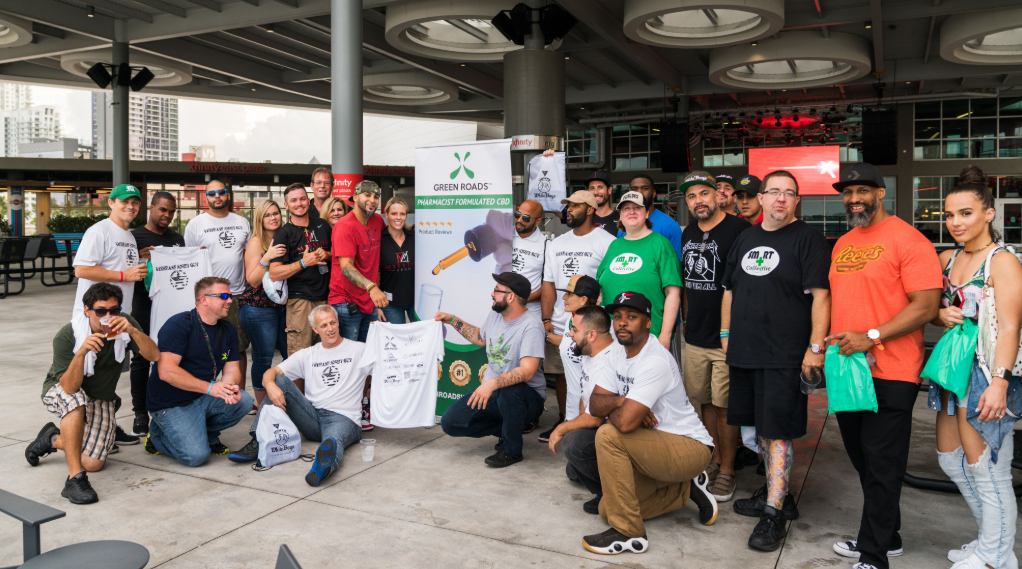 Atlas Plant Trainer, a modular and customizable plant training and support system designed for the home cannabis grower, launched sales throughout North America. With more states allowing for legal home grow of cannabis, whether medically or recreationally, and each one of those having limitations on the number of plants a person can grow, Atlas Plant Trainer was designed to maximize limited legal plant counts and encourage horizontal growth, critical in any indoor garden.
"After years of growing medicine for myself and several other patients, I grew tired of trying to train my plants with products that were simply not made for the task," CEO Rob Smith told Benzinga. "While bamboo stakes, tomato cages, PVC pipe and soft wire tie work fine, we wanted to provide home gardeners with a 'made for you' solution that solved all of their training and supporting problems with one product."
Cannabis-focused advisor and radio personality Kristen Yoder announced her new "The CannaBS Detector" podcast will be released Aug. 1.
Another launch scheduled for the first week of August is that of risingcbd.com, a website dedicated to selling cannabidiol (CBD) products online, donating a portion of the profits to the Epilepsy Foundation. Founder Martín Cardenas (23), was diagnosed with Epilepsy in 2011, at 16 years old.
"Medications failed to control the epilepsy. I was having 3 partial seizures a day. I decided to try CBD oil, which I took in addition to the prescribed medications," he said. "CBD offers many medicinal benefits with little THC – which is the psychoactive ingredient in marijuana. With CBD you don't experience the 'high' feeling associated with marijuana. I was amazed by the results. I was no longer having 3 seizures a day and was down to 1 partial seizure a day. Even that one seizure is shorter and less intense."
Find out more about these news and others on The Cato Institute's new report and Bespoke Extracts with our friends at Marijuana Money, who make a weekly video summary of the top financial and business news in the cannabis industry.
Interesting Data
Joblift recently conducted an analysis of the medical cannabis labor market and discovered that, in the last 12 months:
California's medical marijuana-related job postings have declined by 11 percent.
Job growth in the medical marijuana segment is beating the national average by 8 percentage points.
Job growth is particularly high in northeastern states like Pennsylvania, New York, and Massachusetts.
"The legal cannabis industry is creating opportunities for a wide variety of professionals across the board, ranging from highly-skilled medical physicians to CDL truck drivers."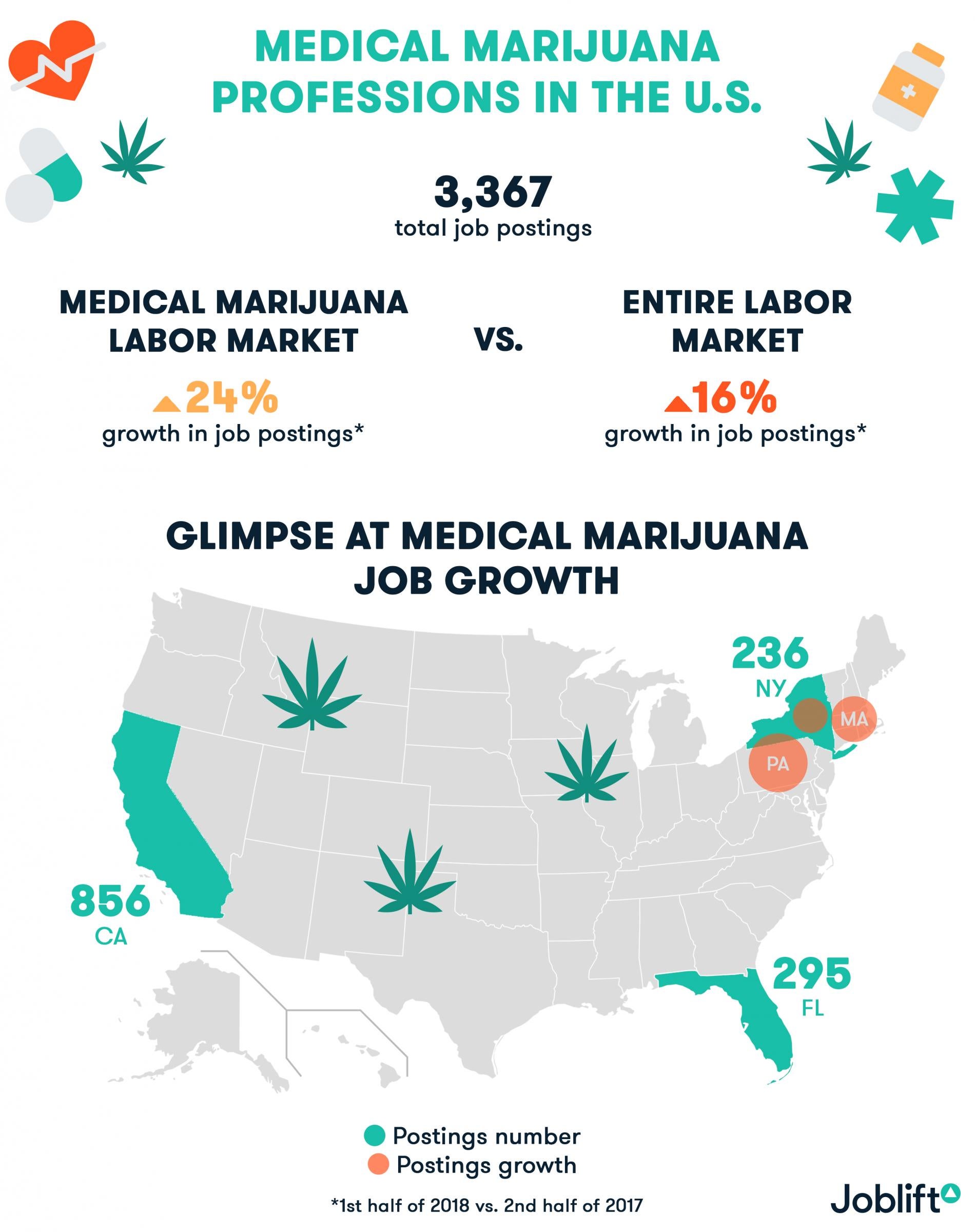 Cannabis analytics firm Headset looked into purchasing habits of loyalty program participants and concluded that they actually work, leading consumers to "spend more, buy more items, and buy more expensive items." See the numbers in the chart below.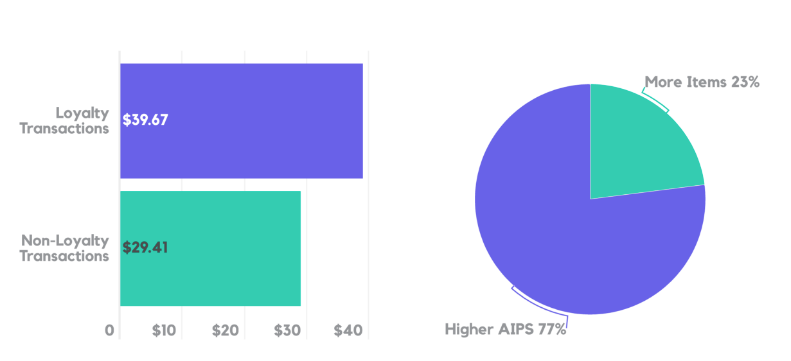 Events Calendar
July 27–28: Cannacon Boston.
August 1: Green Compassionate Network will hold an educational event on medical marijuana in Ohio. The North Canton event will feature cannabis doctor Dustin Sulak, former NFL player Nate Jackson and patient advocate Robert Ryan. OhioCannabis.com founder Johnny Lutz explained the importance of this event: "After over two years Ohio Medical Marijuana program continues to be delayed and pushed back… However, everyone who has interest in the Ohio cannabis market is continuing to work their hardest to be ready for when our industry is finally here – probably spring of 2019."
August 3–4: Coco Loco will hold its opening in Aurora, Colorado. A fresh alternative to juice, smoothie and "to go" eats, this family owned and operated eatery provides the option of adding hemp-derived CBD oil or Irish sea moss to any item.
August 14–16: MJBizCon will host MJBizConINTL at the Metro Toronto Convention Centre.
August 16–17: Benzinga is hosting its first Cannabis Capital Conference in Toronto, Canada. Speakers include Alan Brochstein, Larisa Bolivar, Harrison Phillips, Giadha Aguirre de Carcer, Marvin Washington, Scott Boyes, Mark Lakmaaker, Brett Roper, Nick Kovacevich, Hadley Ford, Javier Hasse, Tim Seymour, Aras Azadian, Paul Rosen, Jodie Emery, and Cynthia Salarizadeh, among others.
September 7–9: Oklahoma is getting its first Hempfest ever: the Hempfest Oklahoma.
September 21–22: Anaheim, CA will get the CBD Expo West 2018. Powered by CBD Health and Wellness Magazine, the CBD-focused event will feature 75 exhibitors, along with a large lineup of presentations and panel discussions from experts in the production, distribution and sale of CBD products. Tickets and can be purchased online; check out cbdexpo.net for more detail.
Picture by Javier Hasse.
View Comments and Join the Discussion!
Posted-In: Cannabis Government Regulations Emerging Markets Specialty ETFs Top Stories Markets Movers Best of Benzinga