Emblem's $58M Acquisition, Dixie Brands' Canada IPO, IBM Vet Joins Green Organic Dutchman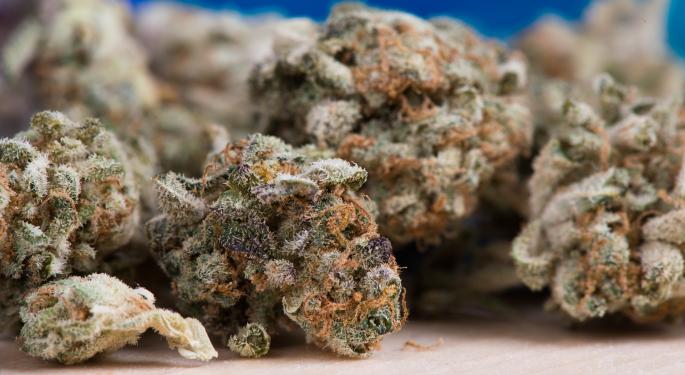 Here are Thursday's hottest pot reports.
An Acquisition
Since announcing a C$3 million investment in Natura Naturals, Emblem Corp (CVE: EMC)(OTC: EMMBF) signed a non-binding letter of intent to buy all remaining shares for about C$76 million including the stake Emblem already owns.
"Through the due diligence process of investigating Natura as a supply partner, we uncovered significant synergies between the two organizations," Emblem CEO Nick Dean said in a statement. "[...] With the added capacity from Natura, we are able to aggressively pursue our focus on product innovation, building great brands and finding distribution partners domestically and internationally."
The deal would transfer Natura's 32 proprietary cannabis strains and Ontario-based production facility.
Emblem has halted greenhouse construction plans at Paris Road as it pursues the Natura transaction.
A Merger And IPO
Dixie Brands has signed a letter of intent to pursue a reverse takeover of Academy Explorations Limited, a mining company that aims to shift to cannabis.
At the transaction's close, the combined entity will apply to list on the Canadian Securities Exchange, and current Dixie shareholders will control about 95 percent of the company.
"The Canadian capital markets have proved to be an important and critical source of growth funding for U.S. cannabis companies," Dixie CEO Chuck Smith said in a press release. "We are preparing for and anticipate a Q4, 2018 public offering on the CSE which will fund revenue generating production, distribution and consumer marketing programs to support our global expansion."
A Management Change
Green Organic Dutchman Holdings Ltd (TSE: TGOC)(OTC: TGODF) appointed Geoff Riggs, a 20-year veteran of IBM (NYSE: IBM), its chief information officer to lead IT, e-commerce and artificial intelligence strategies.
Riggs' expertise in big-data mining and predictive analytics are expected to improve sales forecasting, consumer engagement and general decision making.
"All modern industries are data driven and the cannabis industry, with its global market, nascent supply chain and disruptive characteristics, will be no exception," GDOH CEO Brian Athaide said in a statement. "An integrated, real-time business intelligence capability, combined with artificial intelligence capabilities that can anticipate and adapt to industry dynamics will enhance TGOD's ability to dominate the organic market segment, rationalize investments and maintain competitive differentiation."
Cannabis investors can't afford to miss the Benzinga Cannabis Capital Conference, a premier gathering of investors and entrepreneurs painting an honest picture of the opportunities and challenges in cannabis investing. Space is limited—get your tickets before they sell out.
Related Links:
MedReleaf Enters Colombian Market, CV Sciences Delivers Strong Sales, Aurora Pays For Employees' Medical Marijuana
Posted-In: marijuana stocksCannabis News Best of Benzinga
View Comments and Join the Discussion!