The Daily Biotech Pulse: MediciNova Gets Orphan-Drug Status, KemPharm To Offer Shares, Emergent Buys Vaccine Maker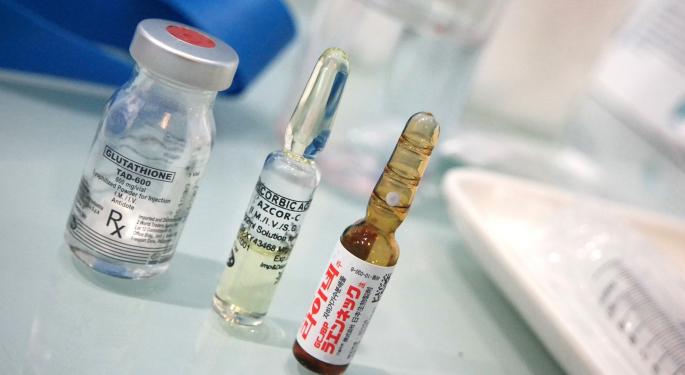 Here's a roundup of top developments in the biotech space over the last 24 hours.
Scaling the Peaks
(Biotech stocks hitting 52-week highs on Oct. 3)
Down In The Dumps
(Biotech stocks hitting 52-week lows on Oct. 3)
Stocks In Focus
FDA Grants Orphan Drug Status To MediciNova's Cancer Drug For Brain Cancer
MediciNova, Inc. (NASDAQ: MNOV) announced that the FDA granted Orphan-drug designation to its MN-166, chemically ibudilast, as an adjunctive therapy to temozolomide for treating of glioblastoma, a rare cancer with a high recurrence rate and poor prognosis.
The Orphan-drug designation provides seven years of marketing exclusivity, if the drug is approved for the same rare designation.
The stock rose 4.39 percent to $12.59 in after-hours trading.
Emergent Biosolutions Buys Vaccine Maker PaxVax
Emergent Biosolutions Inc (NYSE: EBS) completed the acquisition of specialty vaccines manufacturer PaxVax. The PaxVax-buy brings into Emergent Biosolutions' stable two marketed vaccines, namely Vivotif for preventing typhoid fever, and Vaxchors, the only FDA-licenses vaccine for the prevention of cholera.
"The acquisition broadens the company's development pipeline with vaccines that address adenovirus types 4 and 7, which are common causes of acute respiratory disease, and chikungunya, a viral disease spread to humans by infected mosquitoes that can cause severely debilitating joint pain," the company said.
The transaction was paid for with about $270 million in cash, exclusive of customary closing adjustments.
KemPharm to Offer Shares
KemPharm Inc (NASDAQ: KMPH) announced intention to offer and sells shares of its common stock in an underwritten public offering. All the shares are to be sold by the company. The company intends to use the net proceeds to fund an NDA submission for KP415, to initiate a pivotal trial for KP484, and for general corporate purposes.
The stock slumped 17.46 percent to $3.45 in after-hours trading.
Akcea-Ionis' Tegsedi Approved In Canada
Akcea Therapeutics Inc (NASDAQ: AKCA) and Ionis Pharmaceuticals Inc (NASDAQ: IONS) said their Tegsedi has now been approved in Canada for treating stage 1 or stage 2 polyneuropathy in adult patients with hereditary transthyretin amyloidosis.
Tegsedi is currently under regulatory review in the U.S., and has been approved in the EU for the same indication.
Akcea shares rose 4.88 percent to $32 in after-hours trading, while Ionis gained 0.67 percent to $47.80.
See Also: Attention Biotech Investors: Mark Your Calendar For These October PDUFA Dates
Paratek's Marketing Application For Antibiotic Accepted for Review By European Regulator
Close on heels of its U.S. approval, Paratek Pharmaceuticals Inc (NASDAQ: PRTK) said the European Medicines Agency has accepted its Marketing Authorization Application for Omadacycline, a modernized tetracycline for treating community-acquired bacterial pneumonia and acute bacterial skin and skin structure infections.
The stock climbed 2.82 percent to $11.65 in after-hours trading.
Roche's Blood Disorder Drug Approved For Additional Indication
Chugai Pharma said its Hemlibra has obtained its first regulatory approval in the U.S. for people with hemophilia A without inhibitors. The application was submitted to the FDA by Roche Holdings AG Basel ADR (OTC: RHHBY)'s Genetech unit.
Articure Prices Common Stock Offering
AtriCure Inc. (NASDAQ: ATRC) said it has priced its previously announced common stock offering of 2.5 million shares at $30.75 per share compared to the $30.93 at which they closed Thursday.
LeMaitre Expects Lower Q3 Results; Reduces FY18 Guidance
LeMaitre Vascular Inc (NASDAQ: LMAT) pre-announced Q3 results, expecting sales of $24.2 million and EPS of 21 cents. This represented a decline from the year-ago sales of $24.2 million and EPS of 25 cents. Also, the company lowered its 2018 sales, gross margin, operating income and EPS guidance.
The stock plunged 16.60 percent to $30 in after-hours trading.
On The Radar
PDUFA Dates
The FDA will announce its verdict on strong> Bausch Health Companies Inc (NYSE: BHC)'s NDA for is plaque psoriasis treatment IDP-122 lotion, chemically halobetasol propionate 0.01%.
Clinical Trial Results
Protalix Biotherapeutics Inc (NYSE: PLX) will present preliminary Phase 3 open label data for its Fabry disease treatment Pegunigalsidase alfa.
Audentes Therapeutics Inc (NASDAQ: BOLD) is due to release updated Phase 1/2 data for AT132, its treatment candidate for X-linked myotubular myopathy on Oct. 5.
Acceleron Pharma Inc (NASDAQ: XLRN) is set to present part 1 Phase 2 data for ACE-083, which is being evaluated for facioscapulohumeral muscular dystrophy.
View Comments and Join the Discussion!
Posted-In: Biotech Earnings M&A News FDA Top Stories Trading Ideas Best of Benzinga