Attention Biotech Investors: Mark Your Calendar For These October PDUFA Dates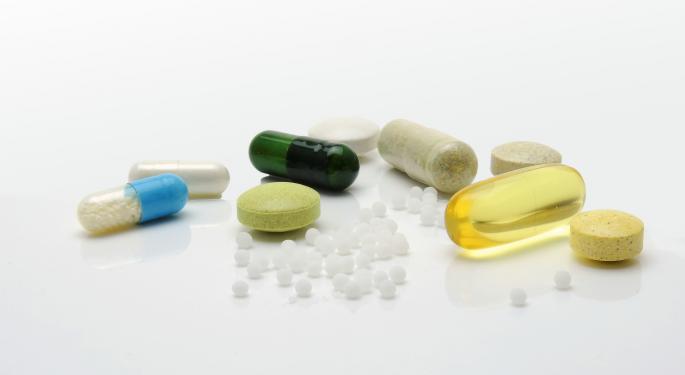 September had several clinical trial results announcements and a few FDA approvals triggering moves in the space. New molecular moiety, or NME, approvals totalled a mere three in September, taking the total NME approvals for 2018 to 37 compared to 46 in 2017.
Here are the PDUFA catalysts for the upcoming month.
PDUFA dates are deadlines for the FDA to review new drugs. The FDA is normally given 10 months to review new drugs. If a drug is selected for priority review, the FDA is allotted 6 months to review the drug. These time frames begin on the date that an NDA is accepted by the FDA as complete.
Will FDA Go With Panel Decision And Greenlight Paratek's Broad Spectrum Antibiotic?
Company: Paratek Pharmaceuticals Inc (NASDAQ: PRTK)
Type of Application: Two separate NDAs
Candidate: Omadacycline
Indication: Antibiotic to treat Community-acquired pneumonia, or CAB, and acute bacterial skin and skin structure infections, or ABSSSI
Date: Early October
The FDA accepted the NDAs for priority review in April. FDA's Antimicrobials Drug Advisory Committee, which discussed the NDA Aug. 8, voted in favor of approving both intravenous and oral formulations of the candidate for both CAB and ABSSI.
"A modernized tetracycline, omadacycline is specifically designed to overcome tetracycline resistance and exhibits activity across a broad spectrum of bacteria, including Gram-positive, Gram-negative, anaerobes, atypical bacteria, and other drug-resistant strains," the company said.
Roche Seeks Approval For Expanded Indication For Blood Disorder Drug
Company: Roche Holdings AG Basel ADR (OTC: RHHBY) unit Genentech
Type of Application: sBLA
Candidate: Hemlibra
Indication: Treating adults and children with haemophilia A without factor VIII inhibitors
Date: Oct. 4
Roche announced FDA acceptance of the application and according of Priority Review status June 5. The application was submitted based on data from Phase III HAVEN 3 study. Hemlibra was earlier approved by the FDA in Nov. 2017 to prevent or reduce the frequency of bleeding episodes in adults and children with haemophilia A with factor VIII inhibitors.
Bausch's Psoriasis Treatment Awaits FDA Vetting
Company: Bausch Health Companies Inc (NYSE: BHC)
Type of Application: NDA
Candidate: IDP-122 lotion, chemically halobetasol propionate 0.01%
Indication: Plaque psoriasis
Date: Oct. 5
Bausch's Ortho Dermatologics unit announced FDA acceptance of the NDA Feb. 14. The company said, if approved, the candidate will be the first high-potency topical steroid treatment for plaque psoriasis with dosing for as long as eight weeks.
Will FDA Give Its Nod For Ionis-Akcea's Rare Disease Drug After The Three-Month Extension?
Company: Ionis Pharmaceuticals Inc (NASDAQ: IONS), PTC Therapeutics, Inc. (NASDAQ: PTCT) and Akcea Therapeutics Inc (NASDAQ: AKCA)
Type of Application: NDA
Candidate: Inotersen (IONIS-TTRRx)
Indication: Treatment of patients with hereditary TTR amyloidosis (hATTR)
Date: Oct. 6
The FDA accepted Jan. 8 the NDA with Priority Review status, with an original PDUFA date of July 6. A three-month extension was announced by Ionis's affiliate Akcea in its first-quarter earnings release. Inotersen is a RNA-targeted therapeutic for patients with hATTR amyloidosis and has already been approved in the EU.
Merck Awaits FDA Clearance For Two sBLAs
Company: Merck & Co., Inc. (NYSE: MRK)
Type of Application: sBLAs
Candidate: Gardasil 9 vaccine
Indication: An expanded age indication for GARDASIL 9 for use in women and men aged 27 to 45 for the prevention of certain cancers and diseases caused by the nine HPV types
Date: Oct. 6
And the other:
Candidate: Keytruda + carboplatin-paclitaxel or nab-paclitaxel
Indication: First-line treatment for metastatic squamous non-small cell lung cancer (NSCLC), regardless of PD-L1 expression
Date: Oct. 30
Can Regeneron-Sanofi Breath Easy With Dupixent Approval For Asthma
Type of Application: sBLA
Candidate: Dupixent
Indication: Adults and adolescents aged 12 years or older with moderate-to-severe asthma.
Date: Oct. 20
Dupixent is a monoclonal antibody approved already for the treatment of adults with moderate-to-severe atopic dermatitis whose condition is not properly controlled with topical therapies. Both companies have another tryst with the FDA on Oct. 28.
Type of Application: BLA
Candidate: Cemiplimab
Indication: Metastatic cutaneous squamous cell carcinoma, or CSCC, or patients with locally advanced CSCC who are not candidates for surgery
Date: Oct. 28
ADMA Seeks FDA Nod For Relaunch of Immunodeficiency Treatment
Company: ADMA Biologics Inc (NASDAQ: ADMA)
Type of Application: Prior Approval Supplement, or PAS to amend the FDA-approved BLA
Candidate: Bivigam
Indication: Treatment of primary humoral immunodeficiency
Date: Oct. 25
Jazz Knocks FDA Altar For Pediatric Sleep Disorder Drug
Company: Jazz Pharmaceuticals PLC (NASDAQ: JAZZ)
Type of Application: sNDA
Candidate: Xyrem oral solution
Indication: Cataplexy and excessive daytime sleepiness in pediatric narcolepsy patients
Date: Oct. 27
TherapeuticsMD's Seeks Approval For Drug to Treat Perimenopausal Symptoms
Company: TherapeuticsMD Inc (NASDAQ: TXMD)
Type of Application: NDA
Candidate: TX-001HR (bio-identical hormone therapy combination of estradiol and progesterone in a single, oral softgel)
Indication: Moderate-to-severe vasomotor symptoms due to menopause
Date: Oct. 28
Paratek-Allergan's Acne Treatment Candidate Awaits Clearance
Company: Paratek Pharma and Allergan plc (NYSE: AGN)
Type of Application: NDA
Candidate: Sarecycline
Indication: Moderate to severe acne vulgaris in patients 9 years of age and older
Date: October (estimated based on the 10-month standard review period from the NDA acceptance date of Dec. 20)
Adcom Meeting Schedule
The Oncologic Drugs Advisory Committee will meet Oct. 10 to discuss Celltrion's BLA for CT-P10, a proposed biosimilar to Genentech's Rituxan, for treating CD20-positive, B-cell Non–Hodgkin's Lymphoma.
The Anesthetic and Analgesic Drug Products Advisory Committee of the FDA will discuss Oct. 11 Trevena Inc (NASDAQ: TRVN)'s NDA for oliceridine 1 milligram/milliliter injection for the management of moderate-to-severe acute pain in adult patients for whom an intravenous opioid is warranted. The committee will evaluate safety, efficacy as well as benefit-risk considerations.
The Anesthetic and Analgesic Drug Products Advisory Committee will also review AcelRx Pharmaceuticals Inc (NASDAQ: ACRX)'s NDA for sufentanil sublingual tablets for treating moderate-to-severe acute pain severe enough to require an opioid analgesic and for which alternative treatments are inadequate. The committee will look at risk-benefit considerations and also recommend approvability of the candidate. The Adcom meeting is scheduled for Oct. 12. The NDA was handed down a CRL in Oct. 2017 following which a resubmission has been made, with the new PDUFA date set for Nov. 3, 2018.
The FDA has convened a joint meeting of the Gastrointestinal Drugs Advisory Committee and the Drug Safety and Risk Management Advisory Committee Oct. 17 to discuss Sloan Pharma's sNDA for Zelnorm for the treatment of women with irritable bowel syndrome with constipation who don't have a history of cardiovascular ischemic disease.
The Gastrointestinal Drugs Advisory Committee will discuss Oct. 18 Shire PLC (NASDAQ: SHPG) unit Shire Development, LLC's NDA for prucalopride tablets for oral administration to treat chronic idiopathic constipation in adults.
View Comments and Join the Discussion!
Posted-In: Bivigam CemiplimabBiotech News Previews FDA Top Stories Trading Ideas Best of Benzinga