The Daily Biotech Pulse: FDA Nods For Adamis, Eli Lilly, Pfizer; Spero, Obseva Report Positive Trial Results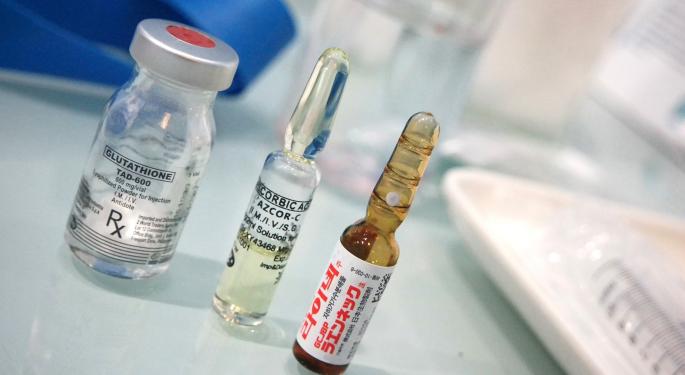 Here's a roundup of top developments in the biotech space over the last 24 hours.
Scaling the Peaks
(Biotech stocks hitting 52-week highs on Sep. 27)
Down In The Dumps
(Biotech stocks hitting 52-week lows on Sep. 27)
Clovis Oncology Inc (NASDAQ: CLVS)
Entasis Therapeutics Holdings Inc. (NASDAQ: ETTX)
Tonix Pharmaceuticals Holding Corp (NASDAQ: TNXP)
Stocks In Focus
FDA Approves Eli Lilly's Preventive Migraine Drug
Eli Lilly And Co (NYSE: LLY) said the FDA has approved Emgality 120 mg injection for the preventive treatment of migraine in adults. It is a once-monthly, self-administered subcutaneous injection. The company said Emgality will be available shortly after the approval.
Pfizer's Drug For Mutation-Driven Lung Cancer Greenlighted by FDA
Pfizer Inc. (NYSE: PFE) announced FDA approval for its Vizimpro, a kinase inhibitor for the first-line treatment of patients with metastatic non-small cell lung cancer with epidermal growth factor receptor exon 19 deletion or eon21 L858R substitution mutations as detected by an FDA-approved test
Adamis' Low-dose Symjepi Approved by FDA
Adamis Pharmaceuticals Corp (NASDAQ: ADMP) said a lower dose version of its Symjepi for the emergency treatment of allergic reactions, including anaphylaxis received FDA approval.
"The approval of the lower dose form of Symjepi represents another milestone for the company. We are working closely with Sandoz to bring this product to market and hope that it, along with the higher (0.3mg) version, will be well received in the market," the company said.
The stock slipped 4.35 percent to $3.85 in after-hours trading.
See Also: Attention Biotech Investors: Mark Your Calendar For These October PDUFA Dates
TherapeuticsMD Discusses TX-001HR Label With FDA
TherapeuticsMD Inc (NASDAQ: TXMD) said it has entered into discussions with the FDA regarding the proposed label for TX-001HR, its investigational bio-identical hormone therapy combo of estradiol and progesterone in a single gel for treating moderate-to-severe vasomotor symptoms due to menopause. The PDUFA date for the completion of the review is Oct. 28.
The stock rose 1.51 percent to $6.72 in after-hours trading.
Spero's Bacterial Infection Treatment Produces Positive Results In a Phase 1 Dose Escalation Trial
Spero Therapeutics Inc (NASDAQ: SPRO) released final analysis of its Phase 1 ascending dose and multiple ascending dose trial of SPR994, its product candidate for treating Gram-negative infections.
The company said the data supports advancement of the candidate at a dose of 600mg administered thrice a day into a pivotal Phase 3 study for treating complicated urinary tract infections. This trial is expected to be initiated around the end of 2018.
The stock rallied 10.95 percent to $11.75 in after-hours trading.
Obseva Reports Positive Trial Results For Endometriosis Pain Drug
Obseva SA (NASDAQ: OBSV) announced additional positive results for its EDELWEISS clinical trial that evaluated its oral GnRH antagonist linzagolix for treating endometriosis-associated pain. Both dysmenorrhea and non-menstrual pelvic pain showed sustained reduction or further improvement after 24 weeks of treatment, as compared to the positive 12-week results that were announced in June 2018.
Aldeyra Prices Common Stock Offering
Aldeyra Therapeutics Inc (NASDAQ: ALDX) said it has priced its underwritten public offering of 5.25 million shares at $13.75 per share, a discount to the closing price Thursday. The company expects to generate gross proceeds of $72.2 million from the offering.
The stock fell 1.05 percent to $14.20 in after-hours trading.
On The Radar
PDUFA Date
The FDA is set to rule on Insmed Incorporated (NASDAQ: INSM)'s NDA for its Amikacin Liposome Inhalation Suspension, or ALIS, for treating nontuberculous mycobacterial, or NTM, lung disease caused by Mycobacterium avium complex, or MAC.
IPO
Gritstone Oncology, a biotech company developing a therapy to enhance checkpoint immuno-oncology drugs, will offer 6.07 million shares in a price range of $13-$15. The shares would be listed on the Nasdaq under the ticker symbol GRTS.
View Comments and Join the Discussion!
Posted-In: Biotech Earnings News Offerings FDA Top Stories Trading Ideas Best of Benzinga