What Pharmaceuticals Spend On Lobbying To Influence Trump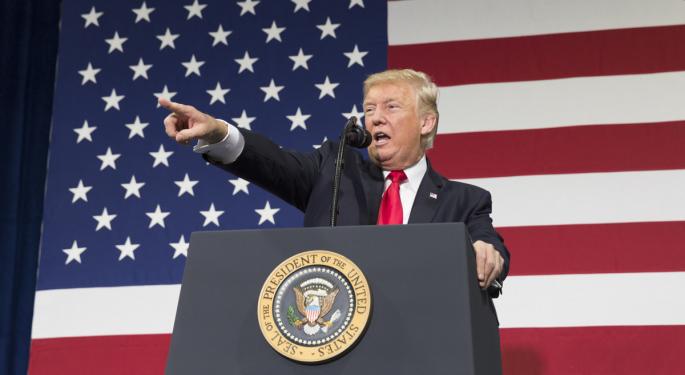 Pharmaceuticals need a palliative in the age of Donald Trump.
Even before taking office, the president threatened the industry's profit model with a commitment to lower treatment prices. He accused drugmakers of "getting away with murder" and suggested "new bidding procedures" to increase competition.
Shortly after, Trump proposed a $5.8 billion funding cut for the National Institutes of Health, which some experts said would eliminate early-stage research and ultimately stunt clinical developments industry-wide.
Amid these threats, pharmaceuticals and biotechs spent $144,778,982 on lobbying in the first eight months of 2017, according to the Center for Responsive Politics. The partial-year figure is almost on par with the industry's spending for the entire year of 2004, but it indicates a pace that would yield the lowest annual sum in a decade.
Related Link: The 45 Accounts Donald Trump Follows On Twitter
Here are the top 10 spenders on lobbying so far this year:
1. Pharmaceutical Research & Manufacturers of America: $14.2 million
The organization represents some of the largest firms in research, from Sanofi SA (ADR) (NYSE: SNY) and Bristol-Myers Squibb Co (NYSE: BMY) to GlaxoSmithKline plc (ADR) (NYSE: GSK) and Johnson & Johnson (NYSE: JNJ). Each member has much to lose from NIH budget cuts.
2. Amgen, Inc. (NASDAQ: AMGN): $6.6 million
With reported acquisition interest, a number of ongoing clinical trials, and outstanding requests with the Food and Drug Administration, Amgen's future is largely reliant on federal decisions.
3. Novartis AG (ADR) (NYSE: NVS): $5.9 million
FDA approval for rival candidates has offset equally positive news out of Novartis this year, revealing competitive struggles in a still expanding field.
4. Pfizer Inc. (NYSE: PFE): $5.7 million
Between patent expirations, risk surrounding high-priced Medicare drugs, and analyst expectations of a "major" merger, the firm is highly exposed to regulatory activity.
5. Bayer AG (ADR) (OTC: BAYRY): $5.0 million
The company awaits U.S. approval to close its $128-per-share purchase of Monsanto Company (NYSE: MON).
6. Biotechnology Innovation Organization: $4.7 million
7. Merck & Co., Inc. (NYSE: MRK): $3.7 million
8. Teva Pharmaceutical Industries Ltd (ADR) (NYSE: TEVA): $3.5 million
9. Eli Lilly and Co (NYSE: LLY): $3.5 million
10. AbbVie Inc (NYSE: ABBV): $3.2 million
Related Link: Curing Disease Is Bad For Business: How Do Big Pharma Companies Continue Their Growth?
________
Image Credit: By Joyce N. Boghosian - https://www.flickr.com/photos/whitehouse/36550024310/, Public Domain, via Wikimedia Commons
View Comments and Join the Discussion!
Posted-In: biotechsBiotech Education Health Care Futures Politics Markets General Best of Benzinga