What Would A $5.8 Billion NIH Cut Look Like? Devastation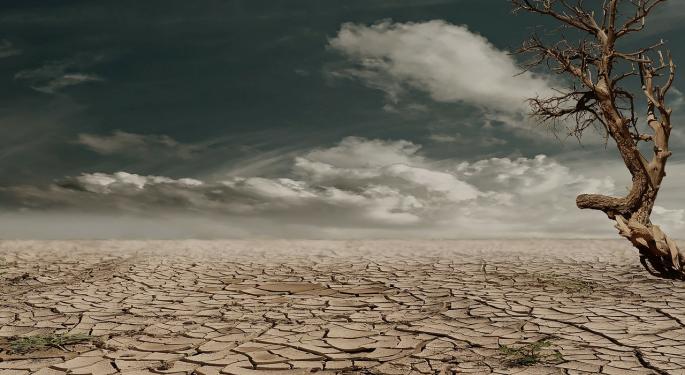 Neither Republicans nor Democrats are eager to cut the National Institutes of Health funding by the president's suggested $5.8 billion, but with the proposal still on the table, the sum is not yet safe.
And as 18 percent of the current $31.7 billion budget hangs in the balance, more Americans ought to be on the edge of their seats.
"That's a huge number," Jason Napodano, managing director of BioNap Consulting, told Benzinga. "That's a big number, 18 percent, and I think it could have potentially devastating effects in the years to come."
Limiting Seeds
The NIH provides grant money critical to health research and drug development. Funds generally support academic institutions, private research firms and small pharmaceuticals, which then purchase equipment and eventually sell preclinical candidates to major pharmaceuticals.
"The NIH in some instances is the very beginning of a lot of discovery that eventually turns into an idea that turns into a drug that gets in a trial and wins approval, so [the cut] is at the very early stage," FBB Capital's Mike Bailey said.
A disruption early in the schedule, then, could generate sector-wide upheaval. Although, it may go unnoticed for some time. The chain of events between initial NIH funding and U.S. Food and Drug Administration approval sometimes takes between five and 20 years, so a delay in the foremost step is ultimately a delay in the decades-long process to get a drug into a patient's system.
Napodano drew this metaphor: A lush forest — or market of drugs — is the product of a small fraction of planted seeds — or early-stage research. Grant-reliant universities sow, while pharmaceutical companies reap.
"I think it starts small, but what I think people need to be aware of is that these [molecules] are the seeds that start the forest," he said. And when those seeds dry up, so does the spectrum of available drugs.
Lab Droughts
Essentially, the profitability of major industry players is largely tied to academic or private preclinical lab work — nearly all of which is grant-dependent.
"People experiment and investigate at the university level, and then if something looks interesting, maybe one out of a thousand of molecules being investigated at the university level get spun out or scooped up into an actual biotech company," Napodano said. "If a fifth of all the molecules that are being developed in academic labs right now dries up, you could see a significant ramification in a few years down the line with small startup biotech companies not being as prevalent because they are primarily getting these molecules from universities and small startup grants like this."
He estimated that the majority of biotech companies and university labs receive at least some NIH funding for any number of projects.
Big Pharma
Their funding restrictions could cripple major pharmaceuticals vulnerable to licensing droughts. The budgets of Johnson & Johnson (NYSE: JNJ), Novartis AG (ADR) (NYSE: NVS), Pfizer Inc. (NYSE: PFE), Eli Lilly and Co (NYSE: LLY), Merck & Co., Inc. (NYSE: MRK) and GlaxoSmithKline plc (ADR) (NYSE: GSK) will remain relatively unaffected, as most generate funds through stock issuance and sales revenue rather than grants.
But they'll suffer from the loss of preclinical research.
"I think [the NIH cut] will be a huge negative because Pfizer [for example] is an in-licensing machine," Napodano said.
The company spent nearly $7.9 billion on research and development with the majority of expenses acquiring large, late-stage programs, Phase 2 or Phase 3 clinical trials and post-approval molecules from other industry players.
"Pfizer is going to spend money to acquire and in-license a lot of the preclinical and small molecules to fill in its pipeline, and it's going to spend its heavy R&D dollars on the late-stage stuff," Napodano said. "So if the early stage stuff starts to dry up at the academic level or the small bio level, that's less hunting that Pfizer gets to do with the dollars that it's allocated for its early-stage pipeline."
The result could be "devastating," both for Pfizer and its peers, as each approved drug comes from more than one thousand preclinical drugs, per Napodano's estimation. In other words, for every thousand preclinical investigations, only one drug ever makes it to market.
"If that ratio starts to get worse, you'll see efficiency drop, and ultimately you'll see profitability drop," he said, adding that $5.8 billion generally supports thousands or tens of thousands of early clinical programs.
But despite the early phase implications of an NIH cut, Bailey said he's not too concerned for large-cap pharmaceuticals.
"If we were to see something more dramatic, some meaningful cut in an NIH budget paired with something else, some drug pricing controls or some other really negative trends or regulations, that's when I'd probably start thinking, 'OK, let's start adding up these pieces,' but at this point, I think that the NIH cut just doesn't really fit with the investment timeframe for a 'Pfizer,'" he said.
Small Pharma
"Where the $5.8 billion getting cut hurts is the small companies that are asking for $500,000 grants, $1 million grants, because that's all preclinical and Phase 1 studies cost," Bailey added.
Largely at risk are Phase 2 "proof of concept" programs funded by the NIH, particularly those of small, private companies unable to raise capital through stock issuance. However, a few publicly traded companies are exposed to the cutbacks.
For example, the Institute currently funds Phase 2 clinical trials for Matinas BioPharma Holdings Inc (NYSE: MTNB)'s lead antifungal agent and Vistagen Therapeutics Inc (NASDAQ: VTGN)'s antidepressant candidate.
The results of their $1- to $2-billion studies will be "instrumental" in supporting design for future trial programs and could have "significant ramifications" on stock price, market value and capacity to raise additional funds through the market. These factors, in turn, could limit the potential to advance their pipelines.
As established companies like Matinas and Vistagen rest in jeopardy, those aspiring to follow their paths may never even move beyond early concepts.
"Those are two examples of small companies that I think are developing potentially breakthrough new molecules that wouldn't be where they are today without significant NIH funding for clinical programs," Napodano said. "If the NIH budgets were to be cut by a fifth, that might be a [type of] program that going forward might not have gotten funded, so a company like Metinas that has what I think is a pretty powerful anti-infectant in stage two might not even be able to get where they are without NIH support."
Burets And Forceps
Life sciences and tools companies are also vulnerable to the funding cuts.
"There's kind of historically a fairly close link between NIH spending and demand for some of these research tools," Bailey said.
The NIH or grant-dependent researchers could slash allocations for lab instruments, putting companies such as Illumina, Inc. (NASDAQ: ILMN) and Thermo Fisher Scientific Inc. (NYSE: TMO) at risk.
However, the magnitude of impact may be relatively small. Global sales could cushion cutbacks by the NIH and primary grant recipients, "so order magnitude, maybe a 10-percent NIH cut is a 5-percent or a 3-percent cut — something like that," Bailey said. "They sort of water down the impact of those companies."
Labs For Hire
And then there are contract research companies, such as Quintiles IMS Holdings Inc (NYSE: Q) and PAREXEL International Corporation (NASDAQ: PRXL), which perform outsourced, early-phase trials for the likes of Pfizer. Funding-strapped clients may limit services from these small- to mid-cap firms.
"So if there is some kind of delay or slowdown in, let's say, early stage research, that may hit some of these contract research companies," Bailey said.
What's $5.8 Billion, Anyway?
At the end of the day, the jury is still out as to the large-scale impact of an NIH budget cut.
"At this point I'm not too concerned," Bailey said. "Having seen the NIH cuts before and then the budget ramps up, it's really hard for me to detect kind of a straight mind from either a budget cut or a spike going to faster drug through-put for a Pfizer. I think about it as noise, frankly. I'm not that scared about it."
But Napodano is convinced of long-term effects.
"That's a big number, and it's something that the market needs to pay attention to because you're planting less seeds, and in this kind of business, you always have to be planting seeds because 99 percent of your seeds are going to die," Napodano said. "I don't think you're going to notice anything immediately, but again, it's because you're not looking at is 'are there giant trees falling over,' what you're looking at is 'are there less seeds being planted.'"
Related Links:
Trump: Drug Industry Is Getting Away With Murder
Posted-In: News Education Health Care Politics FDA Legal Exclusives Trading Ideas Best of Benzinga
View Comments and Join the Discussion!