Groupon, Alibaba, Tesla & Others On Deck: Earnings Season Rolls On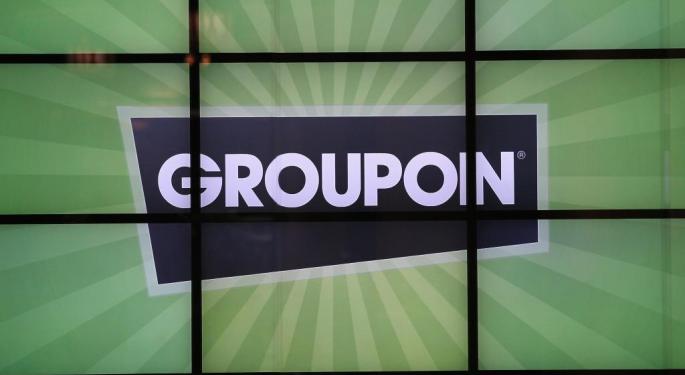 Many of the blue chips and household names have already reported their first-quarter results, but earnings season continues this week.
Highlights on the earnings front will include Comcast Corporation (NASDAQ: CMCSA) and Groupon Inc (NASDAQ: GRPN). Wall Street forecasts call for earnings growth from both of them.
However, analysts anticipate shrinking earnings from Alibaba Group Holding Ltd (NYSE: BABA), Chesapeake Energy Corporation (NYSE: CHK) and Walt Disney Co (NYSE: DIS).
Net losses are expected from the likes of Tesla Motors Inc (NASDAQ: TSLA) and Zynga Inc (NASDAQ: ZNGA).
Here is a brief day-by-day run down of what is expected from these and some of the week's other most prominent reports.
See also: Berkshire Hathaway's Quarter Beats Estimates; Van Tuyl Purchase Price Revealed
Monday
Some nine estimates from Estimize suggest first-quarter results from Comcast will be earnings per share (EPS) of $0.76 on revenue of $17.47 billion. That would be up from EPS of $0.71 and $17.41 billion revenue in the year-ago period.
Note that Comcast fell short of Wall Street estimates by 5 percent in the previous period, the first miss in at least three quarters.
Anadarko Petroleum Corporation (NYSE: APC), MGM Resorts International (NYSE: MGM) and Tyson Foods, Inc. (NYSE: TSN) also are scheduled to report their results Monday. A net loss, smaller EPS and earnings growth, respectively, are predicted.
Tuesday
Archer Daniels Midland Company (NYSE: ADM), HCA Holdings Inc (NYSE: HCA), HCP, Inc. (NYSE: HCP) and Office Depot Inc (NASDAQ: ODP) will report Tuesday morning and will offer up earnings gains, if Wall Street is correct. But EPS declines are expected from DIRECTV (NASDAQ: DTV), Emerson Electric Co. (NYSE: EMR) and Kellogg Company (NYSE: K).
After the markets close, Groupon and Disney are scheduled to share their most recent results. Estimize forecasts call for EPS of $0.02 (33 estimates) and $1.17 (62 estimates), respectively. That compares to a net loss last year for the former, and represents about 6 percent EPS growth for the latter.
As far as revenue, the consensus forecasts have Groupon posting $806.17 million and Disney offering up $12.43 billion. That would be a gain of more than 6 percent on the top line for both of them.
Others reporting late Wednesday include Devon Energy Corp (NYSE: DVN), Herbalife Ltd. (NYSE: HLF), Kinross Gold Corporation (USA) (NYSE: KGC) and Mylan NV (NASDAQ: MYL). Smaller bottom line results are expected from all of these but Mylan. In addition, look for net losses from SolarCity Corp (NASDAQ: SCTY) and Sprint Corp (NYSE: S), if Wall Street forecasts come to pass.
Wednesday
Before the regular trading session begins, Chesapeake Energy steps onto the earnings stage. Wall Street analysts are looking for just $0.04 EPS on $3.68 billion in revenue. That would be well down from the $0.59 per share and $5.05 billion posted in the first quarter of last year.
Note that analysts expected EPS of $0.08 just 60 days ago.
Results from Tesla will be a highlight later in the day. The consensus of 83 Estimize estimates is a net loss of $0.13 per share, which is more optimistic than the $0.50 per share loss that Wall Street anticipates.
The Estimize revenue projection is more positive too: $1.13 billion, versus $1.04 billion from analysts. Tesla fell far short of Wall Street's EPS estimate in the previous period.
Also mid-week, Anheuser-Busch InBev, MetLife and Whole Foods Market are expected to show earnings growth in their most recent quarters, while Activision Blizzard, Occidental Petroleum, Twenty-First Century Fox and Transocean LTD (NYSE: RIG) are believed to have lower earnings.
Net losses are expected from Goodrich Petroleum and Marathon Oil.
Thursday
Chinese e-commerce giant Alibaba is scheduled to share its results before the markets open, and per-share earnings are expected to have dropped from $0.75 in the previous period to $0.45. (Alibaba has been public for less than a year.) That forecast is based on 26 estimates collected by Estimize. Revenue for the first quarter is believed to be around $2.78 billion.
Later in the day, Zynga will say that it had a net loss of $0.02, according to 43 Estimize estimates. The online game provider has not shown a profit in the past four quarters. However, revenue is forecast to total $160.3 million, which is higher than both the Wall Street forecast and the company's guidance.
Be sure to watch for anticipated earnings gains from NVIDIA and Orbitz Worldwide, relative to the same periods of last year, on Thursday as well. However, CBS and Silver Wheaton are projected to have EPS that are lower.
The forecasts for Alcatel-Lucent, Apache and ArcelorMittal call for net losses.
See also: These 10 Stocks Could Move Big On Monday
Friday
AOL, NRG Energy and WhiteWave Foods take their turns in the earnings spotlight early Friday. Analysts are looking for smaller earnings from AOL and earnings growth from NRG, while EPS from the WhiteWave are likely to be the same as a year ago.
View Comments and Join the Discussion!
Posted-In: Alibaba chesapeake energy Comcast disney GrouponEarnings Previews Trading Ideas Best of Benzinga