Meet Tradiv: A Startup Bringing Cannabis Wholesale Into The Digital Age – Before It's Too Late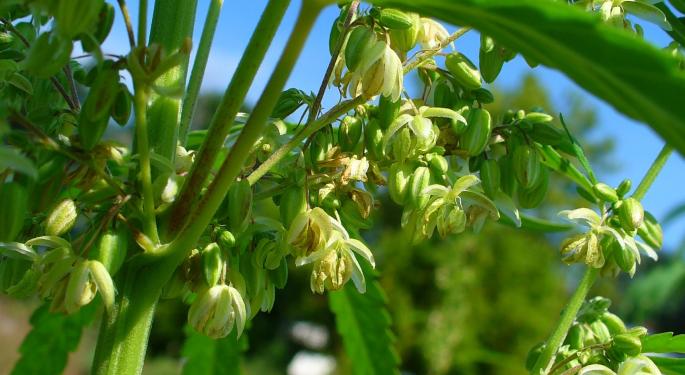 For more than 80 years now, underground weed producers have recurred to brokers to orchestrate sales, in an effort to minimize their exposure. Not being involved with the buyer seems to be the preferred strategy when conducting an illegal transaction.
Interestingly, cannabis legalization has not made brokers obsolete. Even when deals take place in the light, wholesales rely on them to make things go smoothly — think of it as having an outsourced sales team. However, the advent of the digital age has brought another component into the equation: technology.
Those who embrace technology seem to remain efficient and competitive, while those who don't tend to lag. In fact, what's going on in the marijuana industry right now is comparable to a phenomenon seen in the travel industry not long ago. Companies like Priceline Group Inc (NASDAQ: PCLN), Expedia Inc (NASDAQ: EXPE), American Airlines Group Inc (NASDAQ: AAL) and Alaska Air Group, Inc. (NYSE: ALK), which embraced digital bookings, thrived. Meanwhile, those that didn't adapt fast enough, failed.
In an effort to prevent cannabis brokers from experiencing that same fate as those slow-to-evolve companies (think Kodak and Blockbuster, or even Deutsche Lufthansa AG (ADR) (OTC: DLAKY) (ETR:LHA) (FRA:LHA) and Air France KLM SA (ADR) (OTC: AFLYY)), Colorado-based startup Tradiv has come up with a proactive solution.
Forget The Deep Web
Tradiv is an online cannabis wholesale platform seeking to transform the marijuana market by offering a digital brokerage system that makes transactions more efficient, fair and transparent. Intrigued by such claims, Benzinga decided to reach out to the company's director of sales, John Manlove, for more detail.
Initially, the idea was to create an Amazon.com, Inc. (NASDAQ: AMZN)-type marketplace experience to allow legal cannabis businesses within a particular market/state to sell and buy wholesale "efficiently, securely, and in compliance with the state regulations," Manlove said.
However, two years later, the concept has evolved. "We have come to the realization that, while we do think the market will go down the route of an open marketplace — like Amazon eventually — right now it is more positioned for something that is a bit of a hybrid between what Amazon kind of creates and what Redfin or Realtor.com does, where it allows brokers, people that represent multiple companies on the sale side, to leverage a piece of technology that allows them to not only manage their sellers and their inventory really efficiently, but also bridge the gap in managing their buyers really efficiently."
So, this is where Tradiv comes in, not only as a marketplace-type platform that allows for direct transactions, but also a solutions provider for brokers.
Crunching The Numbers
Tradiv started about two years ago, raising $1 million in seed financing from Canopy Boulder, ArcView, and some family and friends of the founders. A few months later, in the summer of 2016, the company closed a Series A round of $3.5 million. Actually, many of the private equity and angel groups that pitched in are now a part of the firm's board.
"We are currently looking to position ourselves to do a fund raise at the end of this year with hopes of expanding into the Oregon market, as well as building out some of these new tech features and potentially looking to create some integrations with various other companies that are really charging ahead and creating really cool technology within the space," Manlove told Benzinga.
At the time, Tradiv operates in Colorado and California, working with dispensaries, cultivators and brokers, focusing on cannabis flowers, trims and extracts — but not edibles and other derivate products. The company estimates that about 25 to 30 percent of the Colorado market uses Tradiv.
Management projects that, by the end of 2017, an average of more than $1 million in sales will go through the sites every month. "This figure fluctuates with growth, but right now we're seeing month-after-month growth of about 50 percent to 85 percent in gross market value of product going through the sites," Manlove ended.
More From Benzinga:
Marijuana Industry Insiders On Why The IRS Is Targeting Them — And How To Avoid Business Disruption
Maricann CEO Talks C$42.5M Financing Round And German Expansion: 'We Are In A Pole Position'
_________
Image Credit: By H. Zell (Own work) [GFDL (http://www.gnu.org/copyleft/fdl.html) or CC BY-SA 3.0 (http://creativecommons.org/licenses/by-sa/3.0)], via Wikimedia Commons
View Comments and Join the Discussion!
Posted-In: Cannabis Entrepreneurship Futures Politics Topics Top Stories Startups Exclusives Best of Benzinga