FCC Announces April 'Infrastructure Month' - These Companies Stand To Benefit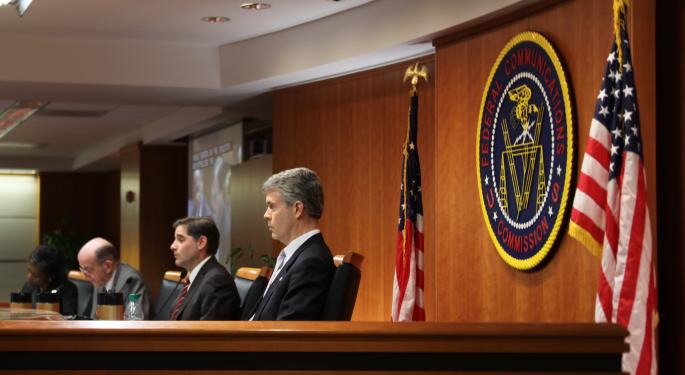 The Federal Communication Commission, or FCC, has dubbed April "Infrastructure Month" and has scheduled a meeting on April 20 to chalk out several proposals aimed at bringing the benefits of the digital age to all Americans.
To achieve this purpose, the FCC has set a three-prong strategy:
Make it easier for companies to build and expand broadband networks.
Reduce the cost of broadband deployment.
Eliminate unnecessary rules that slow down or deter deployment.
"Infrastructure investment is critical to closing the digital divide in our country and bringing high-speed Internet access to more rural Americans. Broadband has also made many sectors of the economy more productive, from shipping to energy. And it's has given birth to entirely new industries, like the mobile apps economy, telemedicine, online education, and the nascent Internet of Things," FCC Chairman Ajit Pai said in a March 30 release.
Pai said the FCC would be voting on several proposals at its April 20 meeting. Some of the proposals on the FCC radar include the following, detailed below.
A Few Proposals
Wired Infrastructure
The FCC chairman has sought support from his colleagues at the commission to back rules that would help construction of wired networks. Pai also said he would seek to lower costs for and speed deployment of the internet-equipment tied to utility poles. Additionally, the commission said it would support the transition from legacy copper networks to fiber-based network and services.
Wireless Infrastructure
Providing a sneak-peak into the wireless infrastructure of tomorrow, Pai said wireless networks of the future would have small cells as wireless access points instead of the tall towers. The commission is also looking to expedite proposals to help private sector build 5G networks.
Business Data Services
Pai said the commission would vote on new rules to update the rules for business data service, or BDS, which is known as special access.
Facilitating Rural Deployment
The commission also intends to tweak one of the rules for the Universal Service Fund, or USF, which subsidizes broadband deployment for small carriers to ensure rural households that cannot be served by these carriers are not left stranded without broadband service.
UHF Discount
The commission will review whether to restore the Ultra-High Frequency, or UHF, discount related to the national television ownership cap, which was scraped last September by a party-line vote.
Companies That Stand To Benefit From The Increased Thrust On Infrastructure
Wireline Companies
Wireless Companies
Networking Equipment Vendors
Fiber Optic Cable Makers
Corning Incorporated (NYSE: GLW).
At the time of writing, the SPDR S&P International Teleco Sec (ETF) (NYSE: IST) was down 0.12 percent at $24.06, and the SPDR Series Trust (NYSE: XTL) was slipping 0.18 percent at $70.83.
Related Links:
What The Halting Of Data Security Rules Means For Broadband Companies
Why Trump May Have Given CBS A Reason To Look At Buying New TV Stations
_________
Image Credit: By Federal Communications Commission - 7/12/2011 Open Commission Meeting, Public Domain, via Wikimedia Commons
View Comments and Join the Discussion!
Posted-In: News Politics Topics Legal Movers Tech Media Trading Ideas Best of Benzinga