Net Neutrality Opponent To Head The FCC; Who Benefits?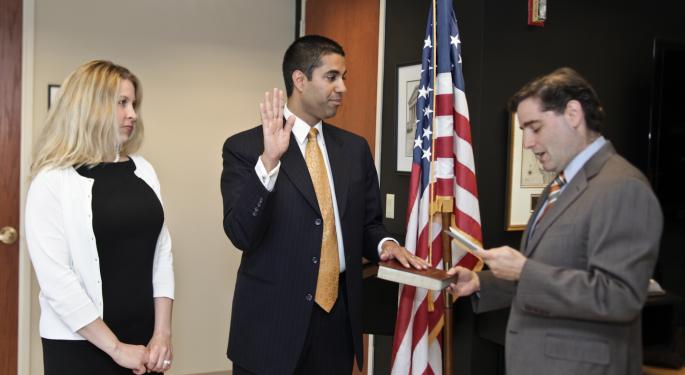 President Donald Trump has named Ajit Pai as the chairman of the Federal Communications Commission. Pai, a FCC commissioner, has been elevated to the top position at the commission following the resignation of Tom Wheeler last month.
In a statement acknowledging the offer, Pai said he looks forward to working with the new administration, his colleagues at the commission, members of Congress and the American public to bring the benefits of the digital age to all Americans.
Tamer FCC Regulations On The Chopping Block?
Pai's elevation means the commission could be leaning toward a more restrained and permissive stance, in line with Trump's call for looser regulations. In the past, Pai had always been at loggerheads with his predecessor on a range of issues, including net neutrality, accusing the commission of overstepping its authority.
The FCC is likely to become Republican-dominated, as it is believed that the two vacant slots will be filled by candidates from either of the parties. The five-member commission can only hold three members from a single party. Currently, the commission has one Democrat and two Republicans, and it is likely the additional two members to fill out the board will be one Democrat and one Republican. Incidentally, Pai may not have to go through the grind of a Senate hearing, unless and otherwise he is appointed on a long-term basis.
Pai's Credentials And Stance
A Kansas-based lawyer, Pai worked for Verizon Communications Inc. (NYSE: VZ) in early 2000s and was nominated to the FCC in 2012. During his tenure at the FCC, he has opposed several rules aimed at lowering the cost of cable boxes, advancing municipal broadband, lowering rates for prison phone calls and restricting data collection by ISPs, etc. Pai has also been known for writing letters, op-eds and written dissenting opinions that are apparently inflammatory.
Not Neutral On Net Neutrality
Pai has taken a dissenting stance against net neutrality since February last year and has voiced his opinion against it in a 67-page dissent statement. His argument has been the market will regulate itself fine and an unfettered internet has evolved into an amazing success story, changing lives and the world.
What Is Net Neutrality?
Net neutrality, aka open internet, is a principle that ISPs should give consumers access to all legal content and applications on an equal basis, without favoring some sources or blocking others. Therefore, ISPs cannot charge content providers for speedier delivery of their content on fast lanes or slowing content of content providers they compete with. This assumes significance in an era when telecom companies are engaged in vertical integration and getting into content.
A case in point is Comcast Corporation (NASDAQ: CMCSA), which owns NBCUniversal. The company delivers content, namely TV shows and movies through its Xfinity Internet Service. AT&T Inc. (NYSE: T) has negotiated a deal to buy Time Warner Inc (NYSE: TWX), although the deal is yet to be consummated.
Recent reports suggest that Verizon, which already has an agreement to buy Yahoo for $4.8 billion, may be eyeing to buy Comcast.
With Pai, and his overt opposition to net neutrality, at the helm, net neutrality is expected to be dismantled. He had recently expressed his resolve to reverse or overturn net neutrality in one way or another.
Beneficiaries If Net Neutrality Is Dismantled
ISPs such as AT&T, Verizon and Comcast stand to gain on the potential rollback of the open internet, as they can operate with less regulation and reduced transparency.
Wireless providers such as Sprint Corp (NYSE: S), T-Mobile US Inc (NASDAQ: TMUS) etc., which were also included in the ambit of net neutrality, could now heave a sigh of relief. Some of the existing deals of these companies such as allowing users to stream music without it counting against the data caps, may now be allowed.
Losers On Reversal Of Net Neutrality
Search engines, aggregators and social networking sites such as Alphabet Inc (NASDAQ: GOOG) (NASDAQ: GOOGL) Google, Facebook Inc (NASDAQ: FB), Microsoft Corporation (NASDAQ: MSFT), etc. could lose, as ISPs now assume the role of the traffic regulator on the Internet, taking the power away from traditional regulators of web traffic such as search engines.
Mobile App developers also stand to lose as the standards for mobile internet access will not be the same as regular home and business internet connections.
Content providers such as Netflix, Inc. (NASDAQ: NFLX), Amazon.com, Inc. (NASDAQ: AMZN), Hulu, Pandora Media Inc (NYSE: P), Microsoft's Skype and Google's YouTube are also among the affected parties, as most of the evening hour traffic is taken by these streaming services, adding costs to the ISPs without generating proportionately higher revenues. With ISPs now regaining the power to levy higher charges, these content companies can see their profitability suffer.
At the time of writing, iShares Dow Jones US Telecom (ETF) (NYSE: IYZ) was down 0.68 percent at $35.06.
Image Credit: By Federal Communications Commission [Public domain], via Wikimedia Commons
View Comments and Join the Discussion!
Posted-In: News Politics Legal Management Movers Tech Trading Ideas General Best of Benzinga