Market Wrap For November 20: Inflation Data Points To "No" Tapering, Fed Meeting Notes Points To "Yes" Tapering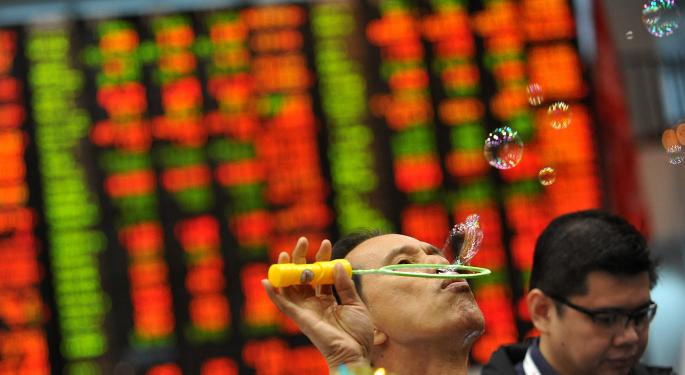 Investors and traders welcomed news of lower than expected inflation. The U.S. Labor Department monthly Consumer Price Index (CPI) data for October fell 0.10 percent, compared to an estimated flat reading.
Year over year, the index is up 1.00 percent, in line with expectations. The Fed's target inflation rate is 2 percent, so the CPI data gives the central bank one less reason to cut back its current accommodative policy.
Bernanke commented on the "hot topic du jour" last night by hinting that the Fed's tapering possibilities depends on the job market improving further and inflation rising to the 2 percent target.
Comments out of Fed's Bullard revealed that the Fed could start tapering back its bond buying program as soon as next month. "It is definitely on the table, but it is going to depend on the data" the St. Louis Federal Reserve chief told Bloomberg. "A strong jobs report, I think, would increase the probability some for a December taper." Bullard hopes that when the Fed does taper, the markets will be well prepared.
At 2:00PM the Fed's minutes were released and indicated that the Fed would start to taper at one of its next few meetings even if the job market hasn't improved enough. Analysts began speculating tapering would occur next year, with March being the most likely scenario for tapering.
The Dow lost 0.41 percent, closing at 15,900.82.

The S&P 500 lost 0.36 percent, closing at 1,781.37.

The Nasdaq lost 0.26 percent, closing at 3,921.27.
Gold lost 2.35 percent, trading at 1,243.60.
Oil lost 0.20 percent, trading at $93.70 a barrel.
Silver lost 2.45 percent, trading at $19.83.
News of Note
U.S. Retail Sales advanced month over month in October by 0.40 percent, above the 0.10 percent that was projected. The previous reading was 0.10 percent.
U.S. Existing Home Sales for October came in at 5.12 million, lower than the estimated 5.15 million. The previous reading came in at 5.29 million. October marks a decline of 3.20 percent from the previous month, with expectations being a decline of 2.70 percent.
U.S. crude oil inventories rose less than expected last month to a seasonally adjusted annual rate of 0.375 million with expectations for the number to come in at 0.900 million.
Reports surfaced that the European Central Bank is considering a negative deposit rate. The policy would essentially punish commercial lenders who park excess cash.
Equities-Specific News of Note
Johnson & Johnson (NYSE: JNJ) confirmed the company will pay $2.47 billion to at least 8,000 patients who were injured in some degree as a result of the company's artificial hips. As this news was expected, shares of the Dow component were unaffected, closing the day higher by 0.31 percent at $95.15.
Priceline (NASDAQ: PCLN) rose 2.63 percent, closing at $1,147.78 following the company's addition to Goldman Sachs (NYSE: GS) "Conviction Buy List." Shares have been given a new price target of $1,500. The analyst, Heath Terry described the company as: "One of the most compelling risk/reward scenarios in our internet coverage."
Cantor Fitzgerald cut Twitter (NYSE: TWTR) to Hold with a $32 price target. The analyst feels that Twitter's valuation makes Facebook (NASDAQ: FB) a better buy based on EV/Revenue and EV/EBITDA data. Twitter closed 1.72 percent lower at $41.03 while Facebook edged higher 0.17 percent, closing at $46.44.
Caterpillar (NYSE: CAT) released its three month dealer stats on retail machinery sales. Overall, retail sales declined by 12 percent. Shares lost 1.18 percent for the day, closing at $82.68.
Related: Caterpillar Shares React After 8-K Form Disclosed Dealer Retail Shares and Power System Statistics
Yahoo! (NASDAQ: YHOO) announced a $5 billion share buyback program with the help of a $1 billion convert. Shares gained 2.83 percent, closing at $35.61.
Related: Yahoo's $5 Billion Buyback Plan
Best Buy (NYSE: BBY) was upgraded to Buy from Neutral at Citigroup (NYSE: C). This comes a day after the retailer's shares lost over 10 percent following a less than optimistic outlook for the company's margins in the coming quarter. The positive report was not enough to keep shares in the green for the day as it lost 0.18 percent, closing at $38.71. Share are sharply lower from its $44.66 highs it was trading at in the beginning of the month.
Boeing's (NYSE: BA) 2016 prospects aren't look to bright according to analysts at Oppenheimer. Shares were downgraded to Perform from Outperform as "2016 looks to bring a material drop-off in contribution from several key cash cow programs, including the 777, C-17, F-18, and V-22." Shares closed the day lower by 3.28 percent, closing at $132.49.
Philip Morris (NYSE: MO) revealed the company will enter the electric cigarette market in 2014, and announced a downbeat outlook for the rest of the year. Shares closed lower by 2.36 percent, at $89.31.
Ahead of Workday's (NASDAQ: WDAY) earnings next week, analyst at Cowen downgraded shares to Market Perform and lowered its price target to $75 from $93. Shares lost 2.23 percent, closing at $72.21.
NQ Mobile (NYSE: NQ) released its revenue guidance for 2014 within a $305 million to $310 million. The consensus had the company's 2014 revenues pegged at $282.3 million. Shares gained 4.11 percent, closing at $13.92.
Qualcomm (NASDAQ: QCOM) CEO promised the company will return 75 percent of its free cash flow to shareholders. The company recently announced a new $5 billion buyback program, $4 billion of which will occur in 2014. The company also unveiled new processors during its analyst day. Despite the positive outlook, shares lost 1.13 percent, closing at $71.03.
Winners of Note
J.C. Penney (NYSE: JCP) reported its third quarter results pre market with an EPS loss of $1.81 a share. The Street was looking for a loss of $1.64 a share. Revenue also missed, coming in at $2.78 billion, shy of the $2.8 billion the Street was looking for. However investors found some positive in the report as the company offered an improved guidance for fourth quarter comp sales and margins. Shares finished the day higher by 8.38 percent, at $9.44. Shares have gained momentum since the end of October when it was trading at 52 week lows of $6.24.
La-Z-Boy (NYSE: LZB) hit an 11 year high after the company reported a positive third quarter earnings report and doubling its dividend payout. The company reported a profit of $0.31 a share when the Street was looking for $0.26. The company's revenues of $366.4 million came in above the $349 million the Street was looking for. Shares gained 9.79 percent, closing at $26.81.
Zhone Technologies (NASDAQ: ZHNE) was initiated with a Buy rating at Craig-Hallum and an $8 price target. Shares closed the day higher by 43.06 percent at $5.65.
Decliners of Note
Citron Research has issued a negative report on Voxeljet (NASDAQ: VJET). Citron described the company as "a total [expletive] joke" and that "Voxeljet is the winner in Wall Street's race to the bottom. It's not even a company, it's just a hobby." Shares were hit hard by the report, losing 32.50 percent, closing at $39.15.
Related: Voxelijet Shares Respond After Sour Citron Research Report
Seaspan (NYSE: SSW) announced the pricing of its planned public offering of 3.5 million shares at $22 each. Shares of the company closed yesterday at $23.43. Today, shares lost 9.94 percent, closing at $21.10.
Earnings of Note
A day after Home Depot (NYSE: HD) released its well received earnings, rival Lowe's (NYSE: LOW) failed to equally impress. The company's EPS of $0.47 came in a penny below the Street's estimates of $0.48. The company did, however, beat on revenue by posting $13.03 billion, ahead of the Street's expectations of $12.72 billion. Shares lost 6.17 percent, closing at $47.33.
Related: Home Depot Versus Lowe's: What Three Analysts Are Saying
Staples (NASDAQ: SPLS) reported a third quarter EPS of $0.42, in line with expectations. Revenues, however, declined by 4 percent year over year at $6.11 billion, falling short of the Street's estimates of $6.18 billion. Shares lost 1.56 percent for the day, closing at $15.10.
Deere (NYSE: DE) reported its fourth quarter results with a beat in both EPS and revenue. The company earned $2.11 a share, above the $1.89 the Street was looking for. Revenues of $9.45 billion beat the Street's estimates of $8.68 billion. Shares gained 2.06 percent for the day, closing at $84.52.
J.M. Smucker (NYSE: SJM) , distributor of Folgers coffee missed both revenues and EPS targets pre market. The company reported an EPS of $1.52 while the Street was looking for $1.6. Revenue declined by 4 percent year over year at $1.56 billion, falling short of the Street's estimates of $1.61 billion. Shares lost 6.55 percent for the day, closing at $101.48. Shares lost 6.54 percent for the day, closing at $101.49.
Post market, Green Mountain Coffee Roasters (NASDAQ: GMCR) issued a mix third quarter report which contained elements of good and bad. The good: The company's $0.80 EPS came well above the estimated $0.75. Revenue also beat consensus, coming in at $1.05 billion while the Street was expecting $964 billion. Shares originally surged higher by 8 percent, but has since turned negative as the company hinted at a weak fourth quarter guidance.
Quote of the Day
"What's worrisome? Everyone is worried that they are not worried about anything because no one else is worried about anything. We all like being complacent but we don't want others to know that we are complacent." - Morgan Stanley's Adam Parker in remarks published in the Wall Street Journal today
View Comments and Join the Discussion!
Posted-In: 3D printers 777 Bernanke best buy BoeingNews Short Sellers After-Hours Center Best of Benzinga