18 Stocks And ETFs To Watch In 2018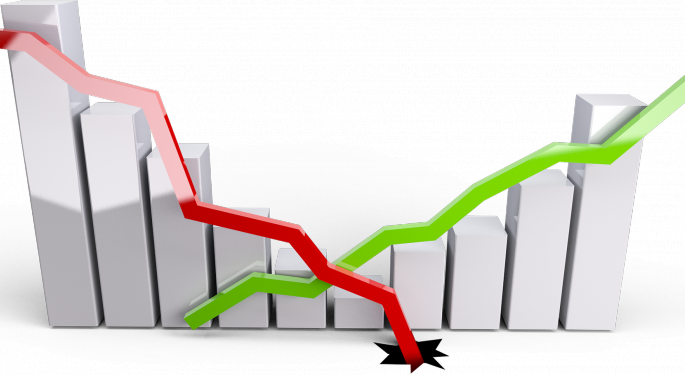 Wall Street is off to a roaring start so far in 2018, but investors still have a long way to go. The S&P 500 gained 20 percent in 2017, but some stocks did much better than others in 2017.
Here's Benzinga's list of 18 stocks and ETFs investors should be watching closely this year.
1. Bitcoin Investment Trust (OTC: GBTC)
How could any list of stocks and funds to watch not start out with the Bitcoin Trust? Bitcoin was the talk of the town on Wall Street in 2017, and the GBTC gained more than 1,700 percent on the year.
2. Amazon.com, Inc. (NASDAQ: AMZN)
Amazon has been a stock to watch every year for the past decade. Investors are anxious to see whether or not the company pushes into the health care business in 2018 and what more it has planned for Whole Foods.
3. Roku Inc (NASDAQ: ROKU)
Roku was arguably the most successful high-profile IPO of 2017. The stock has soared nearly 90 percent since its late-September IPO.
4. Snap Inc (NYSE: SNAP)
On the other end of the high-profile 2017 IPO spectrum, Snap has struggled in its first year on the market, trading well below its $17 IPO price. Investors will be watching to see if Snap turns the tide in 2018.
5. Walt Disney Co (NYSE: DIS)
Disney made one of the biggest deals of 2017, acquiring assets from Twenty-First Century Fox Inc (NASDAQ: FOX) (NASDAQ: FOXA) late in the year. Investors will be watching for regulatory push-back related to the merger, as well as updates on Disney's home-grown streaming service scheduled for launch in 2019.
6. CVS Health Corp (NYSE: CVS)
As much as the Disney/Fox deal will change the media landscape, CVS's buyout of Aetna Inc (NYSE: AET) could trigger a wave of consolidation in the health care sector.
7. Financial Select Sector SPDR Fund (NYSE: XLF)
Rising interest rates, tax cuts and financial deregulation appears to be the perfect storm for bank stocks, but strong market expectations coupled with threats from cryptocurrencies and other fintech ideas are always on the back of investors' minds.
8. iShares S&P Global Infrastructure Index (NASDAQ: IGF)
President Trump promised a $1 trillion infrastructure spending plan, but was relatively quiet on the infrastructure topic in 2017. Trump failed on healthcare reform, but succeeded on tax reform. This year may shed more light on the infrastructure plan.
9. iPath S&P 500 VIX Short Term Futures TM ETN (NYSE: VXX)
Volatility investors had a rough go of it in 2017. Traders will be watching for any signs of cracks in the bull market and the potential for a long-awaited spike in volatility in 2018.
10. United States Oil Fund LP (ETF) (NYSE: USO)
After years of disappointing returns, oil prices finally seemed to get back on track in the late weeks of 2017. Just last week, Brent prices topped $70 per barrel for the first time since 2014 on optimism about a rebalancing market and OPEC production cuts.
11. United States Natural Gas Fund, LP (NYSE: UNG)
The oil market may have gotten back on track in 2017, but natural gas investors were once again not invited to the party. The UNG fund is down another 25 percent in the past year as the global energy market makes its slow transition away from fossil fuels.
12. Tesla Inc (NASDAQ: TSLA)
Tesla is simultaneously one of the most loved and hates stocks on Wall Street in 2018. Bulls love CEO Elon Musk's vision and ambition, while bears point out that Tesla continues to hemorrhage cash. Both will be watching the Model 3 roll-out, a launch which could make or break the company.
13. Apple Inc. (NASDAQ: AAPL)
With a market cap currently sitting at $898 billion, Apple has a reasonable chance to become the world's only trillion-dollar company in 2018. Analysts have also speculated that it could potentially make a blockbuster acquisition with its repatriated cash this year.
14. Alibaba Group Holding Ltd (NYSE: BABA)
Alibaba's share price roughly doubled in 2018 on staggering e-commerce and cloud growth numbers. One of the largest and fastest-growing technology companies in the largest emerging global economy is always a stock to watch.
15. First Solar, Inc. (NYSE: FSLR)
First Solar's 112 percent gain in 2017 made the stock one of the best-performing stocks in the entire S&P 500. With Trump set to rule on a potential tariff on imported solar modules in late January, 2018 could be another volatile year for First Solar.
16. NVIDIA Corporation (NASDAQ: NVDA)
It seems like nothing can slow down the Nvidia train. Cryptocurrency mining, online gaming, artificial intelligence, autonomous vehicles and other tech trends are driving the supercycle in superconductors, but skeptical traders are getting concerned about Nvidia's valuation following a 1,000 percent gain over the past five years.
17. ETFMG Alternative Harvest ETF (NYSE: MJX)
Marijuana investors have a lot on the line in 2018 after Attorney General Jeff Sessions recently instructed the Department of Justice not to follow an Obama-era directive to ignore federally-banned marijuana sales in states that have legalized weed. Whether or not Sessions' orders have teeth remains to be seen.
18. Facebook Inc (NASDAQ: FB)
After another huge year of growth in 2017, Facebook has some major changes coming this year. CEO Mark Zuckerberg has said he will be cracking down on abuse of Facebook's policies this year and tweaking its News Feed to reduce the amount of publisher and advertising content. In addition, Facebook will continue to roll out its Watch streaming video content, which could be the key to Facebook's future.
Related Links:
Disclosure: the author is long BABA.
View Comments and Join the Discussion!
Posted-In: Cryptocurrency Long Ideas Top Stories Markets Trading Ideas Best of Benzinga