Barron's Looks Ahead To 2018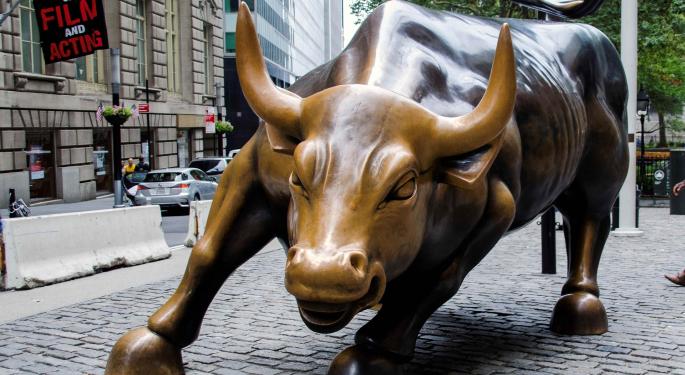 This weekend's Barron's features the outlook for 2018 according to a panel of top investment strategists.
Barron's also offers its top 10 stock picks for the coming year, including two returning favorites.
Other featured articles list top ETF trends and best bond sectors for 2018.
"Outlook 2018: The Bull Market's Next Act" by Vito J. Racanelli indicates that Wall Street strategists see U.S. stocks rising 7 percent in the coming year, fueled by economic growth and earnings gains.
Check out the forecasts for the coming year from a panel top investment strategists at major U.S. investment banks and money-management firms surveyed by Barron's. Find out why those survey respondents are bullish on financials and tech but cautious on consumer staples and utilities. Where do they see the S&P 500 headed in the new year? And discover what they expect from cryptocurrencies, tax reform, inflation, interest rates, emerging markets and much more.
"Rational exuberance is the stock market's theme for 2018," says one key strategist quoted in the article. And he adds that the focus is on earnings this time, a view shared by many of his peers.
Some respondents, though, are suggesting that the bull's days are numbered. Will 2018 be a below average year? Does that presage the next recession? And if so, when can investors expect it?
See also: Is Bitcoin A New Asset Class Or The Next Great Market Bubble?
Andrew Bary's "Barron's 10 Favorite Stocks for 2018" points out that in a raging bull market, bargains are hard to find. So after discussions with institutional investors and Barron's own analysis, it is sticking with proven winners with plenty of room to rise in 2018.
See why Alphabet Inc (NASDAQ: GOOGL) and Delta Air Lines, Inc. (NYSE: DAL) returned to the list this year, and why new additions include Applied Materials, Inc. (NASDAQ: AMAT) and Enterprise Products Partners L.P. (NYSE: EPD). Even Warren Buffett's Berkshire Hathaway Inc. Class A (NYSE: BRK.A) is in the mix.
Each of the 10 Barron's picks is profiled, including the pros and cons, recent performance and how analysts view the stock.
Also in this week's Barron's:
How Barron's 2017 stock picks fared
Whether MBIA Inc. (NYSE: MBI) is overreaching with its share buybacks
Apps that target young investors
A roboadvisor aimed at young investors
The new frontier in sustainable investing
What's up with augmented reality
ETF trends to watch in 2018
2018 as a make-or-break year for TV
The best bond sectors for 2018
Whether dividend growth among S&P 500 companies is still robust
The shifting U.S. labor market
How China's internet giants are funding a digital ecosystem
At the time of this writing, the author had no position in the mentioned equities.
Keep up with all the latest breaking news and trading ideas by following Benzinga on Twitter.
View Comments and Join the Discussion!
Posted-In: Alphabet applied materials Barron's Berkshire Hathaway Delta Air Lines Enterprise Products Partners MBIAMedia Best of Benzinga