The Daily Biotech Pulse: Abeona Fires CEO, Loxo Passes FDA Muster, Bristol-Myers Flunks Lung Cancer Trial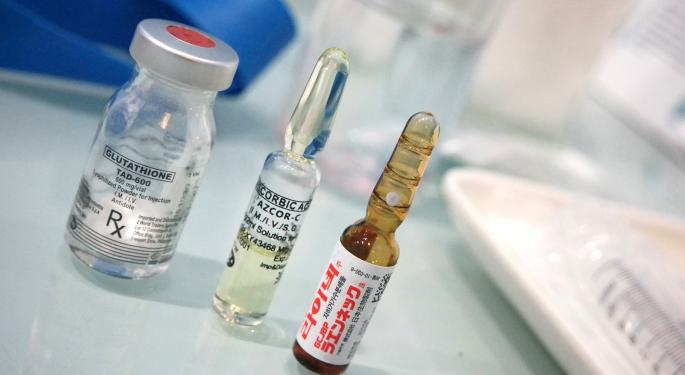 Here's a roundup of top developments in the biotech space over the last 24 hours.
Scaling The Peak
(Biotech stocks hitting 52-week highs on Nov. 26)
Down In The Dumps
(Biotech stocks hitting 52-week lows on Nov. 26)
Stocks In Focus
FDA Approves Loxo's Solid Tumor Drug
The FDA announced approval of Loxo Oncology Inc (NASDAQ: LOXO)/ Bayer AG (OTC: BAYRY) combines' Vitrakvi, chemically larotrectinib, for treating adults and pediatric patients with solid tumors that have a neurotropic receptor tyrosine kinase, or NTRK, gene fusion without a known acquired resistance mutation. The approval received by Loxo was based on overall response rate and the duration of response.
The agency indicated that continued approval for the indication is contingent on verification and description of clinical benefit in confirmatory trials.
Eyenovia Begins Enrollment For Late-stage Study of Combo Drug Meant For Eye Dilation
Eyenovia Inc (NASDAQ: EYEN) said it has enrolled the first patient in the first of two Phase 3 trials, dubbed MIST-1, for its MicroStat program for pharmacologic mydriasis, or dilation of the pupil for an eye exam.
"The studies will investigate the safety and efficacy of the Company's first-in-class fixed-combination phenylephrine 2.5% - tropicamide 1% ophthalmic solution, administered as a micro-dose using the Optejet™ dispenser," the company said.
The stock rallied 14.93 percent to $3.3165 in after-hours trading.
See Also: The Week Ahead In Biotech: ASH 2018, PDUFA Dates, Clinical Trials And Earnings
Halozyme Announces Change to Primary Endpoint of Pancreatic Cancer Drug Trial
Halozyme Therapeutics, Inc. (NASDAQ: HALO) said the FDA has agreed to its request to change the primary endpoint of the HALO-301 study to the single primary endpoint of overall survival. The company, therefore, will not go ahead with the previously planned interim analysis.
HALO-301 is a late-stage trial that evaluates Halozyme's investigational new drug PEGPH20, as a first-line therapy for metastatic pancreatic cancer.
The stock shed 12.33 percent to $14.65 in after-hours trading.
G1 Therapeutics Reports Positive Trial Results For Lung Cancer Drug
G1 Therapeutics Inc (NASDAQ: GTHX) announced positive topline data for a Phase 2 trial that evaluated its trilaciclib in combination with chemotherapy and checkpoint indicator Tecentriq, as a first-line treatment for small cell lung cancer, or SCLC. The second mid-stage study confirmed multi-lineage myelopreservation benefits of trilaciclib in first-line SCLC.
The study showed statistically significant improvements in both primary endpoints of occurrence of Grade 4 neutropenia and duration of Grade 4 neutropenia in cycle 1. Statistically significant reduction in Grade 4 thrombocytopenia and clinically meaningful reduction in red blood cell transfusions were also observed.
The stock declined 11.09 percent to $35.50 in after-hours trading.
Bristol-Myers' Late-Stage Lung Cancer Trial Does Not Meet Primary Endpoint
Bristol-Myers Squibb Co (NYSE: BMY) said the Phase 3 CheckMate-451 study that evaluated its Opdivo 1 mg/kg in combination with Yervoy 3mg/kg relative to placebo as a maintenance therapy for patients with extensive-stage SCLC without disease progression after completion of first-line platinum-based chemotherapy did not meet its primary endpoint of overall survival.
The stock moved down 2.31 percent to $51.51 in after-hours trading.
Abeona Terminates CEO On Grounds of Personal Misconduct
Abeona Therapeutics Inc (NASDAQ: ABEO) announced immediate termination of its CEO Carsten Thiel, citing personal misconduct that violated its code of business conduct and ethics. The company also announced the appointment of Chief Medical Officer Joao Siffert as interim CEO.
The stock jumped 11.90 percent to $9.40 in after-hours trading.
ImmunoGen Announces Resignation of CFO
ImmunoGen, Inc. (NASDAQ: IMGN) announced the resignation of CFO David Johnston, with immediate effect, although he will continue to be with the company through the end of 2018, and will then serve as a consultant to provide transitional support.
The stock slipped 4.89 percent to $5.45 in after-hours trading.
Common Stock Offerings
ACADIA Pharmaceuticals Inc. (NASDAQ: ACAD) said it intends to sell $2 million worth of its shares in an underwritten public offering.
The stock retreated 6.53 percent to $18.19 50 in after-hours trading.
Amarin Corporation plc (NASDAQ: AMRN) said it has priced its underwritten public offering of its ADSs for raising gross proceeds of $200 million. The company expects the offering to close Nov. 29.
The stock fell 6.45 percent to $18.14 in after-hours trading.
On The Radar
Earnings
GW Pharmaceuticals PLC- ADR (NASDAQ: GWPH) (after the close)
View Comments and Join the Discussion!
Posted-In: Biotech Earnings News Offerings FDA Top Stories Trading Ideas Best of Benzinga