Robotics, AI Fund Thinks It's Found The 'New FAANG'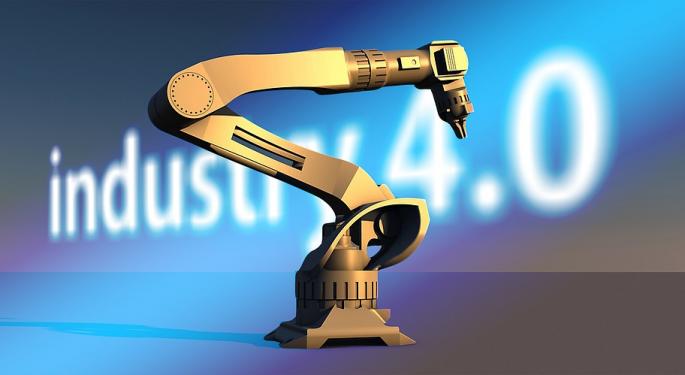 The foundations of industry — every industry — are cracking under the weight of invasive robots. From retail to health care to security to agriculture, autonomous technology and artificial intelligence are changing the game.
"We think that this is really kind of the next trade, if you will, and these are the new FAANG stocks," Bill Studebaker, president and CIO of Robo Global, said on Benzinga's PreMarket Prep radio show.
In fact, the popular and prolific FAANG components — Facebook Inc (NASDAQ: FB), Apple Inc. (NASDAQ: AAPL), Amazon.com, Inc. (NASDAQ: AMZN), Netflix, Inc. (NASDAQ: NFLX) and Alphabet Inc (NASDAQ: GOOG) (NASDAQ: GOOGL) — are themselves being transformed and empowered by these very technologies.
"In my mind, there is no more obvious investable megatrend than this that I've ever seen," Studebaker said.
The Way To Play
Not five years ago, Studebaker was on the hunt for a way to trade this ubiquitous yet nascent theme, but no mutual or hedge funds were dedicated exclusively to it.
So he founded Robo Global and the firm's Robotics & Automation Index ETF, Exchange Traded Concepts Trust (NASDAQ: ROBO).
Robo Global's portfolio includes 84 international robotics and automation firms specializing in either development or deployment. With exposure to upstream companies, downstream companies and services, investors avoid placing premature bets in a field with ever-changing frontrunners.
Who Made The Cut?
As yet, components are 40 percent domestic and 60 percent international, 25 percent large cap and 75 percent mid to small cap.
Studebaker's top constituents include Cognex Corporation (NASDAQ: CGNX), Raven Industries, Inc. (NASDAQ: RAVN), Zebra Technologies Corp. (NASDAQ: ZBRA), Daifuku off the Tokyo exchange, IPG Photonics Corporation (NASDAQ: IPGP), iRobot Corporation (NASDAQ: IRBT) and Intuitive Surgical, Inc. (NASDAQ: ISRG).
Among the hot segment of chipmakers, he likes NVIDIA Corporation (NASDAQ: NVDA) and QUALCOMM, Inc. (NASDAQ: QCOM), as well as Ambarella Inc (NASDAQ: AMBA), which he considers an overlooked play on autonomous vehicles and vision technologies.
Stocks like these have driven the ETF up nearly 40 percent year to date, which compares favorably to the First Trust DJ Internet Index Fund (ETF) (NYSE: FDN)'s 30.9-percent run.
What's The Criteria?
Robo Global tracks about 300 public companies worldwide and incorporates them into the index based on subsector, robotics-based revenue and ESG social responsibility.
"We're looking for companies that clearly are leaders in their industry and that we think have defined moats around their businesses," Studebaker said.
The ETF contains 40 percent bellwether stocks and 60 percent non-bellwether stocks, with respective weightings of 2 and 1 percent. Bellwether stocks have, on average, between 60 and 70 percent of revenue attributable to robotics, automation or AI activities, while non-bellwethers average 25 percent.
Studebaker eschews newer stocks like Veritone Inc (NASDAQ: VERI) to lend them "seasoning time."
"What we're trying to avoid is putting any science fair experiments into our portfolio," he said, noting elimination of companies built on prototypes. "We really want to put companies in that have proven revenue. We're not, for example, putting in a medical technology company that we think might get FDA approval, so the beauty behind what we've done, our portfolio, given that it's 'technology,' has pretty low volatility."
For more information on Robo Global, visit the website or watch out for Studebaker's next appearance on Benzinga's PreMarket Prep.
Related Links:
What Is Machine Learning? Deep Learning? Here's Your AI Glossary
Why Elon Musk Sees Artificial Intelligence To Be The Biggest Risk To Society
View Comments and Join the Discussion!
Posted-In: AI artificial intelligence Bill StudebakerTop Stories Exclusives Tech Media Interview Best of Benzinga