Why Elon Musk Sees Artificial Intelligence To Be The Biggest Risk To Society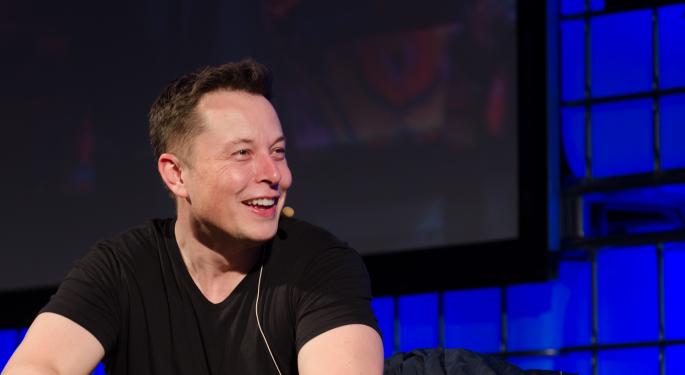 Elon Musk, the visionary behind Tesla Inc (NASDAQ: TSLA), is in the vanguard of the autonomous technology space. But he doesn't believe in unrestrained progress toward artificial intelligence.
"AI's a rare case where we need to be proactive in regulation, instead of reactive, because by the time we are reactive with AI regulation, it's too late," Musk told state leaders at the National Governors Association meeting over the weekend. His justification: "AI is a fundamental risk to the existence of human civilization, in a way that car accidents, airplane crashes, faulty drugs, or bad food were not."
Despite Musk's professional reliance on AI, he openly advocated for and explicitly advised politicians to enact broad regulations checking AI development, because businesses looking to remain competitive can't possibly check themselves.
"That's where you need the regulators to come in and say, 'Hey guys, you all need to just pause and make sure this is safe,'" Musk said. "You kind of need the regulators to do that for all the teams in the game. Otherwise, the shareholders will be saying, why aren't you developing AI faster? Because your competitor is."
What's The Problem?
Companies will be pressured to forgo mindful adoption of advancements and embrace any and all consequences, including mass layoffs as machines replace human workers.
The danger also extends beyond the economy. Musk envisions a scenario not unlike those outlined in dystopian novels, where robots are incentivized to disrupt humanity.
"If [its programming] is not well thought out ━ even if its intent is benign ━ it could have quite a bad outcome," Musk said. "If you were a hedge fund or private equity fund and you said, 'Well, all I want my AI to do is maximize the value of my portfolio,' then the AI could decide, well, the best way to do that is to short consumer stocks, go long defense stocks, and start a war."
"[They] could start a war by doing fake news and spoofing email accounts and fake press releases, and just by manipulating information. The pen is mightier than the sword."
This isn't a new perspective. Musk has warned of the threat since 2014, and in January, he endorsed the Asilomar AI Principles guiding the intentional development of beneficial technology.
Related Links:
AI's Busted Bracket: What To Expect Next Year
Artifical Intelligence, Machine Learning Could Threaten Apps
Image: Heisenberg Media, Flickr
View Comments and Join the Discussion!
Posted-In: AI artificial intelligence Elon MuskPsychology Tech Media General Best of Benzinga