Baltic Dry Index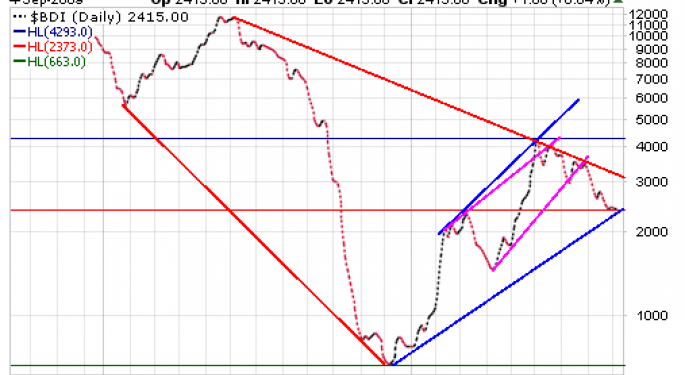 he Baltic Dry Index (a) is composed of three sub-indices : the BCI (Capesize index),
BPI (Panamax index) and the BSI (Supramax index). The major portion of the BDI is the Baltic Capesize Index . These vessels with cargo capacity of 100,000 to 400,000 DWT account for 62% of the world's dry bulk tonnage. The primary cargoes are iron ore, coal and bauxite. One can see that the Index can be a leading Indicator for the global economy. If companies are not buying and freight companies transporting those raw resources then products such as steel and aluminum are not being made and the global economy must not be thriving and growing.
The BDI hit an all-time High of 11771 on the 21st of May, 2008. From that time it reversed and on the 5th of December, 2008 it hit a Low of 663.
Since the beginning of 2008 the Index price action has been contained within a Descending Expanding Channel . The Lower Boundary was touched on 05122008 at 663.
From December to the present the price action has been contained within an expanding Ascending Channel. The Index reached 2298 on 10032009 and again retreated to 1463 on 08042009. Then, in my opinion, the Index diverged from being a leading Indicator and became an Indicator of the " Great Chinese Stockpile" rally. This price action formed a contracting Ascending Wedge [ mauve boundaries] within the Ascending Channel. This topped out at 4291 after reaching the Upper Boundary of the Descending Channel. In late July the price broke below the Lower Boundary of the Ascending Wedge and fell to 2388. This is just above a support level at 2373. For the last 9 days the Index has been in the low 2400's and today was fixed at 2462.
Only time will tell whether the Index will rise again to test the Upper Boundary at around 3100. Should 2373 fail then we will see further movement to the downside.
If the global economy is recovering then the Baltic Dry Index has lost its status as a leading Indicator because, as I see it, it won't take much to get back down to the level pre Great Chinese Stockpile rally.
References
View Comments and Join the Discussion!
Posted-In: BDI Capesize global economy leading IndicatorIntraday Update After-Hours Center