The Year Of The Breach: A Guide To The Major Hacks Of 2017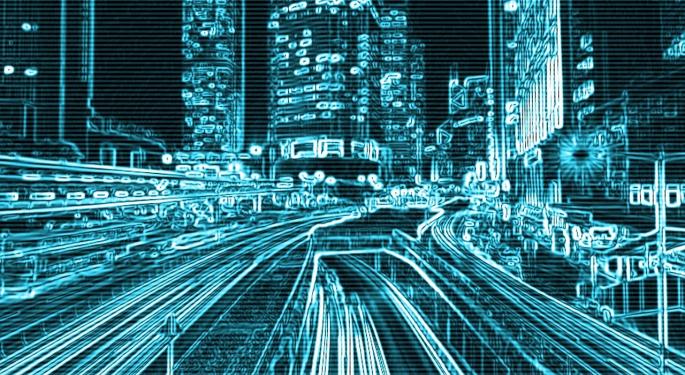 Uber, which is working to vindicate itself under new CEO Dara Khosrowshahi following a string of scandals, faced a setback after it was revealed by Bloomberg in a Nov. 21 report that the company was a victim of a hacking incident in October 2016 — and chose to cover it up by paying $100,000 to the hackers.
The personal data, including names, email addresses and phone numbers, of 50 million customers and 7 million drivers were stolen, although the company told Bloomberg no social security numbers, credit card information or trip location details were compromised.
Here's a look at major hacks that occurred or were discovered in 2017.
1. Restaurant, Food Companies In The Soup
A host of restaurant companies were victims of hacking this year, with the likes of McDonald's Corporation (NYSE: MCD) and Amazon.com, Inc. (NASDAQ: AMZN)-owned Whole Foods among those affected.
A March 16 tweet from McDonald's denouncing President Donald Trump was supposedly the handiwork of a hacker. The restaurant chain quickly responded by stating that its official Twitter account was compromised and that it purged the account. McDonald's was also involved in a scandal over fake filing in mid-February that disclosed purported interest in Chipotle Mexican Grill, Inc. (NYSE: CMG).
Sonic Corporation (NASDAQ: SONC) disclosed Oct. 4 that credit and debit cards used at certain drive-in locations may have been acquired using a malware attack.
InterContinental Hotels Group PLC (ADR) (NYSE: IHG) found itself in the same predicament earlier this year. On April 18, the hotel chain said cash registers at its franchised hotels, including Holiday Inns and Crowne Plazas, were hacked using malicious software that siphoned out customers' debit and credit card data.
Hyatt Hotels Corporation (NYSE: H) said in mid-October that credit and debit card data from 41 of its hotels was hacked, with the breach first being identified in July.
2. Yahoo's 3-Billion-Account Hit
Yahoo, which now functions as a digital and mobile media company and is part of Verizon Communications Inc. (NYSE: VZ), announced in December 2016 that a massive breach occurred in 2013 and impacted over 1 billion user accounts. In October 2017, the company said the August 2013 breach impacted every user on the platform — 3 billion in total.
3. Gaming Trouble
Video game console makers Microsoft Corporation (NASDAQ: MSFT) and Sony Corp (ADR) (NYSE: SNE) were forced to realize that gaming is not child's play when the Xbox 360 and PSP ISO forums, comprising 2.5 million gamer accounts, were hacked in September 2015. The hacking came to light in late January 2017, when it was reported by independent researcher Troy Hunt.
The breach is speculated to have compromised gamer e-mail addresses, account passwords and IP addresses.
4. Blue Cross Blue Shield/Anthem Unshielded
Anthem Inc (NYSE: ANTM) reported a new data breach in July afte an earlier, massive breach reported in January 2015 that impacted 78.8 million customer records. The new breach, which is likely to have affected 18,500 members, siphoned records of members to a private email address of a staffer at a third-party vendor.
See Also: There Have Been Some Notable Cybersecurity Breaches In 2017 (And It's Only March)
5. Equifax' Data Breach
Consumer credit reporting company Equifax Inc. (NYSE: EFX) revealed in September that a data breach could have exposed the
sensitive information of 143 million people, with the breach having occurred between mid-May and July. Equifax later raised the number of affected people by 2.5 million.
The breach compromised about 209,000 Social Security numbers as well as credit card numbers, birth dates, addresses and driver's license numbers.
6. Verizon Dials Up Hacking Woes
Verizon was not spared either, as records of about 14 million customers who had called the company in the past six months were found on an unprotected Amazon S3 storage server. The data was held by an employee of Nice System, an Israeli company.
7. Big Tech's Hacking Run-In
Big-name tech companies such as Apple Inc. (NASDAQ: AAPL). SAMSUNG ELECTRONIC (OTC: SSNLF) and Microsoft were found to be victims of snooping by the CIA. The revelation from Wikileaks, codenamed vault 7, revealed that the CIA used its panoply of hacking tools to break into smartphones, computer operating systems, autos, messenger applications and internet-connected televisions such as the Apple TV.
8. Disney Held For Ransom
In May, it was reported Walt Disney Co (NYSE: DIS)'s Johnny Depp movie "Pirates of the Caribbean: Dead Men Tell No Tales" was hacked by ransom-seekers who were demanding a substantial sum in bitcoin. The hackers threatened to release the movie in bits over the internet if their demands were not met.
9. VeriFone's POS Terminals Hacked
Point-of-sales credit card terminals maker VeriFone Systems Inc (NYSE: PAY) said in January that it identified a breach of its internal network, according to KrebsOn Security.
Posted-In: Amazon Apple BloombergNews Education Top Stories Tech General Best of Benzinga
View Comments and Join the Discussion!