The Market In 5 Minutes: Netflix And IBM Get Big Tech Earnings Off On A Rough Start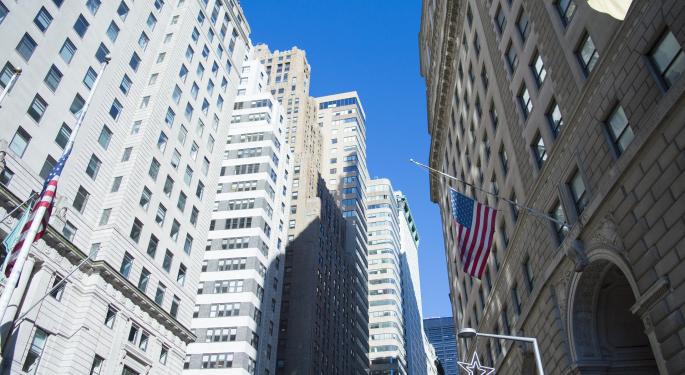 Below is a tool used by the Benzinga News Desk each trading day -- it's a look at everything happening in the market, in five minutes. Apply for daily AM access by clicking here or email minutes@benzinga.com.
Macro Focus
Oil rose around 2 percent on Tuesday as a strike by oil workers in Kuwait nearly halved crude production from the OPEC member, overshadowing bearish sentiment following Sunday's failure by producers to agree to freeze output levels. Thousands of Kuwaiti oil workers downed tools for a third day on Tuesday to protest against planned public sector pay reform, cutting crude output to 1.5 million barrels per day (bpd), according to an oil spokesman cited by news agency KUNA. That is little more than half of Kuwait's average output of 2.8 million bpd in March.
USA Housing Starts for March came in at 1.09 million vs. 1.17 million estimates. USA Housing Starts month-over-month were -8.80 percent vs. 5.20 percent prior.
USA Building Permits for March came in at 1.09 million vs. 1.20 million estimates. USA Building Permits month-over-month were -7.70 percent vs. -2.20 percent prior.
Under pressure to curb steel output and relieve a global glut, China said its production actually hit a record high last month as rising prices, and profits, encouraged mills that had been shut or suspended to resume production. The China Iron & Steel Association (CISA) said March steel production hit 70.65 million tonnes, amounting to 834 million tonnes on an annualized basis. Traders and analysts predicted more increases in April and May.
BZ News Desk Focus
Netflix (NASDAQ: NFLX) crashed 9 percent after its earnings report. Despite an inline quarter, the streaming company whiffed on international subscriber guidance by 40 percent.
Meanwhile, Goldman Sachs (NYSE: GS) revenue came on well below expectations, while IBM (NASDAQ: IBM) shares ticked lower following its earnings report.
Sell-Side Themes
JPMorgan likes General Motors (NYSE: GM) in the near term (while being a bit sour on Ford Motor (NYSE: F), but raised Tesla's (NASDAQ: TSLA) long-term estimates.
Goldman came out bullish on Bank of America (NYSE: BAC), Citi (NYSE: C) and Wells Fargo (NYSE: WFC), saying rate hikes "put NII on growth path for 2016."
Sell-Side's Most Noteworthy Calls
Panera Bread (NASDAQ: PNRA) was raised to Buy at Jefferies.
Blackrock (BLK) was upgraded from Neutral to Buy at Citi.
With oil stabilizing, Morgan Stanley raised Devon Energy (NYSE: DVN) to Overweight.
EBay (NASDAQ: EBAY) was cut to Underweight at Morgan Stanley, who sees 11 percent downside in the stock.
Pandora Media (NYSE: P) was cut to Market Perform at Raymond James.
Jack In the Box (NASDAQ: JACK) was initiated at Outperform by Cowen.
Deal Talk
Yahoo (NASDAQ: YHOO) is predicting painful revenue drops in its core search and display-ad businesses this year — a grim outlook that has frightened away many prospective bidders, The New York Post has learned.
As Valeant (NYSE: VRX) considers a multibillion-dollar auction to pare down $30 billion in debt, its challenge will be choosing which assets to sell without compromising any of its key businesses, analysts and investment bankers said.
CVS Health (NYSE: CVS) as invested in Silicon Valley startup Curbside that allows shoppers to get their online-ordered goods from bricks-and-mortar stores without leaving their cars; terms undisclosed
Buy-Side
Ashford Hospitality (NYSE: ASH) responded to Sessa Capital and highlighted their "failure to describe any actionable strategy."
United Continental (NYSE: UAL) is said to accept a board overhaul in a proxy dispute settlement deal with activist investors Altimeter and PAR; United Chairman Meyer is poised to step down from the board.
In The News
An explosion rocked the Afghan capital of Kabul on Tuesday -- the apparent work of Taliban militants targeting a security team that protects government VIPs, a police official told CNN. Kabul's police chief said at least 28 people died and more than 300 were wounded. Most of the victims were civilians -- including women and children, Interior Ministry spokesman Sediq Sediqi said.
New York is the star of the presidential election today as it holds both Democratic and Republican primaries. The state has 291 Democratic delegates and 95 Republican delegates up for grabs, meaning the fight could be extremely worthwhile as candidates try to reach the minimum number of delegates required to secure their nominations.
"As the economy again started off the year on a sour note, the glass-half-full crowd pointed to the strength of the U.S. jobs market as a reason not to worry. As long as payrolls are racking up monthly gains of 200,000 or more, the economy remains in fine fettle, or so the optimists would have it," Bloomberg writes. "Take a peek below the headline jobs data, however, and there are signs that the labor market is losing some momentum. Temporary-help employment, which peaked prior to the last two recessions, is showing signs of topping out. And a broad labor-market index constructed by Federal Reserve economists has fallen for three straight months, the first time that's happened since 2009."
Blogosphere
Have you ever seen a potential deal for a major company garner less excitement and interest than what is going with Yahoo? Benzinga's resident technician asks if anyone really cares.
Gold is overpriced by 33 percent, according to two researchers who say the yellow metal is an inflation hedge only in the very long run.
The Great Debate: Betrayal is at the heart of U.S. politics.
Trending
NFLX GS IBM SLV ETE HRTX HOG ILMN JNJ FCX GLD GDX UNH PM [Stocktwits]
#BeforeYouTube: Chris Hardwick, host of the Comedy Central game show @Midnight, asked his contestants to come up with clever answers about life before video consumption was available at the press of a fingertip.
Five-time Emmy winner Doris Roberts, who delighted audiences on "Everybody Loves Raymond," died in her sleep at the age of 90.
Posted-In: Market in 5 minutesNews Events Global Top Stories Best of Benzinga
View Comments and Join the Discussion!